This content contains affiliate links. When you buy through these links, we may earn an affiliate commission.
The best biographies give us a satisfying glimpse into a great person's life, while also teaching us about the context in which that person lived. Through biography, we can also learn history, psychology, sociology, politics, philosophy, and more. Reading a great biography is both fun and educational. What's not to love?
Below I've listed 50 of the best biographies out there. You will find a mix of subjects, including important figures in literature, science, politics, history, art, and more. I've tried to keep this list focused on biography only, so there is little in the way of memoir or autobiography. In a couple cases, authors have written about their family members, but for the most part, these are books where the focus is on the biographical subject, not the author.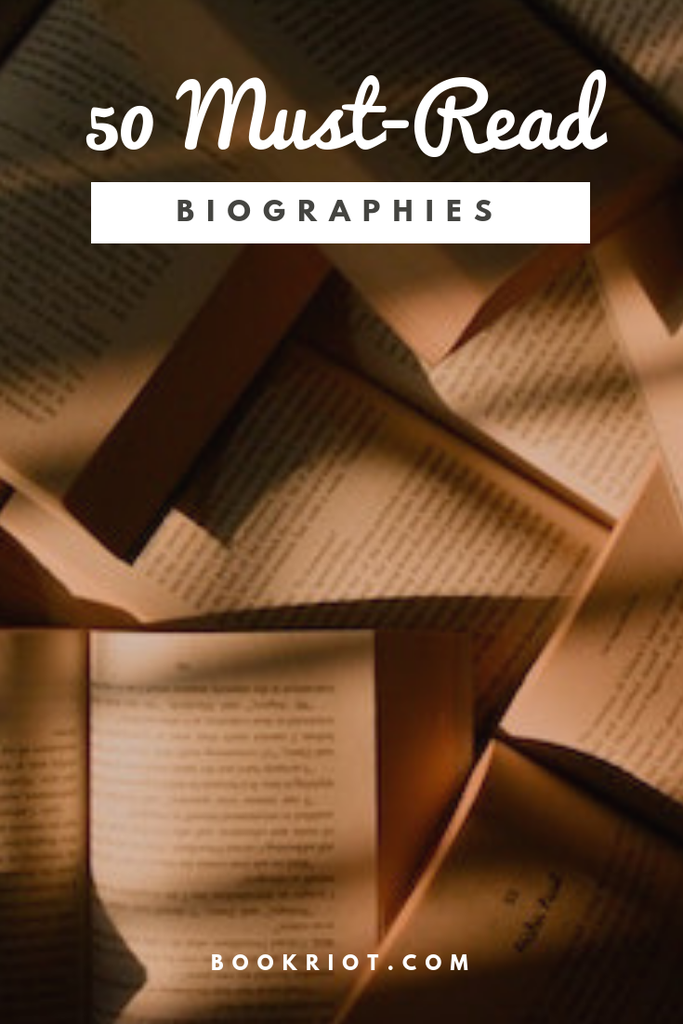 The first handful are group biographies, and after that, I've arranged them alphabetically by subject. Book descriptions come from Goodreads.
Take a look and let me know about your favorite biography in the comments!
"In All We Know, Lisa Cohen describes their [Esther Murphy, Mercedes de Acosta, and Madge Garland's] glamorous choices, complicated failures, and controversial personal lives with lyricism and empathy. At once a series of intimate portraits and a startling investigation into style, celebrity, sexuality, and the genre of biography itself, All We Know explores a hidden history of modernism and pays tribute to three compelling lives."
"Set amid the civil rights movement, the never-before-told true story of NASA's African-American female mathematicians who played a crucial role in America's space program. Before Neil Armstrong walked on the moon, a group of professionals worked as 'Human Computers,' calculating the flight paths that would enable these historic achievements. Among these were a coterie of bright, talented African-American women."
"In the mid-twentieth century four American Catholics came to believe that the best way to explore the questions of religious faith was to write about them – in works that readers of all kinds could admire. The Life You Save May Be Your Own is their story – a vivid and enthralling account of great writers and their power over us."
"As definitions were collected, the overseeing committee, led by Professor James Murray, discovered that one man, Dr. W. C. Minor, had submitted more than ten thousand. When the committee insisted on honoring him, a shocking truth came to light: Dr. Minor, an American Civil War veteran, was also an inmate at an asylum for the criminally insane."
"In a sweeping narrative, Fraser traces the cultural, familial and political roots of each of Henry's queens, pushes aside the stereotypes that have long defined them, and illuminates the complex character of each."
"In this powerful, epic biography, David McCullough unfolds the adventurous life-journey of John Adams, the brilliant, fiercely independent, often irascible, always honest Yankee patriot — 'the colossus of independence,' as Thomas Jefferson called him."
"Emotionally riveting and eye-opening, A Hope More Powerful Than the Sea is the incredible story of a young woman, an international crisis, and the triumph of the human spirit. Melissa Fleming shares the harrowing journey of Doaa Al Zamel, a young Syrian refugee in search of a better life."
"One terrifying night in 1848, a young African princess's village is raided by warriors. The invaders kill her mother and father, the King and Queen, and take her captive. Two years later, a British naval captain rescues her and takes her to England where she is presented to Queen Victoria, and becomes a loved and respected member of the royal court."
"John Brown is W. E. B. Du Bois's groundbreaking political biography that paved the way for his transition from academia to a lifelong career in social activism. This biography is unlike Du Bois's earlier work; it is intended as a work of consciousness-raising on the politics of race."
"[Eunice Hunton Carter] was black and a woman and a prosecutor, a graduate of Smith College and the granddaughter of slaves, as dazzlingly unlikely a combination as one could imagine in New York of the 1930s ― and without the strategy she devised, Lucky Luciano, the most powerful Mafia boss in history, would never have been convicted."
"An engrossing record of Mao's impact on China, an unusual window on the female experience in the modern world, and an inspiring tale of courage and love, Jung Chang describes the extraordinary lives and experiences of her family members."
"Her palace shimmered with onyx, garnet, and gold, but was richer still in political and sexual intrigue. Above all else, Cleopatra was a shrewd strategist and an ingenious negotiator. Though her life spanned fewer than forty years, it reshaped the contours of the ancient world."
"Einstein was a rebel and nonconformist from boyhood days, and these character traits drove both his life and his science. In this narrative, Walter Isaacson explains how his mind worked and the mysteries of the universe that he discovered."
"In this astonishing true story, award-winning journalist Sonia Nazario recounts the unforgettable odyssey of a Honduran boy who braves unimaginable hardship and peril to reach his mother in the United States."
"After stumbling upon a hidden trove of diaries, New Yorker writer David Grann set out to solve 'the greatest exploration mystery of the 20th century': What happened to the British explorer Percy Fawcett & his quest for the Lost City of Z?"
"Amanda Foreman draws on a wealth of fresh research and writes colorfully and penetratingly about the fascinating Georgiana, whose struggle against her own weaknesses, whose great beauty and flamboyance, and whose determination to play a part in the affairs of the world make her a vibrant, astonishingly contemporary figure."
"Supreme Court Justice Ruth Bader Ginsburg never asked for fame she was just trying to make the world a little better and a little freer. But along the way, the feminist pioneer's searing dissents and steely strength have inspired millions. [This book], created by the young lawyer who began the Internet sensation and an award-winning journalist, takes you behind the myth for an intimate, irreverent look at the justice's life and work."
"A woman of enormous talent and remarkable drive, Zora Neale Hurston published seven books, many short stories, and several articles and plays over a career that spanned more than thirty years. Today, nearly every black woman writer of significance—including Maya Angelou, Toni Morrison, and Alice Walker—acknowledges Hurston as a literary foremother."
"Shirley Jackson reveals the tumultuous life and inner darkness of the literary genius behind such classics as 'The Lottery' and The Haunting of Hill House."
"This is the story of the rise to national power of a desperately poor young man from the Texas Hill Country. The Path to Power reveals in extraordinary detail the genesis of the almost superhuman drive, energy, and ambition that set LBJ apart."
"Poet, lexicographer, critic, moralist and Great Cham, Dr. Johnson had in his friend Boswell the ideal biographer. Notoriously and self-confessedly intemperate, Boswell shared with Johnson a huge appetite for life and threw equal energy into recording its every aspect in minute but telling detail."
"Barbara Jordan was the first African American to serve in the Texas Senate since Reconstruction, the first black woman elected to Congress from the South, and the first to deliver the keynote address at a national party convention. Yet Jordan herself remained a mystery."
"This engrossing biography of Mexican painter Frida Kahlo reveals a woman of extreme magnetism and originality, an artist whose sensual vibrancy came straight from her own experiences: her childhood near Mexico City during the Mexican Revolution; a devastating accident at age eighteen that left her crippled and unable to bear children."
"Often photographed in a cowboy hat with her middle finger held defiantly in the air, Florynce 'Flo' Kennedy (1916–2000) left a vibrant legacy as a leader of the Black Power and feminist movements. In the first biography of Kennedy, Sherie M. Randolph traces the life and political influence of this strikingly bold and controversial radical activist."
"In 1986, a shy and intelligent twenty-year-old named Christopher Knight left his home in Massachusetts, drove to Maine, and disappeared into the forest. He would not have a conversation with another human being until nearly three decades later, when he was arrested for stealing food."
"Peter Popham … draws upon previously untapped testimony and fresh revelations to tell the story of a woman whose bravery and determination have captivated people around the globe. Celebrated today as one of the world's greatest exponents of non-violent political defiance since Mahatma Gandhi, she was awarded the Nobel Peace Prize only four years after her first experience of politics."
"In 1927, Zora Neale Hurston went to Plateau, Alabama, just outside Mobile, to interview eighty-six-year-old Cudjo Lewis. Of the millions of men, women, and children transported from Africa to America as slaves, Cudjo was then the only person alive to tell the story of this integral part of the nation's history."
"Her name was Henrietta Lacks, but scientists know her as HeLa. She was a poor Southern tobacco farmer who worked the same land as her slave ancestors, yet her cells—taken without her knowledge—became one of the most important tools in medicine."
"Acclaimed historian Doris Kearns Goodwin illuminates Lincoln's political genius in this highly original work, as the one-term congressman and prairie lawyer rises from obscurity to prevail over three gifted rivals of national reputation to become president."
"A tiny, fastidiously dressed man emerged from Black Philadelphia around the turn of the century to mentor a generation of young artists including Langston Hughes, Zora Neale Hurston, and Jacob Lawrence and call them the New Negro — the creative African Americans whose art, literature, music, and drama would inspire Black people to greatness."
"Drawing from the private archives of the poet's estate and numerous interviews, Alexis De Veaux demystifies Lorde's iconic status, charting her conservative childhood in Harlem; her early marriage to a white, gay man with whom she had two children; her emergence as an outspoken black feminist lesbian; and her canonization as a seminal poet of American literature."
"Thurgood Marshall stands today as the great architect of American race relations, having expanded the foundation of individual rights for all Americans. His victory in the Brown v. Board of Education decision in 1954, the landmark Supreme Court case outlawing school segregation, would have him a historic figure even if he had not gone on to become the first African-American appointed to the Supreme Court."
"In April 1992 a young man from a well-to-do family hitchhiked to Alaska and walked alone into the wilderness north of Mt. McKinley. His name was Christopher Johnson McCandless. He had given $25,000 in savings to charity, abandoned his car and most of his possessions, burned all the cash in his wallet, and invented a new life for himself."
"The Mayor of Castro Street is Shilts's acclaimed story of Harvey Milk, the man whose personal life, public career, and tragic assassination mirrored the dramatic and unprecedented emergence of the gay community in America during the 1970s."
"The most famous poet of the Jazz Age, Millay captivated the nation: She smoked in public, took many lovers (men and women, single and married), flouted convention sensationally, and became the embodiment of the New Woman."
This book is "a vivid portrait of Montaigne, showing how his ideas gave birth to our modern sense of our inner selves, from Shakespeare's plays to the dilemmas we face today."
"From the moment it was first published in The New Yorker, this brilliant work of literary criticism aroused great attention. Janet Malcolm brings her shrewd intelligence to bear on the legend of Sylvia Plath and the wildly productive industry of Plath biographies."
"Based on hundreds of interviews and nearly a decade of research, [this book] traces the evolution not just of the man but of the music and of the culture he left utterly transformed, creating a completely fresh portrait of Elvis and his world.
"Kate Summerscale brilliantly recreates the Victorian world, chronicling in exquisite and compelling detail the life of Isabella Robinson, wherein the longings of a frustrated wife collided with a society clinging to rigid ideas about sanity, the boundaries of privacy, the institution of marriage, and female sexuality."
"A young man from a small provincial town moves to London in the late 1580s and, in a remarkably short time, becomes the greatest playwright not of his age alone but of all time. How is an achievement of this magnitude to be explained?"
"When Charles Dickens and Nelly Ternan met in 1857, she was 18: a professional actress performing in his production of The Frozen Deep. He was 45: a literary legend, a national treasure, married with ten children. This meeting sparked a love affair that lasted over a decade, destroying Dickens's marriage and ending with Nelly's near-disappearance from the public record."
"Slowly, but surely, Sojourner climbed from beneath the weight of slavery, secured respect for herself, and utilized the distinction of her race to become not only a symbol for black women, but for the feminist movement as a whole."
"Born to former slaves on a Louisiana plantation in 1867, Madam C.J. Walker rose from poverty and indignity to become America's first black female millionaire, the head of a hugely successful beauty company, and a leading philanthropist in African American causes."
"With a breadth and depth matched by no other one-volume life, [Chernow] carries the reader through Washington's troubled boyhood, his precocious feats in the French and Indian Wars, his creation of Mount Vernon, his heroic exploits with the Continental Army, his presiding over the Constitutional Convention and his magnificent performance as America's first president."
"Ida: A Sword Among Lions is a sweeping narrative about a country and a crusader embroiled in the struggle against lynching: a practice that imperiled not only the lives of black men and women, but also a nation based on law and riven by race."
"But the true saga of [Wilder's] life has never been fully told. Now, drawing on unpublished manuscripts, letters, diaries, and land and financial records, Caroline Fraser—the editor of the Library of America edition of the Little House series—masterfully fills in the gaps in Wilder's biography."
"Although mother and daughter, these two brilliant women never knew one another – Wollstonecraft died of an infection in 1797 at the age of thirty-eight, a week after giving birth. Nevertheless their lives were so closely intertwined, their choices, dreams and tragedies so eerily similar, it seems impossible to consider one without the other."
"Subscribing to Virginia Woolf's own belief in the fluidity and elusiveness of identity, Lee comes at her subject from a multitude of perspectives, producing a richly layered portrait of the writer and the woman that leaves all of her complexities and contradictions intact."
"Of the great figures in twentieth-century American history perhaps none is more complex and controversial than Malcolm X. Constantly rewriting his own story, he became a criminal, a minister, a leader, and an icon, all before being felled by assassins' bullets at age thirty-nine."
"On a May afternoon in 1943, an Army Air Forces bomber crashed into the Pacific Ocean and disappeared, leaving only a spray of debris and a slick of oil, gasoline, and blood. Then, on the ocean surface, a face appeared. It was that of a young lieutenant, the plane's bombardier, who was struggling to a life raft and pulling himself aboard. So began one of the most extraordinary odysseys of the Second World War."
Want to read more about great biographies? Check out this post on presidential biographies, this list of biographies and memoirs about remarkable women, and this list of 100 must-read musician biographies and memoirs.