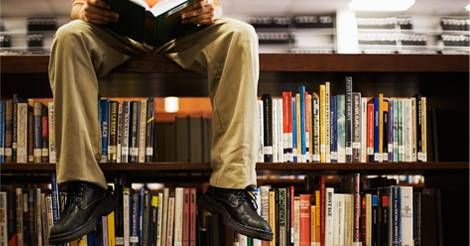 Pop Culture
The Best Authors I Ever Met and Why They Were the Coolest
This content contains affiliate links. When you buy through these links, we may earn an affiliate commission.
I don't know if I can say that I have a favorite author. I have read the works of many authors and, like most people, I have loved some and disliked others. I can tell you right off the bat that I disliked Cormac McCarthy's books. His style was just something I did not care for but others absolutely love him. I guess that is the beauty of books and authors: There are so many of them that the possibilities are endless.
Two of my favorite authors are Ernest Cline and Scott Meyer. Their books were just so awesome to me that I hope to one day meet them and get my books signed by them. Until that happens; however, for now I would like to talk about some of the authors I have met and why they were so awesome in person. I have read some horror stories about fans meeting their favorite authors or celebrities and the experience being terrible. I can genuinely appreciate the efforts of the authors I met because despite the hundreds of people standing in line behind me, they each took the time to have a quick conversation with me. They never seemed rushed or disinterested.
Lois Lowry
I had the pleasure of meeting Lois Lowry at the Texas Library Association conference back in 2013. I had recently purchased a copy of The Giver so of course I took it with me to the conference when I found out she would be there. I stood in line for quite some time and anxiously awaited my opportunity to snap a photo of her and get my book signed. I watched as she signed everybody's books and took the time to chat it up with everybody. When it was my turn, she did the same with me. She signed my book, spoke to me and took a photo with me. She was genuine and just an awesome person. She never complained when everybody wanted a photo with her and was never rude. I had the opportunity to tell her that I fell in love with The Giver back in 1997 when we were given the book to read at school. It was the best "must read" book I ever read.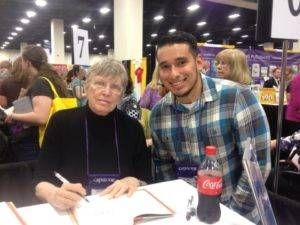 LeVar Burton
This man is a legend! What else can I say about him that has not already been said? I grew up watching Reading Rainbow on PBS and I can still hear the theme song in my head right now: "I can go anywhere…Take a look, It's in a book." If that song does not have you feeling nostalgic then I don't know what will. I met LeVar at a conference I attended last year. He was there to deliver the opening general session and to promote his children's book The Rhino Who Swallowed a Storm. I again stood in line for a long time to meet him and get my book signed. He made it out to my son and was just a very nice person. During the general session he spoke of his mother being a driving force behind his love for reading and education. I related to that because my mother was very instrumental to my education. I told him about that and he genuinely cared to listen to my quick story. He told me to continue being an awesome librarian and to push my son to read forever. He also took the time to chat it up with everybody regardless of the hundreds of books he was about to sign. His bodyguards were ready for action, though. Check out the bodyguard in my picture: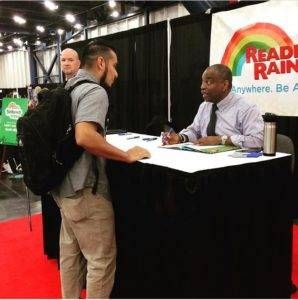 Shawn Michaels
I used to love watching wrestling on television. That was when it was the World Wrestling Federation and Shawn Michaels was giving his opponents some sweet chin music (his signature wrestling move to finish off opponents). Well, when Shawn was not drop-kicking people in the ring, he was working on his book Wrestling for My Life. Before I met Shawn, I had read up on how he was working on a tell-all book about his life inside the ring. So when you pair a kick-ass wrestler with a book, the combination is unmatched. I expected Shawn to be a towering man who made me look like tiny but he was a normal-sized man who was just too cool to talk to. He smiled for every single photo and was glad that so many people lined up to meet him. I told him that I practiced sweet chin music on my homies thousands of times when we were kids and he just cracked up and asked if I always won those matches (I always did). The fact that he's from Texas made meeting him that much cooler. He was a stand-up guy and pretty chill.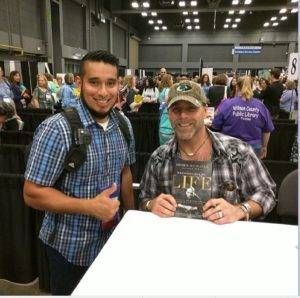 I am not the only one who as ever met an author, and the authors I have met definitely won't be the last ones. However, so far, I can say that the authors I have met were cool as cucumbers and did not fuss about having to sign hundreds of books. They were genuine with everybody and allowed everybody to take photos with them. My experiences were not terrible ones and I don't have any horror story to tell, which is good. I hope I get to meet many more authors in the future and they are all just as cool as the ones pictured above. Which authors have you met and what was your experience?