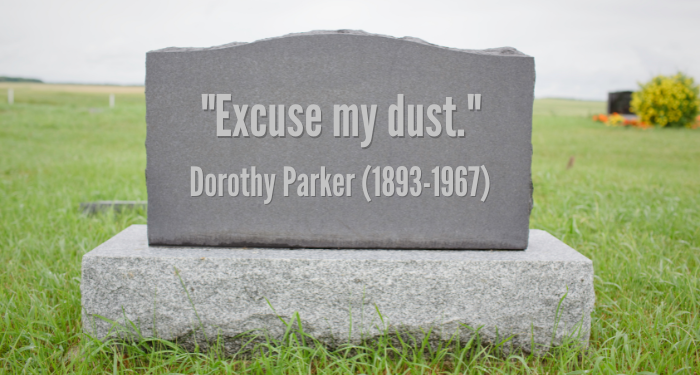 Lists
The Final Word: The Best Author Epitaphs
We all know that writing is hard work. Trying to find the perfect words to create a lasting work of art can be a maddening process. Remember how hard it was to pick your yearbook quote? It was a reflection of where you were in your life at the time, and it seemed so perfect. And now forever, under your senior picture, it will say, "A licky boom-boom down" from Snow's Informer. Because it's often hard to pick the right words! Now imagine they're going on your headstone. That's forever-forever. But many authors have chosen (or had chosen) some really great words for their final resting places. That's why we've rounded up 12 of the best author epitaphs.
An epitaph is a piece of writing used on a headstone or monument to memorialize someone. (Not to be confused with epigraph, which is a quotation used to introduce a piece of writing, like at the beginning of a book.) Despite the fact that authors are literally known for using words, it's surprising how many have headstones without an epitaph. Like, Ernest Hemingway, really? He seemed to bloviate on and on, yet his headstone contains only his name and dates. Or Douglas Adams, he has such a simple headstone, it makes you want to cry. (There isn't even an illustration. There's no towel, no fish, no Cosmic Cutie.) But there are plenty of amazing author epitaphs to choose from. Some are serious, some are silly, and some are poignant. And these 12 are some of the best!
---
Honorary mentions: The headstone of Gwendolyn Brooks is shaped like a book, with the titles of her works on the spine. The headstone of Nella Larsen, author of Passing, is etched with a book and reads "A Novelist Remembered." — which is nice and succinct. And Herman Melville's headstone has a scroll carved into the front that reads…nothing. It's blank, which really feels like a statement in itself.
As for myself, I am not sure what I want my epitaph to say. There probably won't be any room for one, after they finish carving "Killed by a falling stack of books: we told her to be careful." And as the headstone of Mel Blanc says, "That's all folks."