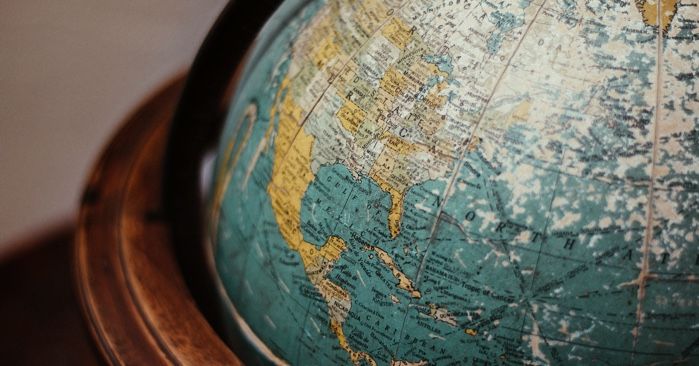 This content contains affiliate links. When you buy through these links, we may earn an affiliate commission.
Each year, I choose an area of literature I want to specifically read more of — a goal to work towards throughout the year. In 2021, I'm prioritizing reading international literature, especially audiobooks in translation. I've been catching up on recent audiobook releases, so here are a few gems I've found!
The Disaster Tourist by Yun Ko-eun, Translated by Lizzie Buehler, Narrated by Natalie Naudus
In this eco-thriller, Yona works for a travel agency that arranges trips to disaster areas devastated by climate change. When Yona goes on a business trip to visit a sinkhole, she learns that the company, disappointed by the sinkhole's lackluster attraction, plans on trying to create a better disaster in the location. Now Yona must decide whether or not to stay with the company or try to protect the people who may be affected by the company's decisions.
The Aunt Who Wouldn't Die by Shirshendu Mukhopadhyay, Translated by Arunava Sinha, Narrated by Deepti Gupta and Zehra Jane Naqvi
The Aunt Who Wouldn't Die follows three generations of Bengali women. Mitra has just married and is settling into her new home when she comes across the body of her new great-aunt. From there the women in the family are confronted with hidden secrets and coming to terms with the family's history. Funny and moving, these women's stories come together to create a new understanding of what it means to be family.
Disoriental by Négar Djavadi, Translated by Tina Kover, Narrated by Siiri Scott
In this epic, multilayered novel, we meet Kimiâ Sadr who fled Iran with her family to make a new home in France. Sitting in a fertility clinic, Kimiâ Sadr begins to contemplate her family's history, and as the novel moves into the past, we meet Kimiâ's ancestors. Siiri Scott's narration makes Tina Kover's brilliant translation from the original French all the more beautiful. If you're looking for a novel to get engrossed in, this is it.
The Girl in the Tree by Şebnem İşigüzel, Translated by Mark David Wyers, Narrated by Soneela Nankani
A young woman climbs into a tree, determined to escape the chaos and horror of the world. As she sits in the tree, a young man sees her, and he knows it's love at first sight. Together they share stories of their lives and the world around them. And if this incredible story wasn't enough, Soneela Nankani, one of my favorite narrators, captures the protagonist's voice perfectly.
A Single Swallow by Zhang Ling, Translated by Shelly Bryant, Narrated by Arthur Morey, Adam Verner, Tanya Eby, Feodor Chin, Christopher Lane
At the end of WWII, three men make a pact that after their deaths, their souls would return to the Chinese village they grew up in. Then there's the woman who they all loved, Ah Yan — also known as The Swallow — who is a person with her own story to tell. This weaves together the story of these three men's lives and how their fates became intersected with Ah Yan's life. The range of narrators provide a unique voice for each viewpoint character.
The Divine Boys by Laura Restrepo, Translated by Carolina De Robertis, Narrated by Ramón de Ocampo
Five men live without consequences, partaking of the best Bogotá has to offer. Their wealth and privilege make them feel untouchable, but there's only one rule: they must remain loyal to each other. When a young girl from the slums goes missing, these men's world turns upside down and everything begins to change. Translated by the acclaimed novelist Carolina De Robertis and narrated by Ramón de Ocampo, The Divine Boys is a novel that will engross you from the very first chapter.