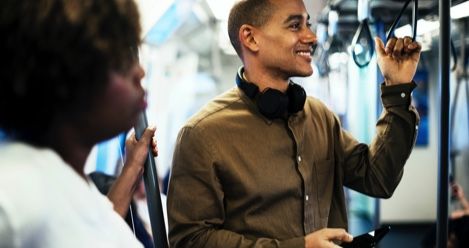 Audiobooks
A Guide to the Best Audiobook Service Options
This content contains affiliate links. When you buy through these links, we may earn an affiliate commission.
Now that we live in this glorious time of instant gratification and digital content on demand (that my 13-year-old self always dreamed of while waiting for out-of-print VHS tapes to arrive in the mail), there are oh so many options for media consumption, and audiobooks are no exception. Following is a list of some of the best audiobook service websites and apps out there. You can live a full and vibrant audio-obsessed life by using and perusing a combination of these stellar apps.
Best Audiobook Service: Paid subscriptions
Audible is probably the best known audiobook service, and paired with other Amazon services like Kindle Unlimited and Prime Reading it's got a lot to offer fans of the spoken word. For a $14.95 monthly subscription fee, members receive one credit, which is good for one audiobook no matter the original price. Members also receive 30% off list price on all titles, all the time. There are additional membership options too, including 2 credits per month for $22.95 or you can pay up front for 12 or 24 credits per year. One of the best parts of Audible is that if you don't love a book you purchased, you can easily return it within one year of the purchase.
With Kindle Unlimited any book you choose that is "Whispersync for Voice-ready" is automatically added to your Audible library. And with Prime Reading there are a ton more books available to Prime members to read and listen to for free. You can borrow up to 10 titles at a time with audio versions included whenever they are available.
Extras
Starting in September 2018, Audible now offers 2 free Originals per month. Members pick from six choices right inside the app. Some other cool extras are the audio-guided workouts and meditation sessions by Aaptiv and the complimentary New York Times daily audio digest and top stories from The Wall Street Journal and Washington Post. They also offer free gifts to members on anniversaries and holidays and have frequent 2 for 1 credit sales in addition to the Daily Deal, which is usually available for $5 or under each day.
App features
In the app, you can create bookmarks with notes, share clips, track your listening stats, and explore titles by listening to samples and adding to your wish list for purchase on the full site. It features a light or dark mode, car mode with a simplified screen, and a button free mode. There's also a sleep timer with the glorious "end of chapter" option, a ton of narration speeds, and a customizable jump forward/back setting.
Scribd is a media subscription service that offers unlimited access to audiobooks, ebooks, magazines, news, sheet music, and documents uploaded by the community for $8.99 per month. They have tons of popular titles and new releases and are always adding more. If you're a binge listener like me, sometimes you will notice that Scribd will limit the titles that are available, but this will usually only last until your next billing cycle begins and Scribd will notify you when the title becomes available. Scribd also offers free access to other apps exclusively for members, including Pocket, MUBI, Audm, Blinkest and FarFaria. Scribd is a great value and in conjunction with library apps like Libby and Hoopla, I usually check for titles here first before using a credit or buying a la carte on other apps.
App features
In the app, you can create lists and save titles for easier access later, download books for offline listening, and create bookmarks. It also features a sleep timer, various reading speeds, and customizable jump forward/back. When you're searching, you'll also be able to see if a title you're looking at is available on Scribd as an ebook or audiobook and switch over to your preference with one tap.
Libro.fm lets you support your favorite independent bookstores while still enjoying the features of a service like Audible. Membership is $14.99 per month, which gets you one credit to spend every month, plus 30% off list price. To get started, you choose your local independent bookstore or any other participating bookstore from a drop-down menu in your account settings. Your first month is free.
App features
The Libro.fm app is basically just an audiobook player with a list of your books purchased and a very simple look. It features different narration speeds, bookmarks with notes, customizable skip forward/back, and a sleep timer with an "end of track" option.
Kobo offers an audiobook subscription service for $9.99 per month for one credit with the first month free. They also have a rewards program called Kobo Super Points, where you earn points for every dollar you spend and can redeem them for more audiobooks in the future. Additional credits can be purchased at a discounted rate. You can also purchase audiobooks outright for list price.
App features
The app features several narration speeds, sleep timer with "end of chapter" option, and customizable background colors, but no bookmarking feature or custom skip options.
Downpour's subscription service is available at $12.99 per month for one credit. The big difference between Downpour and some of the other audiobook services is that they also offer digital rentals, and options to buy in CD format. Similar to Audible, they have a "Daily Steal" audiobook for under $5 each day.
App features
Features in the app include bookmarks with notes, various narration speeds, sleep timer with "end of track" option, customizable skip forward/back and lock screen controls, and in-app purchase capability.
Best Audiobook Service: Free Options
You can use Overdrive and Libby to check out and play digital audiobooks from your local library. Both apps basically work the same: you login by choosing your library, entering your library card, and browsing titles that your library holds. Both apps will have the same holdings if you're logged in to the same library. Overdrive downloads audiobooks in parts, and has very basic versions of the sleep timer, narration speeds, and bookmarks. Libby is a little more user-friendly and works more like a conventional audiobook app where you tap on the title and it begins to play immediately. It also features a sleep timer, different narration speeds, and bookmarks, but all of the functions are more robust. The sleep timer has an end of chapter option, there are tons of narration speeds to choose from, and the bookmarks feature lets you add notes. Libby also has a cool "What's available?" link on its front page so you can get listening right away by browsing a list of books with no holds. If you want to learn about more of the differences between Overdrive and Libby, click here to check out Rioter Alex Acks's take.
If you're lucky enough to belong to a library that uses Hoopla, you have free access to movies, TV shows, music, ebooks, comics, and audiobooks. On the audiobook side of things, the app is pretty simple to use. Once you're logged in with your library card, it's tap, tap, listen. There is usually a limit to how many borrows you are allowed for the month across all media types. The app features a basic sleep timer, just a few narration speeds, 30-second skip forward/back options, and bookmarking capability.
LibriVox is a service that offers free public domain audiobooks read by volunteers. There are tons of versions of each classic, public domain title, so you can find the perfect narrator for you. LibriVox also offers audiobooks read in a bunch of different languages. The app itself is really straightforward, features include sleep timer with end of chapter option, 15 second skip forward/back buttons, and narration speeds on a tortoise to hare sliding scale. Seriously, it's the cutest!
Best Audiobook Service: By the Book
Nook Audiobooks doesn't require a membership or subscription fee. You can browse and buy audiobooks at slightly less than list price on the full site and play them in the separate Nook Audiobooks app. The app is pretty simple and features just a few narration speeds and a skip back button.
For Apple and Android users, the respective flagship media stores are another place to search, sample, and purchase audiobooks a la carte.
And finally, apps like Spotify, YouTube, and Soundcloud are great places to search for independent and public domain titles, as well as promotional trailers and samples of audiobooks.
What's your go-to audiobook service? Let us know in the comments.