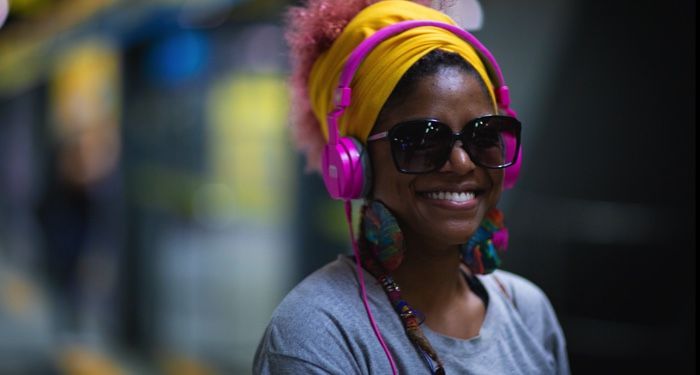 Audiobooks
5 of the Best Series on Audio to Keep You Listening for Days
When I'm super stressed out (by a pandemic, financial crisis, or presidential election, for example), I reach for series that I can listen to for hours and hours, giving me that comforting reassurance of knowing I'm going to be with the same world or characters for a long time. Sometimes I'm in the mood for an epic fantasy and the excitement of exploring a new and magical world. Other times, I want to visit regions I'm more familiar with, like the American South. Here are a few of my favorite audiobook series, and as an added bonus, I've included how many hours you can spend with these stories over the course of the audiobooks!
The Broken Earth Trilogy by N.K. Jemisin | 43 Hours
In one of my favorite performances of her career, Robin Miles narrates the entirety of N.K. Jemisin's magnificent Broken Earth trilogy. This series starts when the world begins to end and the continent is devastated by earthquakes and dangerous weather patterns. But what Essun most cares about is that her husband has just murdered their young son and kidnapped their daughter. With over 43 hours of a perfect narrative performance from Robin Miles, the Broken Earth trilogy is one of the best fantasy series I've ever read.
The Appalachian Trilogy by Silas House | | 29 Hours
Beginning with A Parchment of Leaves, we follow a family living in the same Kentucky holler for 80 years. This trilogy became a bestseller when it was first published in the early 2000s, putting Appalachian literature in the spotlight in a way rarely before seen. I recently marathoned this series in a single week, savoring every moment of Kate Forbes's and Tom Stechschulte's performances. Silas House's characters feel so natural, and well-rounded, creating such a vibrant story over the course of almost 30 hours of audio.
The Daevabad Trilogy by S.A. Chakraborty | 72 Hours
I recently finished this engrossing trilogy—performed by the all-star audiobook narrator Soneela Nankani— and I can't stop thinking about it. The series starts with A City of Brass where we meet Nahri, who accidentally calls forth an ancient Djinn warrior. He whisks her away to Daevabad, the Djinn capitol city, where she's dropped into the middle of political machinations that may not have her best interest at heart. I have listened and re-listened to the books in this series and will never get tired of revisiting the places and characters from this incredible story.
The Bois Sauvage Trilogy by Jesmyn Ward | 29 Hours
Jesmyn Ward stands as one of my favorite authors of all time, and her novel Salvage the Bones, which is narrated by Cherise Booth, inspired me to join the bookish internet so I could tell more people about her work. When read aloud, Ward's prose sounds like poetry. Her debut, Where the Line Bleeds, kicks off the trilogy. Though they are all set in the same fictional town of Bois Sauvage, Mississippi, each novel stands on its own, so you can read them in whatever order you like. Since each book focuses on a different group of characters, different narrators perform the different books, giving each story its own unique feel and experience.
The Chrestomanci Chronicles by Diana Wynne Jones | 51 Hours
Diana Wynne Jones is the children's author I wish I had listened to as a kid. Starting with A Charmed Life, we enter a universe with multiple worlds, all watched over by the Chrestomanci, a person with multiple lives. This first story focuses on Cat, a young boy who goes to live at Chrestomanci Castle with his sister Gwendolyn. But while the adults don't seem to notice or care what they get up to, Gwendolyn starts coming up with her own schemes that may involve Cat in sinister ways. Gerard Doyle narrates all six books in the series, giving each story that picturesque British feel and making these novels the perfect escapist reads.