Audiobooks
The Best Audiobook Apps, Subscriptions, Freebies, And More
This content contains affiliate links. When you buy through these links, we may earn an affiliate commission.
So you want to join the world of audiobooks, but don't know where to start? You've come to the right place. We have the best audiobook apps for Android and iPhone, free options, paid audiobook subscriptions, and a slew of sites for quick, bite-sized listens.
Here's the skinny: Reading with your ears is not very different from reading with your eyes. You can get free audiobooks through your library (or library's app), you can find books in the public domain available for free, or you can buy audiobooks individually.
But in the audiobook world, sites offer subscriptions, which save you money. Subscriptions range from about $10 to $15 a month, and if you listen to a book a month, that's some nice bang for your buck. Especially considering the price of a new hardcover.
Most audiobook subscriptions offer a free one-month trial, so there's really no downside to giving audiobooks a try. Listen to murder mysteries while you wash the dishes, self-help books while you drive, or romance while you garden. Audiobooks don't have to be replacements for print books—they're an addition. In 2016, 26 of the 125 books I read were audiobooks. That's a 20 percent increase in books!
Here's the best audiobook apps, free or paid, to get more books into your ears.
Free audiobook apps
Maybe you just want a taste, so here are the top free audiobook apps. No harm, no foul.
If your library has a subscription, you can log in with your library card and access the entire catalog. Hoopla has a great collection of audiobooks (it's one of my favorite audiobooks apps) along with ebooks, comics, movies, and music. Every library that uses Hoopla has access to the same giant collection, and there are no holds. You can listen to the most popular book right now even if every other library patron is listening to it. The only downside is that some libraries limit the amount of checkouts per month (mine is 10, which is more than enough). But it's still a free service, so you can't go wrong.
LibriVox has a huge collection of free audiobooks in the public domain read by volunteers across the globe. You can even choose between editions, if a certain reader's voice isn't doing it for you. Go to Librivox to get Pride and Prejudice, Mrs. Dalloway, and Lady Chatterly's Lover into your ears.
Loyal Books has a wide collection of free audiobooks in the public domain. A sample of the library: Dracula, Frankenstein, and The Origin of Species. And other things not mildly spooky, of course.
Overdrive is another audiobook app to use through your library. Each library has its own catalog of free audiobooks to download. Unlike Hoopla, the catalog is specific to your library, and you can request books for your library to add to the collection. Your library has a select number of licenses for books, so there are often lengthy hold lists. Friendly tip: Once you finish a book on Overdrive, be kind and return it so more people can enjoy it!
PAID AUDIOBOOK SUBSCRIPTIONS
For the intermediate listener, we bring you: Paid audiobook subscriptions! These are some of the best audiobook apps for Android and iPhones. Really, choosing the right one comes down to price and what you like your apps to look like.
After a free 30-day trial, pay $14.95 a month for a wide selection of audiobooks at Audible. Each month you get a credit, and most audiobooks cost just one credit. You can also buy extra books in the month from the credit card linked to your Amazon account. This is at the top of the list of audiobook apps for a reason, people. Find new books like Ayobami Adebayo's Stay With Me, Kamila Shamsie's Home Fire, Patricia Lockwood's Priestdaddy, and preorder upcoming gems like Hillary Clinton's What Happened.
---
Psst: Just for Book Riot readers: sign up for an Audible account, and get two audiobooks free right now!
---
At audiobooks.com, stream or download one audiobook a month for $14.95. Its collection is sorted into neat categories, like "Perfect first listens," with Angie Thomas' The Hate U Give, Stephen King's IT, and Imbolo Mbue's Behold the Dreamers.
Downpour is an audiobook rental service. For $12.99 a month, you get one credit (most books are one credit), and can have access to the book for up to 60 days. It's a good option if you're looking to free up space on your phone, but that also means the book disappears from your library after the lending period is up. Check out trending titles like Sherman Alexie's You Don't Have to Say You Love Me, Samantha Irby's We Are Never Meeting in Real Life, and Roxane Gay's Hunger.
eStories boasts a library of over 100,000 titles, and has sweet daily deals. For $11.99 a month, you get one audiobook. Get bestsellers and new releases like Brandy Colbert's Little & Lion, Lindsay Hunter's Only Eat When You're Hungry, and Diksha Basu's The Windfall.
Libro.fm is for the audiobook reader who wants to support their independent bookstore. For $14.99 a month (with a $0.99 first month!) get one audiobook—and keep it. Find your indie bookstore, fill up your shopping cart with great audiobooks, and your store profits. This is a great model for audiobook apps.
At only $9 a month (after a free month trial), you can't go wrong with Scribd. The collection is smaller than most—something like 30,000 audiobooks—but when you're a subscriber, you can listen to as many as you like, any time. Go to Scribd for Mohsin Hamid's Exit West, Colson Whitehead's The Underground Railroad, and George Saunders' Lincoln in the Bardo.
FREE AUDIOBOOK COLLECTIONS
This is the bonus of the audiobook world. Here's a list of sites where you can get free audiobooks—mostly works in the public domain—to download to your device or listen on your web browser.
Lit2Go has a collection of works tailored for classroom use. Each free audiobook comes with citation information, play time, and word count.
Mind Webs was an old-time radio dramatization of more than 150 classic science fiction short stories. Now it's an online collection. Get your fix of Philip K. Dick, Ursula K. Le Guin, and Kurt Vonnegut.
Open Culture is a one-stop shop for all free audiobooks. They've neatly listed every title, sorted by author, and given links to where to download or stream.
Project Gutenberg is the go-to for books in the public domain, but with a twist: Do you want your books read by computer or human?
Scribl is a great place if you're looking for fresh, indie audiobooks, often read by the authors themselves. The newest books are free, and after a time, they're crowdpriced—based on number of reads and ratings. Popular books cost about what they would at retailer.
Spotify jumped on the audiobook train and has the usual suspects up for free: Classics and other works in the public domain.
Storynory is great for audiobooks for kids. Classics and fairy tales rule the roost here, but there's also a wide selection of original stories exclusive to Storynory.
Sync is a summer audiobook program for teens (or adults, really), hosted by Overdrive. In 2017, they paired contemporary young adult novels with classics (Daniel Jose Older's Shadowshaper with Franz Kafka's The Metamorphosis) or current event nonfiction (Dan Poblocki's The Gathering with Nita Belles' In Our Backyard: Human Trafficking in America and What We Can Do to Stop It).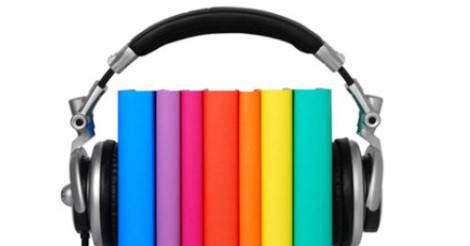 BONUS RESOURCES
If a subscription doesn't sound like your cup of tea, or you're just not into the whole digital thing, you can find audiobooks on CD at your regular bookstore or library. You can download the audiobook CD onto your computer and sync to your device.
But you want to listen seamlessly to audiobook files, not music files, where you don't have to bring a sticky note with you to remember the exact hour:minute:second where you left off listening?
There's an app for that. Bound ($3.99 for Apple) is beloved for converting audio files from the cloud into audiobook files to listen on your device of choice. Bookmobile is similar, with a 60-day free trial followed by a $3.99 in-app purchase. If you're on an Android, head over to Smart Audiobook App (free first month, then $2 for full version).
Now go forth and listen! What do you think are the best audiobook apps?