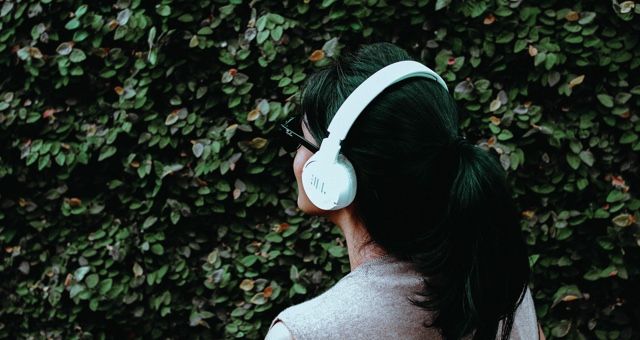 Audiobooks
21 of the Best Audible Books to Gift This Holiday Season
This content contains affiliate links. When you buy through these links, we may earn an affiliate commission.
It's no secret that audiobooks are on the rise in popularity, so gifting audiobooks is a great option this holiday season, especially because they don't take up any physical space! Head here for a step-by-step of how to gift an Audible book to someone, but keep reading for recommendations of the best Audible books to get them!
The below list is compiled of the best Audible books for 2019 (meaning they were all released this calendar year). From the hugely popular to the lesser known, these will make perfect audiobook gifts for anyone on your list.
The Best Audible Books For Your Friend Who Says "I Want to Read More This Year"
This is the best Audible gift to give to the friend who swears they want to read more but don't know how to fit it in their busy schedule. Narrated by a full cast and told in the form of a biographical history of a '70s rock band, this audiobook is relatable, easily digestible, and is likely the book the whole family will be talking about over the holidays.
A new mysterious illness is taking over New York City, causing its victims to go mad with memories of a life they never lived. Part police procedural, part sci-fi thriller, this is a great go-to audiobook gift that will appeal to pretty much anyone on your list.
This is a must-read for everyone on the planet, and to ensure that, this is an excellent choice as an Audible gift this season. The powerful memoir by the woman the United States knew only as Emily Doe for months (the victim of Brock Turner), this account is heartbreaking and uplifting as she reclaims her identity and tells her own story.
If you're not sure about a full-blown novel for an Audible gift, this collection of short stories, essays, and parodies is a perfect choice. Saying things the "Southern" way (i.e. politely insulting), Ellis delivers incredibly short and incredibly funny musings on what it means to be a woman and take up space all while eschewing traditional roles.
The Best Audible Books For Your Friend Who Is Obsessed with True Crime Podcasts and Won't Shut Up about Them
Likely your true crime buddy has already read the most-talked-about books (I'll Be Gone in the Dark is a prime example), so this recent release that is a little under-the-radar is a perfect pick. Beginning with a crime in Alaska and spanning to a chase in Texas and the discovery of "kill kits" across the country, this will have you shutting your curtains and double-locking your doors at night.
The Nickel Academy, a juvenile delinquent reform center in the early 1960s, is the setting for Whitehead's fictional but familiar examination of the prison system, racism, and growing up in Jim Crow–era Florida. This is based on a real school, and Whitehead directly discusses real issues the United States faced (and faces still) through the lens of Elwood and Turner, two young boys in the school.
Funeral director Caitlin Doughty is not afraid of talking about death. In her newest book, she answers the weird, the funny, the bizarre questions she receives from the most curious death investigators—children. From preserving skulls you can sit on your mantels to the best soil for mummification, this is an oddly hilarious insight into some weirder situations you may encounter at death.
Zappia is a seasoned pro in the YA space, and her newest book is a strange and riveting account of arson that resulted in the death of the school janitor. Everyone points the finger at Zora, but she knows she's innocent, so she sets out to find the real killer. The only problem? There's zero evidence. With small-town hijinks, paranormal investigators, and rumors all over the place, podcast listeners will be thrilled to jump into fiction with this audiobook.
The Best Audible Books For the Person Who Started Watching Hallmark Channel Holiday Movies in October
The most wish fulfillment, happy face–inducing book that people can't stop talking about, this royal romcom will make the perfect Audible gift for the person who just wants a happily ever after. Alex, son of the first female POTUS, just wants to get through school and start his own political career. But after a mishap with his arch-nemesis Henry, the crown prince of England, he's forced to spend more time with him. Soon, the two become inseparable and have to figure out how to learn about themselves and each other while navigating away from the spotlight.
Jess is living all our (American) dreams, and she's soon moving to London to live in a grand house shared with other Londoners. And as soon as she's there, she feels an instant connection with her floormate—the only problem? He feels a connection with another woman in their building. This will be the perfect book to listen to alongside a steaming cup of hot cocoa and by the fireside.
The Best Audible Books For the Person Who Still Can't Get Over Game of Thrones
Deen is a rare book dealer, and soon his quiet life is turned upside down. An epic journey that spans space and time, this audiobook will make the perfect gift for someone who is ready to settle into a comfy chair and not move until they are fully immersed in this world.
One of the most highly discussed and anticipated books of the year, this first novel by Coates follows Hiram, a young man born into bondage and stripped of all memories of his mother. But he also has a mysterious gift, and soon he wants to escape from his life in captivity. He begins his journey from the deep South to the idyllic North, all while meeting families and allies and enemies along the way as he navigates his strange power and attempts to find his family.
The Best Audible Books For Your Friend Who Always Says They've Already Read That Book
Yes, this is a book on grammar, style, and editing. Yes, there is an audiobook version of this book on grammar, style, and editing. Yes, it's great. Your book-loving friend will love this funny, witty, and oddly entertaining guide from Random House copy chief Benjamin Dreyer.
Theft, secrecy, and sabotage—usually terms to describe drug trades and crime circles. But in this case, they also describe the underground truffle trade. From farm to plate, there are many who try to profit from the luxurious truffles, and not all of them want to make the climb to riches honestly.
The Best Audible Books For the Friend or Relatives Who Have the Travel Bug
Naples was a home away from home for Heddi, who fell in love and found her way in the Italian city. Inspired by her own love story, this novel follows Heddi and Pietro through their tumultuous love during their university years, trying to find roots while breaking free.
Fifteen-year-old Ana, a teen in the Dominican countryside, suddenly finds herself engaged and headed to New York City. It's a marriage of opportunity only, allowing her to help her family emigrate one day. Ana struggles with her new life and plans to escape, but as she grows closer to Cesar, her husband's younger brother, she begins to wonder if she can make this life work after all.
The Best Audible Books For a Parent or a Parent-in-Law
A memoir about an immigrant family's pursuit of the American Dream, this book will make the perfect Audible gift to remind family members how important family is. The Shahani family came to Queens from India in the 1980s, received their green cards, and were ready to start living their new lives, but nothing is ever that simple.
Annie has spent her whole life in a copper mining town in Michigan where families put their lives at risk in the mines and serve the elite families. Annie can't take it anymore, and when she decides to stand up for herself and the families of the lower class, she suddenly has more on here plate than she bargained for. A novel of family, loyalty, and love, this audiobook will make a great gift and next book club pick for a parent.
The Best Audible Books For Fans of Gillian Flynn Who've Read All the Thrillers Already
It's difficult to beat thriller fans to the recommendations, but this brand-new release (December 3, 2019) will be a perfect Audible gift for the lover of dark novels in your life. In a small town on the west coast of New Zealand, one summer changes the town for good, causing everyone to shut their doors, shut out their neighbors, and disband all trust they once had. As people vanish from the town without a trace, its residents grow more and more anxious about their own fates.
Orpen has grown up on a tiny island in post-apocalyptic Ireland, so she's no stranger to survival. She and her guardian Maeve have prepared themselves and managed to survive the skrake, the undead, so far, and they don't plan to stop now. But when Maeve is bitten, everything changes.
The next thriller everyone will be talking about is this book, so it makes an excellent Audible gift. After Tom's wife suddenly dies, he moves with his son Jake to heal in a fresh house in a new town. But a serial killer everyone thought was long gone suddenly seems to be back, and a young boy vanishes, and the new town isn't as safe as Tom once thought it was.
---
While you're buying the best Audible books for your family members and friends, you may also need some great audiobooks to listen to while traveling over the holidays or another best-0f list to tide you over!