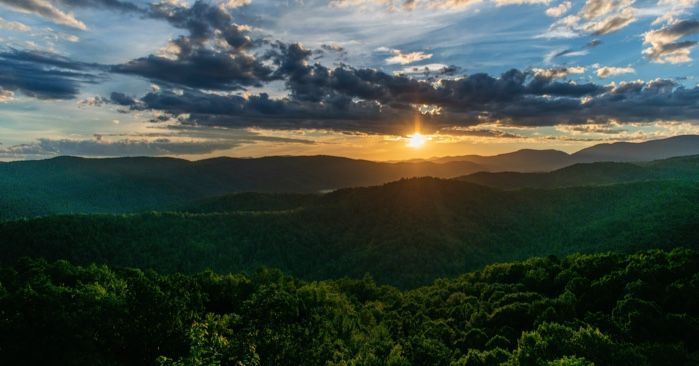 This content contains affiliate links. When you buy through these links, we may earn an affiliate commission.
As a proud Appalachian bookworm, I love sharing the wide range of excellent literature from my home region. Appalachian Literature comes in all sorts of genres, topics, and styles. Folks new to Appalachian Lit often ask me for recs, so here are six of my go-to recommendations for Appalachian audiobooks if you're just starting to listen to books from the region.
Southernmost by Silas House, Narrated by Charlie Thurston
Kentucky author Silas House is an American treasure. His stories portray everyday Appalachians as they try to navigate their complex reality. In Southernmost we meet Asher, a pastor whose deepest regret is shunning his brother when he came out as gay. Now he hasn't seen his brother in ten years. When a storm washes away several homes in his rural Tennessee neighborhood, Asher invites a gay couple to stay the night and shelter from the storm. But his wife refuses to let them stay. This moment marks the point when Asher's life begins to fall apart. After his wife files for divorce and threatens to deny him visitation rights, Asher abducts their son and flees to Key West, hoping to escape the Tennessee court system and to find his estranged brother. Charlie Thurston narrates this novel with attention to detail, teasing out Asher's character through his performance.
Even as We Breathe by Annette Saunooke Clapsaddle, Narrated by Kaipo Schwab
In one of my favorite novels from last year, Annette Saunooke Clapsaddle made her debut with Even As We Breathe, the first novel published by an enrolled member of the Eastern Band Cherokee Indians. With a beautiful sense of place and understanding of her characters, Clapsaddle tells the story of Cowney, a young Cherokee man living in Appalachian North Carolina during World War II. Exempted from the military draft because of being born with a disfigured foot, Cowney gets a job at the historic Grove Park Inn in Asheville, North Carolina, where the U.S. military has imprisoned diplomats from enemy countries. Kaipo Schwab performs the novel, beautifully capturing Cowney's narrative voice.
In this work of long-form journalism, Chris Hamby takes an in-depth look at how coal companies attempted to cover up the resurgence of black lung disease in their coal miners. For years, big coal used nefarious tactics to deny the reality that many of their miners were dying from greed that led to a lack of protections for workers in the mines. Gary Tiedmann reads the audiobook with such clarity, giving each chapter the feel of a podcast episode and making this hefty book easily digestible.
In possibly my favorite audiobook from last year, Deesha Philyaw burst onto the literary scene with her phenomenal short story collection The Secret Lives of Church Ladies. Each story looks at a different character and their relationship with "church ladies," however that may look. Each story shines as its own unique gem, and together, they illustrate the author's incredible skill at her craft. One of my favorite audiobook narrators, Janina Edwards, performs each story with all of her brilliant skill, illustrating a deep understanding of each viewpoint character.
The Prettiest Star by Carter Sickels, Narrated by Tiffany Morgan and Charlie Thurston
In his second novel, Carter Sickels introduces us to Brian, a gay young man living in New York City in the 1980s and mourning the loss of his lover and most of his friends to AIDS. With nowhere else to turn, Brian returns to Appalachian Ohio to a family that has refused to even acknowledge his sexuality. When he arrives back in his hometown, Brian's family must decide to stand by Brian as his own fight with AIDS progresses or to try to pacify their neighbors and the other townsfolk that make Brian's life a living hell. Tiffany Morgan and Charlie Thurston narrate the different viewpoint characters, making each perspective feel unique.
When These Mountains Burn features Raymond Mathis, a widower whose son has asked him to help him out one last time. Raymond has watched his son struggle with substance abuse for years. Frustrated by the lack of action from local law enforcement, Raymond decides to go and get his son by himself. From there the novel changes perspective to different characters around town who are deeply affected by the opioid crisis, one way or another. MacLeod Andrews performs the novel with such skill, making the viewpoint characters sound completely different from one another.