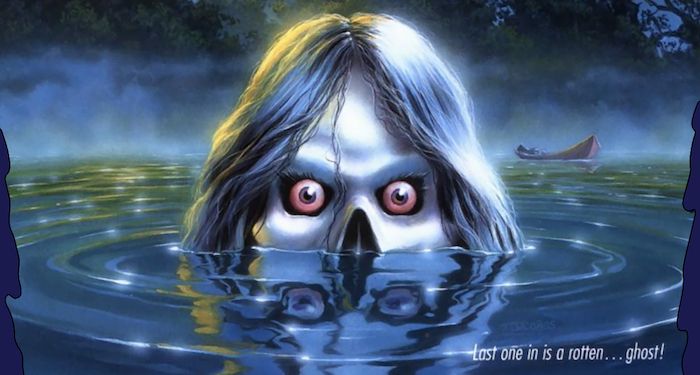 Opinion
A Definitive Ranking of Goosebumps Covers
This content contains affiliate links. When you buy through these links, we may earn an affiliate commission.
I've mentioned previously how my first experience with R.L. Stine wasn't actually Fear Street but Goosebumps, his series targeted towards younger readers. My sister preferred Christopher Pike to Stine and, since she influenced a lot of my reading growing up, I had to discover his books on my own.
Thanks to the Fear Street movie trilogy, a lot of people scrambled to find those books last summer to marathon read. But this wasn't the first screen adaptation of Stine's works. There have been two Goosebumps movies as well as a popular TV series.
That said, due to the series as well as the book themselves, Goosebumps played a big part in the lives of many book dragons out in the world, regardless of age or generation. I would argue a good reason for this is due to the book covers. If you were to ask a reader of the series, most could tell you at least one that they remembered right off the bat with little to no hesitation. I know I can, something which I will further expand on below.
Were they all winners? Well…no. But, really, that is true of any kind of book. Despite the adage, books are still very much judged by their covers. It's why readers get so upset when they make absolutely no sense. On the other hand, they always appreciate when a seemingly innocent detail turns out to have a huge impact on the book. Covers matter, no matter the genre — and you can't change my mind about that.
Here are some of the Goosebumps covers that stood out to me as a kid and now. Bear in mind that this list only includes covers in the original series of 62 books. So, it is not a fully comprehensive list, and I'm sure there are other covers out there which may speak more to you personally, one way or another.
As an aside, I was inspired to write this after watching BookTuber Gavin's reading vlog of all the original 62 books. If you have the time to spare to watch it — and it is almost three and a half hours — you can see it on his channel. Or you can just check his rankings of all the covers after you read this article and see if there were any overlaps.
Also, I will be categorizing these based on the original covers, which were illustrated by Tim Jacobus. The series has gone through a few republications, so the covers changed over time. But the originals are the only ones that are being considered here.
Iconic Goosebump Covers
These are the ones that I feel most readers would mention right off the bat if you were to ask them what is the cover they most associate with the series. This doesn't necessarily mean it is their favorite book in it, mind you; it is just the one that they would likely name if pressed.
Scary Goosebumps Covers
These are the ones that are legitimately frightening to me, regardless of how the story actually turned out.
Unsettling Goosebumps Covers
These are the covers that are not scary, but not stupid. They are just the ones that just make you feel uncomfortable if you look at them too long, so it's a middle of the road feeling.
They Tried…
These are the covers that, at the very least, get an 'E' for 'Effort'. They either tried to be scary or funny and missed the mark completely. But I still appreciated the effort.
---
And there you have it! The Goosebumps covers that, for better or for worse, stood out the most to me. Did we see eye to eye on a few or do you have different opinions? As always, let me know about it on social media. Until next time!