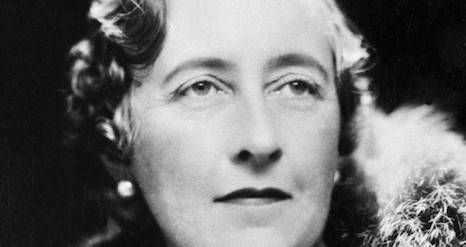 Your Ultimate Guide to the Best Agatha Christie Books
This content contains affiliate links. When you buy through these links, we may earn an affiliate commission.
Agatha Christie is not just a famous mystery writer, she's the best selling novelist of all time with over two billion copies sold and a massive fandom that continues long after her death. But if you decide you'd like to see what Christie has to offer, with over 60 novels and 14 short story collections, getting started can be a daunting task. We've compiled some basic information about her writing, the best Agatha Christie books, which ones to dip your toe in with, and what to read (and in what order) when you want to dive deeper.
What You Need to Know About Agatha Christie Books
Here's the basics you need to know if you're going to pick up an Agatha Christie book.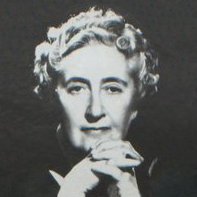 Agatha Christie wrote from the 1920s through the 1970s. Her books are almost entirely set among the British upper classes, and are commonly termed British cozy mysteries.
This isn't where to go for a diverse group of characters. Christie writes very simple, straightforward prose with a focus on plot and dialogue. They are not procedurals exactly, since they rarely focus on a professional police officer or detective. (Even Poirot is a former detective.) Instead the clues are compiled from conversations and plot twists.
She has two major series and another lesser-known series. Each follows the cases of a specific detective or team of detectives. These don't necessarily have to be read in order, though it may be helpful to start with the first one to get yourself properly introduced to the main character(s). Many of her books and stories have been adapted for television and movies.
Agatha Christie characters
Need a guide to recurring characters in Agatha Christie novels? Here's some of the most important ones.
Hercule Poirot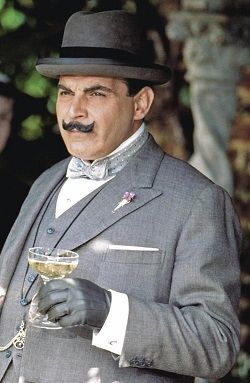 Poirot is best known for his iconic mustaches and using his "little grey cells" to solve the most puzzling cases from the right set of clues. A Belgian private detective who used to be a policeman, Poirot is often accompanied by Captain Arthur Hastings, who acts as the Watson to his Holmes. Poirot loves to gather all the suspects and slowly explain how he's solved the case. Many Poirot mysteries involve exotic locales and rich people, since Poirot himself is a wealthy man who keeps insisting he is retired. There are over 30 Poirot novels and over 50 short stories.
Miss Marple
Jane Marple is an amateur detective who also happens to be a sweet little old lady from the village St. Mary Mead. Miss Marple never married, has few relatives, and never had to work for a living. She's unexpectedly brilliant but enjoys her camouflage as a harmless old woman. Most Miss Marple novels give you a look at village life with a more typical cast of characters. She is often a minor character who may not appear for the first half of the book, and when she does appear be prepared for her to be wrapped in a pink fuzzy woolen shawl. She first appeared in Christie's short stories but eventually was featured in a dozen novels.
Tommy and Tuppence
This is the only series you may want to read in order, since the couple meets as carefree young people in the first novel and are several decades into their marriage by their last. Tommy and Tuppence start out post-World War I, full of excitement but without anything interesting to do, and stumble into a career looking for adventure and solving crimes. They appear in four novels and one book of short stories.
Other Recurring Agatha Christie Characters
Superintendent Battle and Inspector Japp are regular foils to Poirot, not quite bumbling police detectives, but reliant on Poirot to help them crack the case.
Ariadne Oliver is a famous mystery novelist whose books feature a foreign detective…hmm, why does that sound familiar? Oliver is not a detective herself, but a colorful side character who gets to stand in for Christie, usually in Poirot novels.
The Best Agatha Christie Books
If you're only going to dabble in Christie's work, the best Agatha Christie books to try are the most popular ones with the most lasting cultural impact. They're full of ingenious plots and endings so memorable that they've become part of the literary canon.
This book is my personal favorite. Only the third Poirot novel, it's a masterful use of narration and sleight of hand. The British Crime Writers' Association voted it the best crime novel ever.
Go into it spoiler free if at all possible.
In addition to its classic plot, this book has an exotic, quintessential setting on a luxury train. Poirot is traveling back to London and encounters a passenger who believes his life is in danger and tries to hire Poirot to protect him, but Poirot refuses. Sure enough, the man turns up dead and Poirot has to figure out which of the passengers in the first class car is responsible.
This Agatha Christie book is known for its story where characters on an island are picked off one by one. You may have seen alternate editions with different titles; more than one exists but more than one are also horribly racially insensitive.
Those titles come from the central poem that's an important plot device, and you may find either "Indian" or "Soldier," depending on which version you read.
This book breaks with Christie's usual style with a string of murders with seemingly random victims.
Basically every serial killer novel where a detective tries to figure out how the victims are connected exists because this book did it first.
Strong Standalone Agatha Christie Books
Before we dive into the detective series, it's worth noting some of the best Agatha Christie books don't have any of her most popular characters.
A standalone mystery that lets you dive in deeply to one strange family. Patriarch Aristide Leonides is dead, his much younger wife the prime suspect, but this family abounds with secrets and resentments, including a 13-year-old girl who fancies herself a detective. This is a family full of strong characters. As a reader you get to know them all really well. Suspicion is on pretty much everyone, and it's got a thrill of an ending.
One of Christie's personal favorites, this is a book that breaks most of her rules, with a memorable narrator, a cursed estate, and a love story that doesn't go the way you think it's going to go.
This is a play, but it's one of Christie's best known works and the longest running play in history. (It is still running in London and has been since 1952!)
If you enjoy plays, several of Christie's short stories and novels were adapted for the stage. Perhaps the second best known is The Witness for the Prosecution, which also became a popular movie.
The Best Hercule Poirot Mysteries
This book is Christie's first novel and our introduction to her most popular detective, Hercule Poirot.
Many would argue this is the best place for you to start, a good introduction to the author and her most famous detective. She starts off strong and surefooted.
This Agatha Christie novel, which also had a popular film adaptation in the '70s, takes place on a luxury cruise in Egypt where an heiress who is too beautiful, too rich, and too perfect finds herself a target of the other scheming passengers.
This book has a young woman who's had three murder attempts in just a day or two, a superstitious maid, foreigners in the guest house, and hard-partying friends hovering nearby.
A particularly impressive denouement where Poirot uses some unusual theatrics. Hastings narrates, which is always a bonus.
This one takes a Rashomon-style approach, with Poirot investigating a cold case and all five suspects writing up their own version of events. I actually got one twist here, but I missed the second one. With a limited cast of characters and a very clear chain of events, this is one of her simplest and most rewarding plots.
Simply put, this is Poirot's last case and I recommend you save it for as close to last as you can.
Favorite Miss Marple Mysteries
This has Miss Marple's first appearance in an Agatha Christie novel.
It's notable in large part because the character is very different in this book, not quite the sweet old lady we come to know later.
Like many Miss Marple books, this features her only as a secondary character near the end of the book.
But this novel, where the plot revolves around a town in scandal over poison pen letters, has a batch of quirky and memorable characters, including an extra charming injured pilot narrator.
This has perhaps the most interesting setup in all of Christie's novels.
I also recommend reading A Caribbean Mystery and Nemesis in a row, especially since the latter refers to events of the former quite often. Instead of being a secondary character, here Miss Marple is front and center.
Miss Marple's last novel, is probably the creepiest Christie novel. It gives me a major case of the shivers.
Suggested Agatha Christie Reading Order
If you're only going to read one Christie novel, take one from our Most Iconic list, though avoid any where you've had the ending or plot spoiled.
If you're going to read two or three, here are some suggested reading orders:
For a slightly longer list to really give you a feel for all that Christie has to offer, including some books that go outside her formula, read her books in this order:
Also, check out our Agatha Christie Reading Pathway for even more recommendations. But if you start out with Christie and realize you really enjoy her books, reading in order of publication is just about as rewarding a reading experience as you can get.