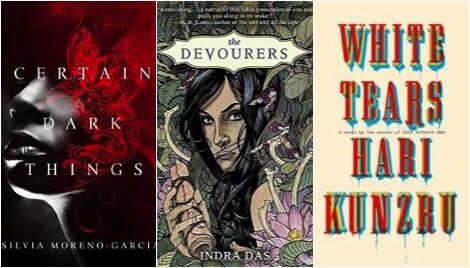 This content contains affiliate links. When you buy through these links, we may earn an affiliate commission.
Paranormal books have been around forever. From Bram Stoker's Dracula to Mary Shelley's Frankenstein, humans have always been obsessed with the undead, the uncanny, the supernatural. After a while, the genre starts to grow old. But with these additions to your reading list, you'll get a taste of paranormal books that aren't…well…normal.
Certain Dark Things takes the traditional vampire mythology and morphs it into something brand new. Here, vampires have races, genealogies, gangs, and loyalties. In Mexico City, we follow a homeless boy as he collides with a beautiful, jaded vampire. She needs him for blood and he can't help but comply. Domingo and Atl develop something more than a strictly parasitic relationship as the book progresses, leaving Certain Dark Things a unique paranormal book that revisits the vampire love story in a new light.
Legend has it that inside the Vorrh, if you go deep enough, is the Garden of Eden, untouched. And of course, with all beautiful things, man aims to conquer it. The Vorrh follows the magical journey of a soldier attempting to explore the mythical terrain. While a fantastical story, The Vorrh also breaches topics like colonialism, race, and history through its spellbinding prose.
A mysterious man in a deerskin suitcase. The lights of an Arby's. A story you'll never forget. Those familiar with the eerie, ever-so-clever podcast Welcome to Night Vale will adore its companion novel. It lets you explore a whole new story in the Night Vale universe. Although you'll miss Cecil's endearing voice, you'll delve deeper into Night Vale lore and fall in love with characters old and new. I can say with certainty that Welcome to Night Vale isn't like any other book you've ever read.
Never have you seen gods like this. In Neil Gaiman's American Gods we see a cast of supernatural beings unlike their numerous iterations before. In this reworking of modern-day mythology, the gods are intoxicating characters hard to find elsewhere. Shadow, a man released from prison, stumbles into a world of metaphysical trouble as he gets caught between a war of godly proportions.
A dissection of the werewolf lore, this paranormal book looks at the traditional story with new eyes. Filled with visceral language and characters who'll grab you by the heart, The Devourers is a beautiful exploration of love and life through the eyes of a werewolf. An epic story with massive scope that promises to break your heart, this is one to put on your TBR right now.
In The Girl with all the Gifts, you'll fall in love with the main character instantly, considering how sweet and endearing she is. You'll almost forget the fact that she's a bloodthirsty zombie. Carey really explores notions of humanity in this post-apocalyptic adventure, never leaving you with a clear answer on who really is human—the monster, or us? In addition, this book has a truly bold ending that I'll never forget.
What seems like a normal story about a husband and wife raising a child turns into something much more. The Changeling a terrifying, shocking tale of supernatural violence with towering stakes. Although I don't want to give too much away, LaValle's writing guides the reader through a story that'll have you staying up late to get to the next chapter. The twist will drop your jaw and keep it there.
Lost Boy by christina henry
Henry's reiteration of Peter Pan brings horror and complexity to the otherwise fun tale. Talk about defying genre—this book changes it completely. The Lost Boy finally explains why Hook hates Peter so much, and how their relationship began. With every unraveling of the mystery, you'll find you can't watch the sweet Disney movie with the same unfiltered glee.
Hari Kunzru ties race into fantasy as he tells the story of two musicians trying to make it big. There has been racial manipulation and oppression in the music business throughout American History and it hasn't died. White Tears is "a ghost story, a murder mystery, a timely meditation on race, and a love letter to all the forgotten geniuses of American music" (from Goodreads). In a world where paranormal books often focus on the white experience, White Tears is a welcome, rare entry to the genre.
I never thought the story of Beauty and the Beast was particularly sexy. The beast was sweet, sure, but he had nothing on Aladdin or Prince Naveen. That is, until A Court of Thorns and Roses. Sarah J. Maas, using breathtaking prose, cultivates the sexual tension and romance in this retelling of Beauty and the Beast so skillfully it'll have you tearing through the pages. From thorough worldbuilding to erotic, tender characters, this book is a fantastic start to a great series.
What else ya got?
What other paranormal books have you read that aren't so normal? Leave a comment below!