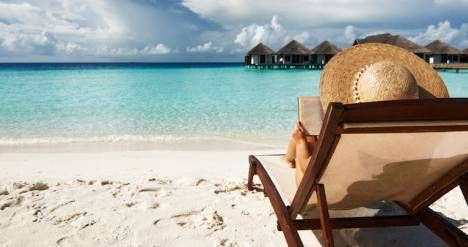 Lists
The Best 2018 Beach Reads
This content contains affiliate links. When you buy through these links, we may earn an affiliate commission.
Summer has arrived, and people all over are flocking to the beach. My friends and family frequently reach out to me for recommendations of what to read while catching some sun and sand. When it comes to perfect 2018 beach reads, of course everyone's preferences are a little different. Generally, beach readers are looking for something fun and fast-paced; something that will keep them engaged without being too emotionally heavy.
So I reached out to my fellow Book Riot contributors to identify the best books to read on the beach this summer. They came through with a list of books you won't be able to put down. The great news about these books is that they can take you on a mini-vacation from anywhere. Even if you can't make it to the beach this summer, grab a piña colada and some sunscreen and let these books bring the beach to you.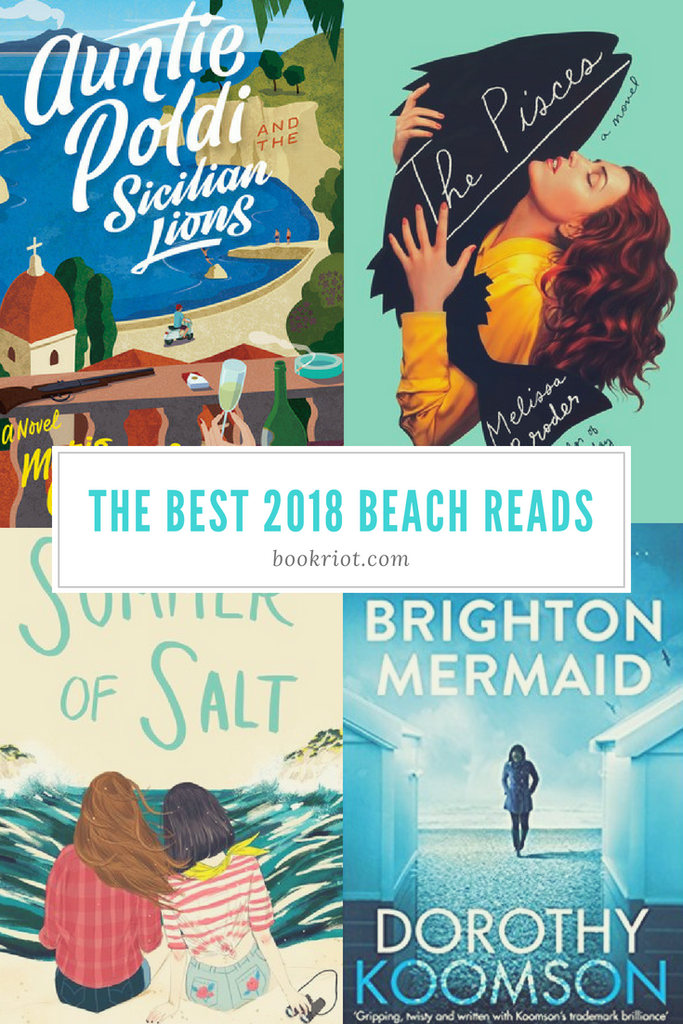 If You're Looking for Fantastical Adventure
While an alternate history of the Civil War period where the dead turn into zombies might be an odd pick for a beach read, Dread Nation is just such a FUN book. What I look for in a beach read is a fast and fun plot and engaging characters. A book that makes me smile and is as fun as the vacation I'm on. And that's exactly what you get with Dread Nation.
I'm never entirely sure what constitutes a "beach read," but I know when I'm reading at the beach (or on vacation in general) I want something that's good and just an all-around fun read. Which, as it happens, is pretty much the perfect way to describe River of Teeth. Imagine: an alternate history western where the U.S. introduced hippos to the Mississippi. Add in a wild revenge scheme and a colorful cast of characters and it's a recipe for perfection. Trust me. It's fun and bizarre in the best way possible.
It's the summer of Georgina and Mary's eighteenth birthdays, twin sisters in a long line of Fernweh women with magic powers that always materialize by their eighteenth birthday, or not at all. Mary is floating all over the place, but Georgina has no magic. She leaves for college in the fall, and this is her final summer on her quirky island, where birders flock for the season. But when disaster strikes, Mary begins acting more strangely, the rain comes, and the waters begin rising. This book is sweet and surprisingly woke and has that summer island feeling, friendship and sisterhood and growing up and changing. Even though it rains almost the whole book, this is a perfect beach read!
When I'm on the beach, I'm looking for something immersive and fast-paced, something I can't put down. The Poppy War definitely fits the bill. When selected to attend an elite military academy, Rin discovers she's more than just a great fighter. The gods have chosen her to save her people with her shamanic powers. It's based on one of the bloodiest wars of Chinese history, and the lead character faces issues of race, class, and gender head-on. This one is the perfect page turner!
If You're Looking for Flirty Romance
Listen, this book is so cute and sweet and swoony. It's got relatable characters you will root for, plus hot sex. Can you handle reading some hot sex while lounging on the beach? Yes, you can. Just don't forget to reapply your sunscreen.
I binge-read this on an aeroplane last year and couldn't stop laughing at this modern day Bridget Jones. I read it slightly intoxicated on the free alcohol when I was unexpectedly upgraded to first class, too, and it's a key ingredient for my beach reads that I am able to do that! And, bonus: if you liked that, you'll also like her second novel, What Fresh Hell, about planning a hen do (bachelorette party) for a bridezilla best friend, out earlier this year.
This book has a wild premise, wherein a woman named Lucy breaks up with her long term boyfriend, tries to deal with her anxiety, and meets a merman with, err, tackle. This book seems like the perfect absurd, erotic, and poetic read for the beach, not least because who knows what merperson might see it from the water and come over to start a conversation.
If You're Looking for Mystery and Intrigue
I know most people enjoy low-stress, breezy reads at the beach, but when I park myself under an umbrella on the edge of the water, the only thing I want in my hands is a mystery. This one is about two girls, Nell and Jude, who find the body of a woman washed up on the beach. She is dubbed "the Brighton Mermaid" by authorities, and things get even weirder when Jude herself goes missing three weeks later. We fast-forward twenty-five years and the mystery surrounding both the murder and disappearance are still affecting Nell's life. She journeys to find out what happened to her best friend and who the Brighton Mermaid really was in this fast-paced thrill ride.
Death Notice by Zhou Haohui, Zac Haluza (Translator)
A perfect cat-and-mouse thriller where Eumenides, a vigilante, is toying with the police as he exacts revenge on those he feels need punishing. The stakes are always high involving at least one person's life as the police race to stop Eumenides's vengeance, but he's always a few steps ahead…The perfect balance of mystery, thriller, tension, and twists.
An unreliable narrator sets the tone for a classic whodunit taking place on a luxury cruise ship. Beginning with a terrifying burglary, the reader never knows whether or not to trust the protagonist, Lo, as an important career opportunity is jeopardized by her own personal demons and those of the people around her. Ware's use of news clippings and email correspondence lend a sense of confusion to the narrative that only heightens the mystery surrounding what happened on the Aurora Borealis.
Not only is this an entertaining and fast-paced murder mystery; it's also set on a beach! Amateur detective Auntie Poldi retires to Sicily, where she makes quick work of charming the entire neighborhood and seducing the local Detective Chief Inspector. It's full of quirky characters, luxurious locales, and mysterious twists and turns.
Looking for more beach reads? We've got you covered. And be sure to share what you'll be reading on the beach this summer in the comments!