The fairy tale "Jack and the Beanstalk" traditionally discusses thievery and magical plants, as well as not trusting strangers to give you proper currency for your cow. These life lessons matter when people give away magic beans in the marketplace, but don't seem to bear merit in modern times. Or do that?
Mighty Jack, a comic duology, takes a different approach. Jack is a young boy in modern times living with his mother and little sister Maddy, balancing his sister-watching duties with worrying about his mother and finances. Maddy asks him to exchange the family car for a chest of mysterious seeds, and they work together to plant them. Strange magical events occur, and Jack frets when the plants summon monsters. A stubborn Maddy then plants one seed that nearly proves deadly, and whisks her to another world. Jack has to team up with a local girl to save his sister.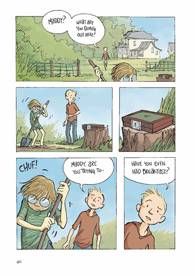 Ben Hatke has released Volume 2 of Mighty Jack. He sat down with Book Riot to talk about his series, and about plants.
Mighty Jack features a lot of gardening, though not of the usual sort. Do you like to garden?
I kind of don't. I like to have a garden, and I definitely like to eat the fresh produce from a garden, but I'm not particularly drawn to making a garden. I wish I liked it. I guess I grow stories instead.
Mighty Jack began with a garden in about 2006. I had a little studio room in our first house that overlooked a scrappy little garden that my wife had planted. It was beautiful and I was struck by how much food you can grow, packed into a tiny space. Looking out at that garden as I juggled freelance jobs, I started dreaming about a modern version of Jack and the Beanstalk, where Jack had a whole bunch of magic plants to contend with.
If you had a chest of seeds like the one Jack gets, would you plant them?
Yes. 100% yes.
Jack's main concern is keeping his sister safe, especially since she has trouble talking, from anything like the garden. Do you think his taking down the garden was the right thing, in all circumstances?
It's a complicated question isn't it? And I'm not sure there is a right answer. Part of what I enjoyed about writing this story was bringing up complicated questions, where there's not perfect right or wrong answer. It's interesting when things come down to a judgement in the moment.
Are there any plants that you would consider your favorite, to draw or grow?
I wish I still had my folder of plant references. When I finally started drawing the garden scenes, with all the weird plants, I was staying in Italy with my family. We were in a tiny village in the mountains where everyone had a garden. So I took a long walk with my camera and got pictures of all the strangest plants I could find. The girls got into it too, roaming the paths and the wild places and bringing me back little samples. It was really cool. Plants are crazy.
Maddy as a character has mild agency, though she starts the story by asking Jack to purchase the seeds and then planting the last packet. How do you want readers to see Maddy?
Maddy was very special to me. She only talks when it's really important. She also plays a huge role in driving the story. Her love for the garden (and her brother and Lilly) is a fierce love. She's not neurotypical, but I think there's a lot going on below the surface with her.
The other great thing about a character who doesn't talk is that it reminds me to focus on their gestures. It reminds me to really push my drawing so that readers can see how that character feels. Ideally a character might not even have to talk.
G.K. Chesterton said, "Fairy tales do not tell children the dragons exist. Children already know that dragons exist. Fairy tales tell children the dragons can be killed." Mighty Jack seems to emulate that quote, by taking inspiration from "Jack and the Beanstalk." What do you think about Chesterton's words?
Those are some favorite words from a favorite author right there. Good old Chesterton. He really put form to something deeply important.
What upcoming works can we look forward to in the next year?
Well, in 2018 we will see a box set of the Zita trilogy. Sometime after that, there will be a Young Adult novel called The Princess in the Piazza. There's also another graphic novel and a picture book on the horizon, but I can't say much about those two yet. The graphic novel will be a big one.
Keep an eye out for Mighty Jack and Mighty Jack: The Goblin King, both available now!
Also In This Story Stream