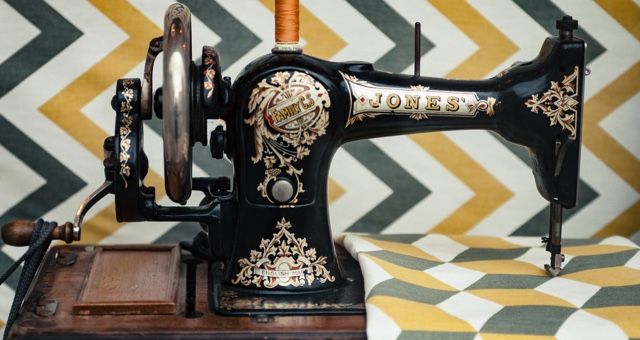 Crafting
Books to Help You Get to Know Your Sewing Machine
This content contains affiliate links. When you buy through these links, we may earn an affiliate commission.
When I was a kid, sewing was one of those things they taught us in school – but only the needle and thread version. When I was in my late teens at university, I started watching Project Runway and decided I wanted in on the action. I got a cut price sewing machine, set it up on a table, and taught myself the basics – enough that I was able to make my own Halloween costumes, but not tailor a fancy jacket.
The books I've listed will help to get a total beginner or a lapsed learner back to the needle and thread and back to the sewing machine. Ever since I was a child I've only ever seen pictures of white sewing machinists and tailors – a problem that persists through the sale of sewing merchandise and advertising. The Huntswoman blog ran a great piece on this at the end of 2018, calling on Bernina, Singer, Brother and Janome among others, to increase the visibility of people of colour in their social media imaging. This problem also persists in book publishing on the topic, which is full of incredibly talented people, but very few representations of people of colour.
To that end, on top of the below books, it's worth mentioning that there are a series of great bloggers of colour who dedicate their online time to sewing and pattern making for real women, featuring themselves in some incredibly photographs that are a total joy to browse through – try Mimi G for amazing patterns and That Black Chic for street style adaptations of patterns I remember as being incredibly boring in school.
One of my absolute favourite traditional books is Love at First Stitch by Tilly Walnes, which comes with a number of paper patterns a sewer can cut out and use themselves. The book goes through equipment, teaches basic skills and leads a beginners through a few projects from easiest to more complex, letting the maker pick their own fabrics and sense of adventure. The patterns are fresh with a vintage tinge and super flattering.
Sew Fab by Lesley Ware
Lesley Ware wrote Sew Fab for the younger sewer, up to early teenagers. However, if you're a total beginner and value quirky diverse illustrations and happen to have a younger person you could make some projects for, So Fab is a great resource. For younger sewers, it will help them establish a sense of style and self confidence, with positive images and plucky projects.
Any sewer would love a copy of The Sewing Book by Allison Smith MBE. It's a cornucopia of skills teaching, equipment listings and pattern options. It's a great book for learning and almost acts as a dictionary of sewing. I never fail to learn something new when I pick it up.
Sewing Happiness by Sanae Ishida goes against the modern adoration of instagram perfection in our lives and homes. Ishida writes with genuine warmth about making things for happiness alone after her own difficult illness. Vowing to sew all of her own and her daughter's clothes for a year, Ishida's patterns are tied together by season and range between clothing and homewares. The book brought me a great sense of joy and pulled my focus to the things that really matter – home, love, family. Worth a look for anyone who wants something with a lot of inspiration.