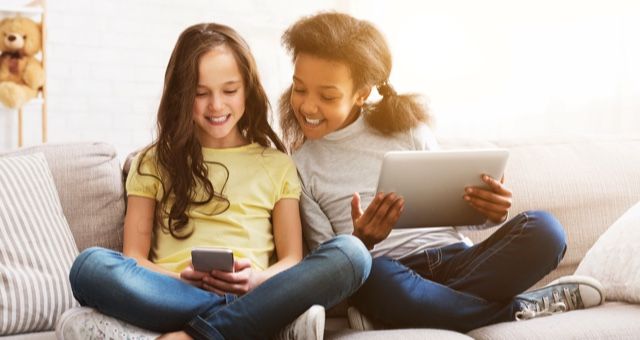 Children's
18 Stunningly Beautiful Children's Books For Storytime
This content contains affiliate links. When you buy through these links, we may earn an affiliate commission.
When I was a kid, my mom and I had a nightly routine. First we'd brush my teeth and braid my hair, then I'd go over to my bookshelf and pick out something for her to read to me. She'd tuck me in and settle down next to me, tilting the book my way so that I could take in the pictures while she read. The surreal fantastical monsters from Where the Wild Things Are were my favorite, with their terrible teeth and terrible eyes, their unruly hair and sharpened claws. What would Wild Things be without them? In honor of my childhood tradition, I rounded up several absolutely beautiful children's books for your reading (and viewing) pleasure.
Beautiful Children's Books
1. Pink is for Boys by Robb Pearlman and Illustrations by Eda Kaban
This vibrantly illustrated picture book tries to turn all those outdated gender stereotypes on their head. Feel free to Amazon Prime this to anyone in your network that posts negatively about boys wearing dresses.
2. Sulwe by Lupito Nyong'o, Illustrated by Vashti Harrison
The cover alone is a stunning preview to the beauty of Vashti Harrison's illustrations in "Sulwe". The expansive and twinkling night sky. Sulwe herself, with wide eyes and soft features, all whimsical details that help tell Nyong'o's story of a young girl striving to find her inner beauty.
Writer Sidney Smith has beautifully brought to life this quiet and moving story of a young child navigating a scary world. You feel as if you're stepping into the city itself as you take in every carefully crafted detail.
When referencing beautifully illustrated books over the past few years, Julian is a Mermaid always enters the conversation. The text here is simple and easy to read. It's the beautiful, full-bleed watercolor-like illustrations that allow the reader to feel completely immersed in Julian's imagination.
It felt only appropriate to include one of my childhood favorites on the list. Maurice Sendak's tale and monsters have endured for decades, for good reason.
I know, Vashti again? I can't help it. Originally a personal project for Black History Month, Harrison lends her signature style to this collection highlighting 40 notable and bold Black women throughout U.S. history.
Steeped in Hindu mythology but contemporary in voice and tone, writer Chitra Soundar and illustrator Uma Krishnaswamy collaborate on this book inspired by traditional Indian folktales. Krishnaswamy embraces the traditional black and white style of traditional Indian folk paintings.
8. Greta and the Giants by Zoe Tucker, illustrated by Zoe Persico
Illustrator Zoe Persico brings the wild and wondrous forest to life in this picture book with an important message about climate change, inspired by activist Greta Thunberg.
Elsie Hurst's magical world is reminiscent of Narnia in its wonder, beautifully brought to life by the stunning dreamlike illustrations. You could spend hours marveling at the detailed lifework as you see the city through Elsie's eyes.
Hatem Aly's mesmerizing watercolor illustrations perfectly complement this moving story of two sisters, their bond, and their faith.
There are not enough books about gender identity for young and older readers, and so this was a welcome addition to the market. Terms are thoughtfully explained and the illustrator plays close attention to detail when drawing each character.
12. Mae Among the Stars by Roda Ahmed, Illustrated by Stasia Burrington
Stasia Burrington creates cute, playful illustrations to highlight this story inspired by the first African American woman to travel in space.
13. The Day You Begin by Jacqueline Woodson, Illustrated by Rafael Lopez
Rafael Lopez's dreamy illustrations complement this moving and inclusive story about children finding the beauty in their lives and sharing that with the world
Writer and illustrator Sharee Miller shares an important narrative that reminds young readers about beauty, individuality, and respect.
Part of a series of board books for young children, this one explores the life of the inspirational Malala Yousafzai. The language is easy to read and the illustrations are eye-catching, perfect for young readers.
16. Where Are You From? by Yamile Saied Méndez, illustrated by Jaime Kim
As a first-gen kid, I'm familiar with the question "Where are you from?" Author Yamile Saied Mendez and illustrator Jaine Kim handle that question and the exploration of it beautifully in this picture book.
17. I Will Be Fierce by Bea Birdsong, Illustrated by Nidhi Chanani
A fierce battle-cry of a book for young readers. Chanani's richly colored full-page illustrations enhance this story of a young girl boldly facing and embracing everyday challenges.
18. The Girl and the Wolf by Katharena Vermette, Illustrated by Julie Flett
A beautiful retelling of "Little Red Riding Hood" where the wolf is far more helpful than dangerous and this riding hood knew how to save herself all along.