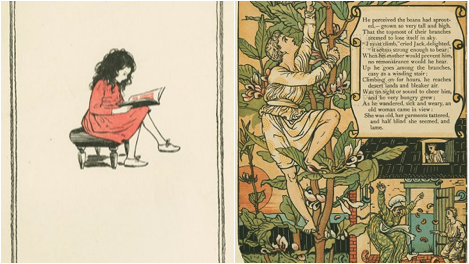 Children's
Beautiful Children's Book Illustrations From 100 Years Ago
The New York Public Library has a bunch of really beautiful (and more than a few really weird) children's book illustrations from 100 or more years ago available to view for free online. The entire collection has well over a thousand images and is worth getting lost in if you've got some free time today. However, if you're expected to do things like work (ugh) or take care of your own children (how dare they require your attention), I've rounded up ten gorgeous images for your daily dose of bookish eye candy.
Enjoy!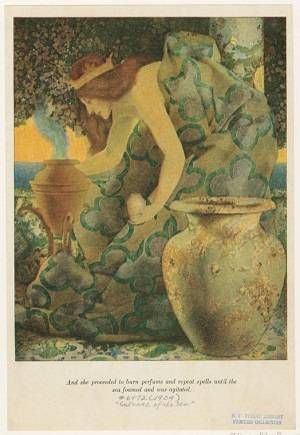 "And she proceeded to burn perfume and repeat spells until the sea foamed and was agitated," illustration in Arabian Nights by Maxfield Parrish, 1909.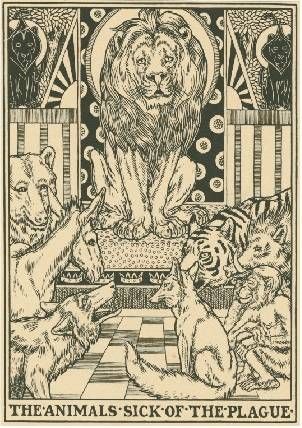 "The animals sick of the plague," illustration in A hundred fables of La Fontaine by Percy J. Billinghurst, 1900.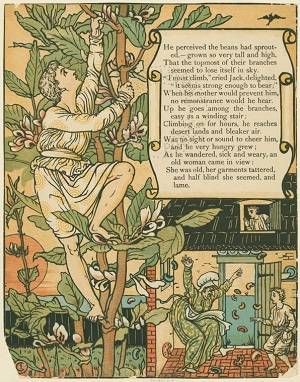 "Jack climbs the beanstalk," illustration in Red Riding Hood's picture book; containing Little Red Riding Hood, Jack the beanstalk, The forty thieves… illustrated by Walter Crane, 1898.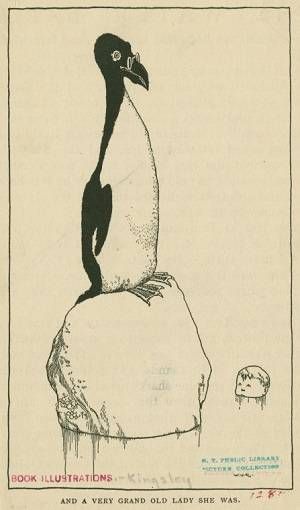 "And a Very Grand Old Lady She Was…" illustration in Water Babies by W. Heath Robinson, 1915.
"M Mourned for It," illustration in A Apple Pie by Kate Greenaway and Edmund Evans, c. 1910.
"Heidi Reading," illustration in Heidi by Jessie Willcox Smith, 1922.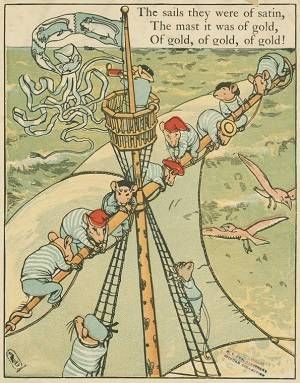 "The sails they were of satin, the mast it was of gold, of gold, of gold, of gold!" illustration in Fairy Ship by Walter Crane, undated.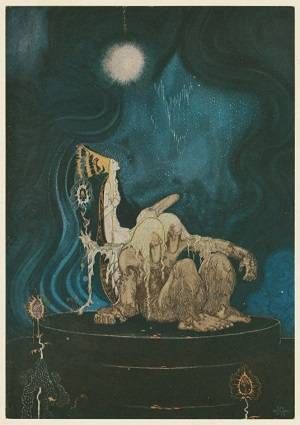 "The troll was quite willing, and before long he fell asleep and began snoring," illustration in The Three Princesses in the Blue Mountain by Kay Rasmus Nielsen, 1914.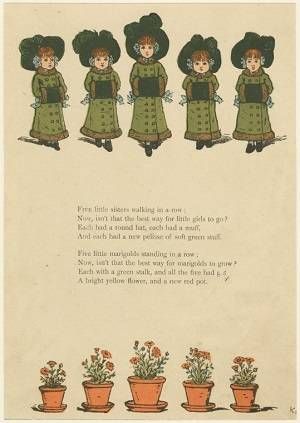 "Five little sisters walking in a row," illustration in Under the Window by Kate Greenaway and Edmund Evans, 1910.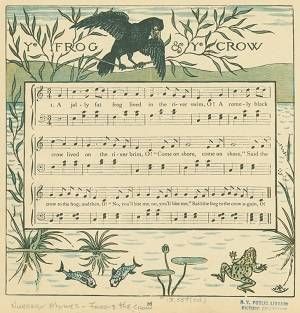 "Ye frog & ye crow," illustration in Frog He Would Go A-Wooing Go by Edmund Evans,Randolph Caldecott, and Walter Crane, 1885.
Oh, and if you're so inclined (and you obviously are)…The NYPL also has a digital collection of Russian book jackets dating from 1917-1942.
Find all of our children's book coverage here.
Save