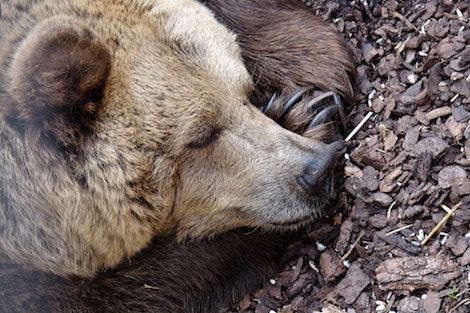 Buy, Borrow, Bypass: Bear Shifter Romances
For the half of you who clicked on this article thinking, "That's…oddly specific. That can't possibly be a thing," I'm here to tell you that bear shifter romances are most definitely a thing. A really good thing. Heck, even a fairly popular thing. Bear shifter romances may be few and far between, but they are pretty sought after. Kindle Unlimited is chock full of male bears in small towns just looking for their (preferably curvy) mate. Sound strange? Perhaps. I get it, though. Bears are big and brawny and their larger massive body can dwarf any woman regardless of her size. They are majestic and are usually found in pretty remote places. Seclusion and forced proximity are good for romance, and bears, by their bearish nature, can definitely harness that energy into a pretty seductive romance.
For those of you who clicked on this article thinking, "YASSSSS": Don't worry, I've got you.
Let's talk bears.
Fated mates are my comfort reads. There is something so consuming, so engaging about an instant connection that's preordained. However, things always get more complicated in shifter romances when one half of a fated mate pair is human. The human/shifter dynamic opens the door to an emotional connection on top of a mating urge and in a lot of romances that's a really good thing. In Waking the Bear, it's a really good, really satisfying thing. This book follows Griff, our hero, who is decidedly not looking for a mate. He's simply trying to keep his friends and family safe from impending war with the lion shifters. However, when Amy rents a cabin from him, he immediately knows who she is to him. He's destined to be with her but telling her too much too soon might freak her out and put a target on her back.
Verdict: Borrow. The ending of this book felt rushed and unfinished, which is really too bad. This isn't my favorite bear shifter book of the bunch, but it's a worthwhile read for fans of the fated mates trope.
Part paranormal romance, part romantic suspense, Bodyguard Bear follows EMT Ellie as she is placed under protection after witnessing a crime lord commit murder. Her protection turns out to be a bear shifter, Hal Brennan, owner of Protection, Inc. Upon meeting at the police station right after Ellie has given her statement and rejected witness protection, Hal realizes that Ellie is his mate at first sight. Hal vows to take on the job of her protection and to follow through with that promise at any and all costs.
Verdict: Bypass. The shallow character development of this book really couldn't hold my interest.  
First in Singh's Psy-Changeling reboot series, Psy-Changeling Trinity, this book, set in Russia, follows the head of EmNet (a worldwide emergency response unit), Silver Mercant, and an alpha bear, Valentin Nikolaev. Silver is poisoned pretty quickly in the story and Valentin takes over her protection when she moves into a den home to stay safe. Nikolaev is deliciously protective of Silver right off the bat, and he works hard to woo her. Full of twists and turns and Singh's characteristically complex world-building, Silver Silence starts a new story arc for the Psy, Changelings, and Humans.
Verdict: Buy. Even better, listen to it on audiobook. Trust me on this, it's worth all sixteen hours of listening time.
Set in the wilds of Montana at a new eco-tourism lodge, this first-in-a-series romance introduces readers to three bear brothers. The eldest, Axel, meets his human mate, Harper, when she visits with a journalist friend who is reviewing the property. Axel isn't the fondest of the mate idea out of the gate, so this book is full of emotional turmoil as he reconciles his feelings for Harper while juggling the management of the lodge. It's a comedy of errors and truly a delight to read. This book is light-hearted and it eases you into the bear shifter idea slowly, so this book makes for an excellent first paranormal romance if you are looking for a good place to dive into the genre.

Verdict: Buy. Just buy the whole series while you're at it, I bet you won't want to stop after one book.