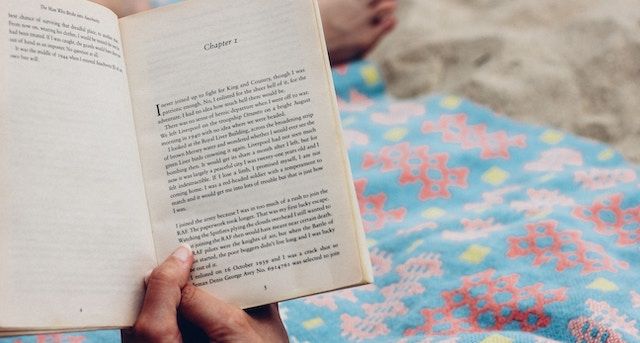 Lists
Beach Reads for Every Month of Summer 2019
This content contains affiliate links. When you buy through these links, we may earn an affiliate commission.
When I go to the beach, I usually cart over whatever I'm reading at the time, be it heavy memoir, weighty classic, or a big ol' hardcover. But the drive to invest in fast, fun reads over the summer is real. Beach reads from romances to quick fantasies all appeal when the sun is hot and you need to be able to pause at any second to dive into the water or fall asleep, and then pick the plot right back up.
I've done the research so that you don't have to, picking up galleys at BEA and from publishers so that I can recommend you the best summer reads for 2019. Some of these recommendations are lighter than others, some are more complex, but all are fun, fast-moving, and suspenseful reads that are recently released or coming out soon, and that will make your summer one to remember.
July
We're deep into summer heat now, and this is the perfect book to read at the beach with the baseball game on in the background. In this fast, lovely read, Evvie plans to leave her husband—but he dies that same night. A year later, she takes in a boarder: a pitcher who can no longer throw. A sweet romance and a story about Evvie's fight to be independent and live for herself.
What if Hogwarts was a realistic high school, lockers and all, with petty, dramatic teenagers to fill its halls? In this funny romp, Gailey writes of Ivy Gamble, a non-magical detective tasked with solving a murder mystery in the halls of this school, where her decidedly magical sister teaches. It's a book about sisterhood and the ways we can't let some people go, and was one of Book Riot's Best Books of 2019 So Far.
Another book listed in our Best Books of 2019 So Far, this was one of the smash hit books of this spring, and if you haven't read or listened to it, you should. Reid's newest tells the story of a Fleetwood Mac–esque band's rise and fall in a documentary format. The book feels so real that by the end of it, you'll feel an unescapable need to go listen to the band's songs.
August
Casiopea Tun wants to live, to leave her dreary life behind for one of dancing, cars, and magical night skies. She gets her chance for adventure when she accidentally frees the Mayan god of death, and must partner with him to capture the throne of the underworld, Xibalba, back from the brother who imprisoned him. This was an easy, fun read that enchanted every step of the way, with the mood of a classic fairytale, a whirl of Mayan myth, and a big splash of 1920s Mexico.
Tidelands by Philippa Gregory
The newest book by the historical fiction giant is out on August 20. This one is about an ambitious and determined woman named Alinor in England 1648. Raising a family without a husband at the height of witch-mania, Alinor finds herself the subject of gossip after she helps James, a local man full of secrets who helps secure a position with a local Lord for her son. Gregory's novels are always lush and intriguing, and will be a great read to tide you over at the end of August.
Inland by Téa Obreht
This gorgeous novel by the author of The Tiger's Wife is the perfect read for the long, hot days of August, and will make you feel particularly grateful as you read in front of your fan or air conditioner, a cool drink by your side. Nora is a frontierswoman trying to keep her children alive and rebel against local politics; Lurie is a man on the run who sees spirits and who stumbles onto a group of men transporting camels into the American West. Obreht has done it again with a beautiful, surrealist tale of the frontier.
September
January Scaller is a mixed-race girl living in the home of her father's wealthy white patron. Feeling out of place and stifled, January's world shifts when she finds a door in a wheat field that smells of the sea; and shifts again when she finds a book, years later, about romance, doors, and who might be closing them for good. Featuring a quest to find a world of blue, open ocean, this is a fun, fast read that's perfect for those last hot days by the beach. The novel comes out September 10.
The days are getting shorter. It's getting dark faster. No reason to be a pessimist about it, though—dive into a fast-paced read about a grumpy necromancer and her lesbian knight instead, and soon you'll be happy enough with the warm temperatures outside. This is a mystery, horror novel, and epic fantasy all in one, paired with a hilarious heroine and a daring ending at that. Pick it up when it comes out on September 10.
Ok, so maybe September 24 isn't really summer, but you can pretend it is. And it'll be worth it for this gorgeous, fast-paced YA by Morgan Parker, poet and author of There Are Things More Beautiful Than Beyoncé and Magical Negro. School is starting and Morgan, a 2008-era black teen with depression at a mostly white school, is struggling to feel normal. This book was intimately realistic, and I read it in a single sitting.
---
For more summertime recommendations from Book Riot, check out our lists of The Best Beach Books of 2019, The Anti–Beach Read Book List, and The Books We Can't Wait to Read This Summer.