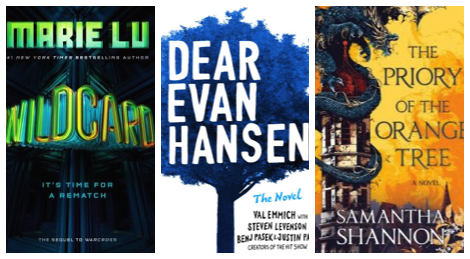 Lists
BEA: The Galleys I Waited in Long-Ass Lines For
This content contains affiliate links. When you buy through these links, we may earn an affiliate commission.
As I prepped for my first ever BookExpo, I was warned that the lines were nuts and people got pushy. And, yes, I did get elbowed a few times by some over-zealous librarians. I had a few "unicorn" books on my list that I was prepared to join the masses for, but I wasn't prepared for the madness. Also. I am a textbook introvert. I absolutely hate crowds and prolonged contact with strangers. So I am proud of the fact that I survived the week AND actually made friends with others in the lines. Kate: 1, BEA: 0.
Here are the galleys that were worth waiting for:
Warcross was a favorite of mine from last year and the cliffhanger was so horrible (damn you, Marie Lu) that this was the book I was prepared to wait all day for. Luckily, word that this galley was dropping didn't seem to be well-known and the line was shorter (in BEA terms) but full of just as excited readers. I can't wait to dive back into this world with Emika and Hideo. Especially Hideo *suggestive eyebrow*.
Ok. So this technically wasn't a waiting line, but milliseconds after Little, Brown tweeted the password for this book it was a massive swarm to the booth—which then turned into a massive line. And despite the fact that I had camped out in the Hachette section just for this, I still ended up in the middle of the line. Book people can be ruthless when there's a galley they want! This book is the highly anticipated sequel to The Cruel Prince and (yes, I feel a little guilty about this) I've read an e-galley, but the cover is so gorge I needed a physical copy for my shelves.
This line was by far the longest line I sat in. The line snaked three times and I was solidly in the middle of the second. I was pretty shocked I actually snagged a galley. Women saving the world! An epic (900 page) fantasy! Dragons! I need to find a weekend to dedicate solely to this monster.
This book was touted to me as "the" psychological thriller of 2019 and, um, that's all I needed to here. Famous painter Alicia shoots her husband one night seemingly in cold blood and then never talks again. A criminal psychotherapist is assigned to her to find out what exactly happened that night.
So, for this baby I actually stood in two lines—first for the signing ticket and then for the actual book signing. I saw Dear Evan Hansen on Broadway last summer and it was honestly a life-changing experience for me. I saw myself reflected so accurately in Evan's fears and anxiety and I am still in love with this show and its cast. This story in book form has the same potential to completely wreck me and I am here for it.