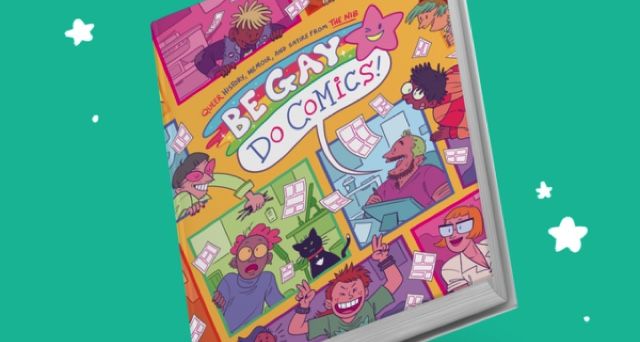 This content contains affiliate links. When you buy through these links, we may earn an affiliate commission.
Be Gay, Do Comics: A Queer Comics Anthology has been creating a lot of positive buzz in the Book Riot Comics Slack channel. Some projects will continue to add new stretch goals as planned ones are met, so who knows what wonderfulness has appeared from the time of writing this post.
The Project
Be Gay, Do Comics is a project launched by The Nib. Founded in 2013 by Pulitzer finalist Matt Bors, The Nib publishes political, nonfiction, and historical cartoons and comics on their website daily (their headliner at the time of writing this, for example, is the story of Jane Jacobs, the "patron saint of Urban Planning"). They have "worked hard to give platform to marginalized voices in our current dystopian hellscape." It is a delightfully snarky and liberal space.
The company also publishes a PDF and print magazine of political and journalistic comics, each devoted to a different topic (Scams, Family, Empire, Death, etc). The Nib recently went fully independent and funds via a multi-tiered membership program called The Inkwell.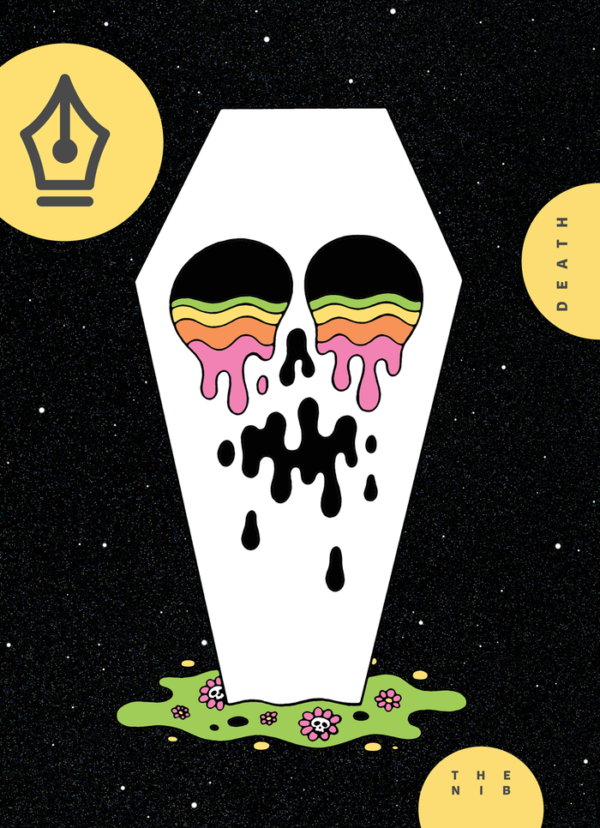 Be Gay, Do Comics is The Nib's second book (the first was a collection of their best cartoons) and is projected to clock in at 250 pages with comics and cartoons from a huge stable of LGBTQIA+ artists and writers, including: Archie Bongiovanni (A Quick & Easy Guide to They/Them Pronouns), Alison Wilgus (Chronin), Trinidad Escobar (Crushed: Book One), Binglin Hu (Zodiac! which is unfortunately out of print—I couldn't even find a used copy) and many, many others. The anthology will use cartoons and comics as a medium (see, medium, not genre) to tell queer stories of all different kinds: memoir, history, and satire among them. Be Gay, Do Comics is a compilation of works that have appear on The Nib and new comics written specifically for the anthology.
Why it's Important
I recently had the chance to interview Rick Riordan Presents author Kwame Mbalia about his middle grade novel Tristan Strong Punches a Hole in the Sky. A good chunk of our conversation focused on the importance of cultural memory and passing that memory down to the next generation. Because who are we without our stories? Single celled organisms floating around in the primordial soup with no community, no connections, and no real purpose. We need stories, be they legends, fantasies, myths, or history to frame our existence, to connect us to one another, to link us with those who came before and with those who will come after.
The world, as it stands, is trying to take our stories. To pull us apart and throw us into what James S.A. Corey so presciently dubbed "The Churn." It is scary out there. Fear often urges people into shadows and dark corners, to go into survival mode when what we really need is one another. We need to let the world know that we we may be afraid but we're going to do it anyway; we're going to come together and tell our stories. That not only are we going to protect our cultural and collective memories, we're going to grow them. Be Gay, Do Comics is proof of that.
I know it all sounds very dramatic, but so is watching our LGBTQIA+ siblings having their rights stripped, rights they worked so hard for, buried under the detritus of a damaged society. So make some noise. Read this anthology. Be Gay. Do Comics.
More LGBTQIA+ Comics to Check Out
Looking for more LGBTQIA+ content? I can help with that.
Love is Love Edited by Marc Andreyko, Sarah Gaydos, Jamie S. Rich (IDW 2016)
IDW published Love is Love in 2016 to honor those killed in the Pulse Nightclub shooting and to raise money to assist survivors. There are stories about grief, stories about survival, others celebrating the LBGTQIA+ community, and still more that examine modern love on ball of dirt and ice we call home.
Mooncakes by Suzanne Walker and Wendy Xu
This story is magical. By which I mean it's about magic. But it's also a story wherein there are several queer couples simply going about their lives. Running an occult bookstore and demon hunting. No one questions teenagers Nova and Tam as to whether they're "sure" they're gay. No one gives the Nanas any attitude about their relationship. This is what life should be for LGBTQIA+ folx; living our lives, building community, fighting demons (metaphorically. Probably).
Kim and Kim by Magdalene Visaggio, Eva Cabrera, Claudia Aguirre, Tess Fowler, Rachael Stott, Devaki Neogi (Black Mask)
Lesbian bounty hunters in space. I mean, if that doesn't sell you, I don't know what will. These women are badass both on the job and in their love for one another.
---
The world isn't going to change unless we change it. Which means it's up to us, as readers, to make sure important stories make it out into the world. A lot of people committing small acts of story can make all the difference.