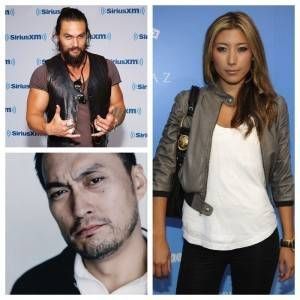 Kelly Sue DeConnick has been stirring up the comic book industry and getting a ton of attention for her badass girl-power 'tude—most recently from none other than Vanity Fair.
And rightly so. After DeConnick revamped Captain Marvel as a woman (with artist Dexter Soy), the comic propelled to cult-level superfandom.
And then she knocked it out of the park again with Pretty Deadly (with Emma Rios), a Western mashup of Sandman and Preacher with a female hero and diverse cast.
And then she co-created Bitch Planet with artist Valentine de Landro, a comic so compelling in its feminist message that people were tattooing its symbol on their bodies after just a few issues.
She's basically the Queen of Comic Books right now. And my personal hero. I'd be happy just be happy to have her awesome pink hair.
The Vanity Fair interview labeled DeConnick the future of comics, but she's just one trailblazer in a growing group of women who are stepping up and shaping the comics industry. So if DeConnick is your hero too, I've got a few more badass ladies in comics to tuck into your pulls folder along with her.
G. Willow Wilson
Wilson currently writes the best-selling Ms. Marvel series (art by Adrian Alphona), which brought a Muslim superhero to mainstream comic books with 16-year-old shapeshifter Kamala Khan.
Catch that? Best-selling.
She's also the co-writer of A-Force, the first all-women Avengers team. When a Harvard professor tried to bash the comic as sexist without considering the context first, Wilson slammed it down with a smart and cheeky public letter.
Not to mention, do you know about her background in journalism? She wrote for Egyptian opposition publication Cairo Magazine, and was the first Western journalist granted a private interview with Ali Gomaa. Her experiences while in Cairo inspired her graphic novel Cairo and memoir The Butterfly Mosque.
Joelle Jones
Jones is the retro-snarky artist and co-writer of Lady Killer, a limited series about a 1960s housewife who secretly moonlights as an assassin. The series recently announced it will be back for a second story arc next year. Huzzah!
But the best thing about Lady Killer is Jones's promo images for the series, which she posts on her website. They're not to be missed, oozing with retro charm except for that one sadistic detail that changes everything.
Noelle Stevenson
Stevenson's feminist influence started while she was still in college, when she and a friend drew Hawkeye in the kind of poses women superheroes were so often forced into, and then posted the images online.
Yep, the Hawkeye Initiative.
And that wasn't so long ago—at 23, Stevenson is the co-writer of the celebrated femme-power comic Lumberjanes (and, along with Grace Ellis, Brooke Allen, and Shannon Watters, has won an Eisner for it) and HarperCollins has published a trade edition of her web comic Nimona.
The best news is, film adaptations of both of Stevenson's excellent works are underway.
Gail Simone
While others on this list may be up-and-comers, Simone has been around the block a few times—and she's got a large, dedicated fan base to show for it.
Best known for Birds of Prey, which features DC's all-female hero team of Black Canary, The Huntress, Lady Blackhawk, and Oracle, Simone's list of bylines is just too long to mention everything. But she's written stories for a number of comics' most powerful women characters including Batgirl, Wonder Woman, and most recently, Red Sonja.
Simone got her start writing for the website Women in Refrigerators, which called out cases where female superheroes were killed, abused, raped and otherwise suffered trauma as a plot device for male superheroes.
Like DeConnick, these talented ladies are making waves throughout the comics industry with their incredible, empowering work—and offering readers a wider range of strong, multifaceted female characters to enjoy.
But surely, these badass ladies are only the beginning. What other women in comics would you add to the list?