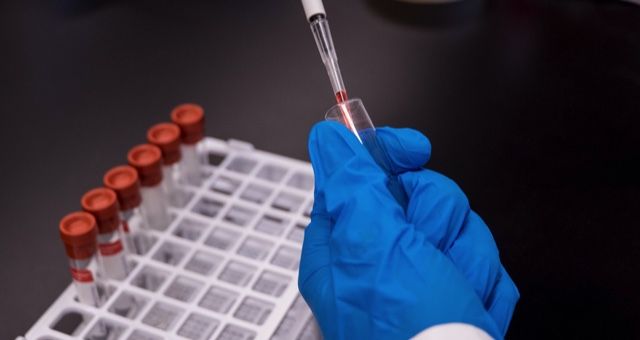 Nonfiction
10 BAD BLOOD Book Club Questions: Your Reading Guide
This content contains affiliate links. When you buy through these links, we may earn an affiliate commission.
Bad Blood: Secrets and Lies in a Silicon Valley Startup by John Carreyrou is the shocking true story of Elizabeth Holmes, an American business woman who founded Theranos. The problem with Theranos? It's a company founded on a product that never worked. If you and your book club have chosen this nonfiction book as your next book to discuss, you'll have a lot of material to work with. This story is still very relevant in the news, with updates still coming out all the time. Additionally, a film version of the book is in the works, starring Jennifer Lawrence and directed by Adam McKay. Still unsure of where to start your book club discussion? Here's your reading guide and Bad Blood book club questions to get the conversation going.
Bad Blood: Your Reading Guide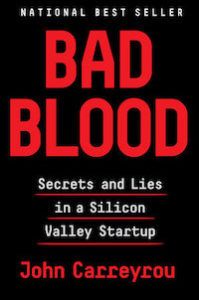 In 2015, Forbes named Elizabeth Holmes the youngest and wealthiest self-made billionaire in America, valuing her company Theranos at around $9 billion. Then, only a year later, Forbes revised their estimation of Holmes to be worth absolutely nothing. But how did she go from $9 billion to nothing?
In late 2015, Wall Street Journal journalist John Carreyrou began investigating Theranos's claims to be able to run a wide range of lab tests using a small amount of blood. He quickly found that Holmes and her company had likely deceived many investors with false or exaggerated claims about the accuracy of Theranos's blood-testing technologies.
By 2018, the U.S. Securities and Exchange Commission had charged Elizabeth Holmes with fraud. A trial is set to begin in the summer of 2020.
John Carreyrou's Bad Blood is the book-length exposé of Elizabeth Holmes and her company Theranos. While exposing the shocking truth behind the Theranos scandal, Carreyrou's book also raises questions of business ethics in Silicon Valley. In addition, one cannot ignore the role gender politics played in Elizabeth Holmes's rise and fall. These topics make for excellent book club discussions that will have your group thinking about the implications of the Theranos story long after your meeting has ended.
Here are just a few Bad Blood book club questions to get the conversation going. But you will likely be thinking about Elizabeth Holmes and the Theranos scandal long after the book club discussion has ended.
10 Bad Blood Book Club Questions
Have you watched the HBO documentary about Elizabeth Holmes The Inventor: Out for Blood in Silicon Valley? What about the podcast The Dropout, a podcast by ABC News, Nightline, and Rebecca Jarvis? How does this other media offer a different or complimentary outlook on the Elizabeth Holmes story?
What do you make of Elizabeth Holmes's obsession with the founder of Apple, Steve Jobs? Why was it so important for Holmes to be just like Jobs to the point where she imitated his way of dressing and business practices?
What do you think it was about Elizabeth Holmes that made so many people believe in her in spite of the fact that she dropped out of college and had relatively little experience in the field? How was she able to get so many people to follow her and back up her idea?
Theranos was meant to invent a machine that could test for several medical issues with just a drop of blood. Do you think this plan was at all realistic? Is there any alternate reality where Elizabeth Holmes's dream could have been realized?
Carreyrou speculates that a lot of the reason Holmes acts the way she does (including her baritone voice) is due to the pressures of being a woman in a male-dominated industry. In this book, what perspectives do we get about what it's like being a woman in Silicon Valley?
In Bad Blood, Carreyrou describes the Theranos workplace environment in great detail. Turnover rates were high. At times, Theranos fired its employees over what seemed to be trivial things. Carreyrou portrays Elizabeth Holmes as the type of employer who easily turns on her employees after the slightest infraction or smallest sign of disloyalty. Do you think that this type of work environment is unique to Theranos? Or are there shades of this behavior in many companies?
Carreyrou's focus in this book is on Elizabeth Holmes and her role in the Theranos fraud. But who else in the company is to blame, if anyone? Who else was complicit?
Is Carreyrou's account of the Theranos scandal biased in any way? If so, in what way? How do you think other people involved with this story would have told it differently?
What was the most shocking part of the book to you? Were there any parts that were shocking to some that you didn't find surprising at all?
At the end of this book, what do you make of Elizabeth Holmes? Do you think she truly believed these ideas to be possible? How much did she buy into her own business system? Do you sympathize with her more (or less) after finishing this book?
What To Read Next: Keeping Up With The Elizabeth Holmes Story
Bad Blood is truly only the beginning of Elizabeth Holmes's story. As we know, this story is still developing. How can you keep up with all of the latest news? The Independent has a page dedicated to all of the new coming out about Holmes and the upcoming trial. Additionally, Crunchbase aggregates all of the information coming out about Theranos.
Less interested in the news and more interested in the upcoming movie based on the book Bad Blood? Here's what we know so far. And don't forget to keep an eye on the IMDB page for more developments.
Looking for more great true crime reads for your book club (or just for yourself)? Check out this list. Or maybe you just want to read more nonfiction? We've got a list of 50 of the best nonfiction books for you right here.