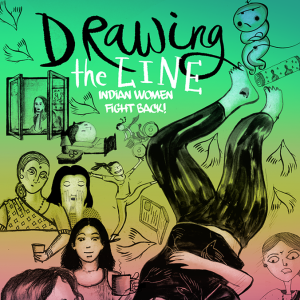 Every once in awhile, I like to jump over to Book Riot from Panels (HI have you met us over at Panels? We talk about comics the way Book Riot talks about books!) to talk about comics that are really resonating with me, and today that's Drawing the Line: Indian Women Fight Back, a comics anthology that's currently 1/3 funded on Kickstarter with 18 days to go.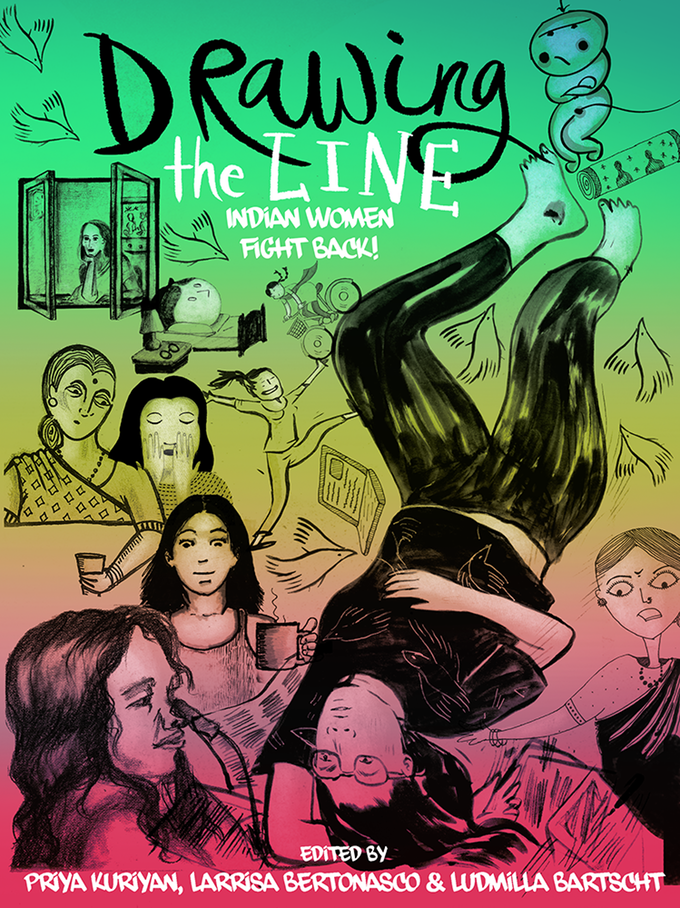 In the comics world, it's become increasingly normal to use Kickstarter as a preorder platform. There are a few good reasons for this, but the bottom line is that it fronts the money to small publishers or independent creators who believe in promoting diverse stories and marginalized voices, but don't necessarily have the capital to print them and THEN sell them. Ad Astra Comics, therefore, has taken to Kickstarter to fund Drawing the Line: Indian Women Fight Back, edited by Priya Kuriyan, Larrisa Bertonasco, and Ludmilla Bartscht.
For $26 USD ($35 CAD) [edited to add U.S. pricing] shipped to the U.S. ($30 in Canada), you get a copy of this black and white paperback comic, originally published by Zubaan Books, with an estimated ship date in December. It's a comic of Indian women talking about Indian issues:
"Drawing the Line: Indian Women Fight Back! is a collection of 14 accounts of lived experience by women in India. Stories cover topics about gender, sexuality, harassment, coming of age, family, sisterhood, race, shadeism, class, and political struggle in a country that many in the West know little about, and understand even less."
We've heard horrific stories about gang rape, acid attacks, and more that Indian women face; the harassment on a daily basis is routine enough that it doesn't make the news. Indian women are fighting back, and this amazing collection is their stories, their lived experiences, in their own words.
"Drawing the Line gives women in India a chance to speak for themselves. At a time when intersectional feminism is again reminding feminists in the West about the marginalized position of women of colour, LGBTQ women, and women in the "global South", this comic anthology offers North American readers the chance to learn valuable lessons about diversity of experience."
I should add that I am in no way affiliated with this project, I'm just really passionate about getting this done. I want to see more comics by both women and Indian writers and artists and, specifically, by Indian women, and this is a real opportunity to make that happen. We have 18 days. Let's do this, Book Riot.
Back Drawing the Line: Indian Women Fight Back! on Kickstarter