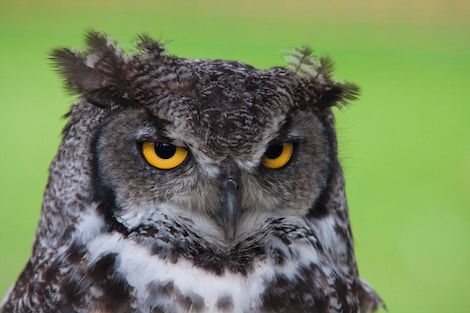 Children's
Find The Perfect Owl Books For Every Reading Mood
This content contains affiliate links. When you buy through these links, we may earn an affiliate commission.
Owls are, objectively, the most bookish animal. They're wide-eyed, curious, and have a keen sense of concentration. Not to mention that owls are just adorable creatures who, when need be, turn on their predatory instincts. What better way to honor these raptors than with some great owl books?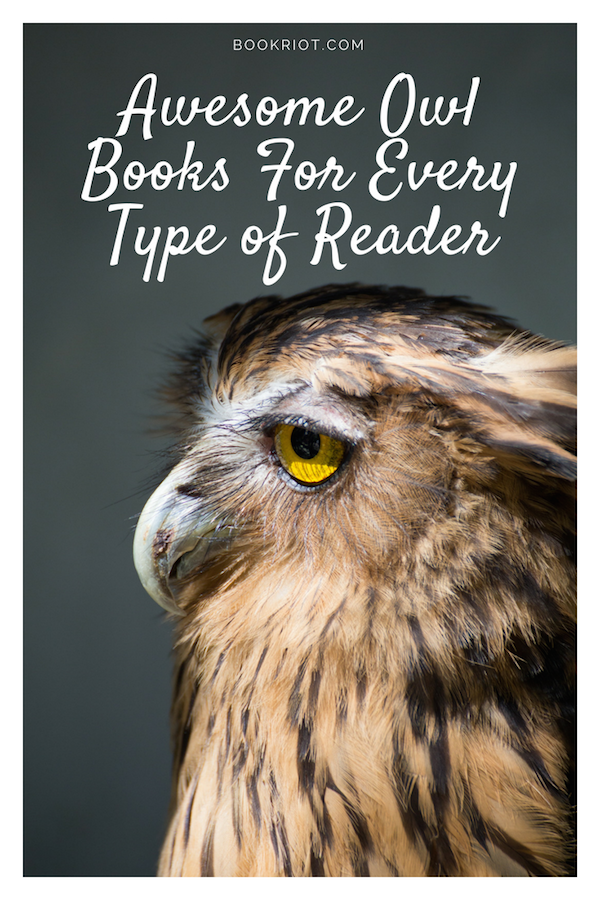 Included on this list are children's books, books published for middle grade or young adult audiences, as well as adult owl books. These are fiction and nonfiction. I've also included a comics series. Despite distinctions, anyone of any age can easily enjoy any of the titles below.
One thing that seems to be lacking among owl books are those written by authors of color. There are a few, particularly when it comes to children's titles, but given that academics and naturalists are fields heavy with white practitioners and writers, that's what's represented in the literature.
Descriptions are from Amazon, as my own reading is far more limited on owl books than I'd prefer.
Children's Owl Books
Tony Johnston's THE BARN OWLS recalls in quiet tones the memory of a barn that has stood alone in a wheat field for one hundred years at least. The owls have nested there and have hunted in the fields and circled in the night skies as time slowly slipped by. Every night, as the moon rises, a barn owl awakens and flies out to hunt. Feathered against the endless starry night, he swoops and sails to the darkened wheat field below and catches a mouse in his nimble talons. With outstretched wings, this barn owl returns to his barn nest and his hungry family, repeating the ageless ritual his ancestors have practiced here, in this barn, for at least one hundred years. Following the life cycle of the barn owl, this gentle poem evokes a sense of warm sunshine and envelopes readers with the memory of the scent of a wheat field.
With a spare, soothing text and beautifully rich and textured illustrations of a starry night, this is the perfect "book of sleep." Join the owl on his moonlit journey as he watches all the other animals settle in for the night: some sleep standing up, while some sleep on the move! Some sleep peacefully alone, while others sleep all together, huddled close.
Il Sung Na makes his American debut with this gorgeous bedtime offering. While each animal rests in its own special way, little ones will also drift off to a cozy sleep.
Owl is ready for bed. But as soon as he settles in, he hears a strange noise. He'll never get to sleep unless he can figure out what's going on!
When the moon is up, Owl is wide awake and ready for fun: "Hooray for today! Would you like to play?" But everyone says, "Not now! I'm sleepy!" Owl's playday gets lonely fast as each friend turns her away—until sunrise, when Owl discovers a friendly surprise. Perfect for little ones learning the art of patience, Hooray for Today! celebrates playtime, sharing, and friendship.
Welcome back, Baby Owl! With visions of himself as a "huge, scary, sleek, sharp-eyed hunting machine," the adorable little creature goes out for a walk in the woods. But every animal he meets thinks he's so cute, fluffy, and huggable! Poor Baby Owl. "I'm not cute!' he shouts. Then Mom comes along—and she agrees, before coming up with the perfect solution. It's a real hoot that every kid will relate to.
It's evening in the forest and Little Owl wakes up from his day-long sleep to watch his friends enjoying the night. Hedgehog sniffs for mushrooms, Skunk nibbles at berries, Frog croaks, and Cricket sings. A full moon rises and Little Owl can't understand why anyone would want to miss it. Could the daytime be nearly as wonderful? Mama Owl begins to describe it to him, but as the sun comes up, Little Owl falls fast asleep.
Putting a twist on the bedtime book, Little Owl's Night is sure to comfort any child with a curiosity about the night.
When a barn owl and her mate suddenly decide to nest in a suburban neighborhood, the amazing tale of Molly and McGee begins. The owls' home, a wooden box with a camera inside, put up by a nature-loving couple in their backyard, becomes the setting for a real-life story of love, danger and mystery—and, ultimately, the triumph of a family. Through the little camera peeking in on their home, Molly and McGee would captivate millions of people from forty-five countries around the world who shared their saga on the Internet. New York times bestselling author Blehm and award-winning illustrator Christopher Adams bring you this wonderful story sure to inform the minds and warm the hearts of young and old alike.
Owl Babies by
Martin Waddell and
Patrick Benson
"I want my mommy!" Three baby owls awake one night to find their mother gone, and they can't help but wonder where she is. What is she doing? When will she be back? What scary things move all around them? Stunning illustrations from striking perspectives capture the anxious little owls as they worry. Not surprisingly, joyous flapping and dancing and bouncing greet the mother's return, lending a celebratory tone to the ending of this comforting tale. Never has the plight of young ones who miss their mother been so simply told or so beautifully rendered.
Raweno, Master of all Spirits and Everything-Maker, made the world and everything in it, but nothing gave him quite so much trouble as Owl! This retelling of a traditional Kanienke-haka (Mohawk) creation legend will have readers of all ages laughing at the irrepressible but indecisive bird.
Note: author is Kanienkehaka (Mohawk).
Late one winter night a little girl and her father go owling. The trees stand still as statues and the world is silent as a dream. Whoo-whoo-whoo, the father calls to the mysterious nighttime bird.
But there is no answer.
Wordlessly the two companions walk along, for when you go owling you don't need words. You don't need anything but hope. Sometimes there isn't an owl, but sometimes there is.
Distinguished author Jane Yolen has created a gentle, poetic story that lovingly depicts the special companionship of a young child and her father as well as humankind's close relationship to the natural world. Wonderfully complemented by John Schoenherr's soft, exquisite watercolor illustrations, this is a verbal and visual treasure, perfect for reading around and sharing at bedtime.
With just three or four words per page, this story follows a baby owl one night as he leaves the safety of his nest (Home/Mama/Brother/Sister) and explores the starry world around him (Soar/Glide/Swoop/Swoosh). Inspired by reverso poetry, the words reverse in the middle when the baby owl is startled upon seeing his reflection in the pond (Owl/Sees/Owl). Afraid of it, little owl takes off toward home, soaring over farms and forests (Swoosh/Swoop/Glide/Soar) until he is finally safely home again (Sister/Brother/Mama/Home).
Owls by Gail Gibbons
Gail Gibbons explores the mysterious world and workings of owls in her latest nonfiction picture book. She depicts numerous species of owls and discusses their biological similarities as well as their differences. She portrays their ideal habitats, life styles, birth and development and environmental hazards that are threatening certain species. As usual, her comprehensive text is accompanied by clearly labeled illustrations and diagrams. Definitions are also included for additional clarity.
A young girl and her grandfather look for a barn owl night after night. Will a distinctive heart-shaped face appear at the window? Michael Foreman's lush, intimate paintings are a perfect companion to Nicola Davies's lyrical text featuring intriguing facts about a rare bird indeed.
Back matter includes further information about nest boxes and an index.
Middle Grade and Young Adult Owl Books
Solo Hahn had always gotten good grades, had good friends, and gotten along with his parents. He wrote screenplays for fun. But when his parents uproot him and move the family from California to backwoods Oregon, Solo starts to lose track of the person he was. The only thing keeping him grounded is the small gray-and-white kitten he brought with him from home, until one night she gets outside and an owl hunts her for its dinner. When Solo tries to avenge the death of his kitten, he gets eight months of community service. Eight weeks of working at the local raptor center helping owls—the same creatures that killed his kitten in the first place. For the first time in his life, Solo is labeled a troubled kid, an at-risk youth. Stuck with a bad reputation and weeks of work with Sergeant Bird-Nerd, Solo has to find a way to survive the summer.
After Soren, a young owlet, is pushed from his family's nest by his older brother, he's plucked from the forest floor by agents from a mysterious school, the St. Aegolius Academy for Orphaned Owls. When Soren arrives at St. Aggie's, he suspects there is more to the school than meets the eye. He and his new friend, the clever and scrappy Gylfie, find out that St. Aggie's is actually a training camp where the school's leader can groom young owls to help achieve her goal—to rule the entire owl kingdom.
Hoot by Carl Hiaasen
Everybody loves Mother Paula's pancakes. Everybody, that is, except the colony of cute but endangered owls that live on the building site of the new restaurant. Can the awkward new kid and his feral friend prank the pancake people out of town? Or is the owls' fate cemented in pancake batter?
Maxwell Unger has always loved the night. He used to do brave things like go tramping through the forest with his Gran after dark. He loved the stories she told him about the world before the Destruction—about nature, and books, and the silver owls. His favorite story, though, was about the Owl Keeper.
Max's Gran is gone now, and so are her stories of how the world used to be. The forest is dangerous, the books Gran had saved have been destroyed, the silver owls are extinct, and Max is no longer brave.
But when a mysterious girl comes to town, he might just have to start being brave again.
The time of the Owl Keeper, Gran would say, is coming soon.
Owly by Andy Runton (series)
Owly is a kind, yet lonely, little owl who's always on the lookout for new friends and adventure. The first graphic novel in the series contains two enchanting novellas, "The Way Home" & "The Bittersweet Summer," wherein Owly discovers the meaning of friendship, and that saying goodbye doesn't always mean forever.
Adult Owl Books
For twenty years we have rehabilitated a wide variety of wild critters, from fawns, foxes, skunks, and crows to opossums, raccoons, rabbits, and owls. Some of the animals were injured adults, others were orphaned babies, but all of them were in need of a little help to get them back into the wild. Growing up on a farm, as well as my training as an animal technician, prepared me for many of the medical situations that arose. Gijsbert took every opportunity to sketch, paint, and photograph our temporary guests during their stay on the farm. More importantly, Gijsbert was issued all the Federal and State permits needed to care for birds of prey. Without these permits, we would never have been able to care for hawks and owls. For good reason, caring for these birds is very tightly regulated and closely monitored. Taking an owl from its nest is dangerous and illegal. We have cared for many Great Horned Owls but none of them were like Jackson, the owl in this story. His personality was unique from the very beginning and we know that we were lucky to have shared such a close bond with this wild bird. This is the true story of his life with us. Enjoy.
Perhaps no other creature has so compelling a gaze as the owl. Its unblinking stare mesmerizes; its nocturnal lifestyle suggests secrets and mystery. This lavishly illustrated book celebrates owls from every corner of the world and offers abundant details on fifty-three of the most striking and interesting species, from the tiny Elf Owl of southwestern American deserts to the formidable Blakiston's Fish Owl, the largest of all owls.
Mike Unwin has long studied and admired these remarkable birds from cold northern forests to tropical rivers and beyond. He explains how owls evolved into the supreme feathered predators of the night, and he examines their breeding and hunting behaviors, unusual calls, and the cultural myths and superstitions that surround different species. More than two hundred dramatic color photographs in the wild, taken or selected by David Tipling, capture the wondrous beauty of each owl and the drama of life in its own home region.
Suzie Gilbert discovered her true calling when she began working at a local animal hospital. Eventually, she started bringing abused and unwanted parrots home, and volunteering at a local raptor rehabilitation center. From there it was a short flight to her ultimate commitment: Flyaway, Inc., the nonprofit wild bird rehabilitation center she ran out of her own home.
With heart and delightful wit, Gilbert chronicles daily life in her household-cum-bird-hospital, and recounts the resulting chaos as she, her husband, and their two young children struggled to live in a home where parrots shrieked Motown songs and recuperating herons took over the spare bathroom. Flyaway is a remarkable story of compassion for and dedication to beautiful creatures—and the importance of pursuing even the most unlikely of dreams.
In this New York Times bestseller that will appeal to readers of H is for Hawk, a naturalist probes the forest to comprehend the secret lives of owls. Join Leigh Calvez on adventures into the world of owls: owl-watching, avian science, and the deep forest—often in the dead of night. These birds are a bit mysterious, and that's part of what makes them so fascinating. Calvez makes the science entertaining and accessible while exploring the questions about the human-animal connection, owl obsession, habitat, owl calls, social behavior, and mythology.
For a quarter century, Tony Angell and his family shared the remarkable experience of closely observing pairs of western screech owls that occupied a nesting box outside their forest home. The journals the author recorded his observations in, and the captivating drawings he created, form the heart of this compelling book—a personal account of an artist-naturalist's life with owls. Angell's extensive illustrations show owls engaged in what owls do—hunting, courting, raising families, and exercising their inquisitive natures—and reveal his immeasurable respect for their secret lives and daunting challenges.
Angell discusses the unique characteristics that distinguish owls from other bird species and provides a fascinating overview of the impact owls have had on human culture and thought. He also offers detailed scientific descriptions of the nineteen species of owls found in North America, as well as their close relatives elsewhere. Always emphasizing the interaction of humans and owls, the author affirms by his own example the power of these birds both to beguile and to inspire.
Owl by Desmond Morris
From ancient Babylon and the Greek goddess Athena to Edward Lear's The Owl and the Pussycat; from Harry Potter's Hedwig and the grandiloquent, absent-minded Wol from Winnie the Pooh to David Lynch's Twin Peaks, owls are woven into the fabric of human culture. Beautiful, silent, pitiless predators of the night, these enigmatic beings dwell throughout the world yet barely make their presence known. For people, owls are contradictory beasts, at times depicted as dignified, wise old scholars and at other times as foreboding voyeurs who see all—omens both good and evil, in turn. In this fascinating book, best-selling author and broadcaster Desmond Morris explores the natural and cultural history of one of nature's most popular winged creatures.
Excluding Antarctica, owls are found on every land mass across the globe, and they range in size from well under a foot tall (the tiny least pygmy owl) to more than two feet (the orange-eyed Eurasian eagle owl). As a result of their wide distribution, owls also occur in the folktales, myths, and legends of many native peoples around the world. Morris spreads his wings wide to explore these stories alongside owl evolution, owl species, and the many examples of owls in art, film, literature, and popular culture. Despite the fact that many of us have never seen an owl or even heard its accusatory "Who? Who?," Morris's enticing read makes clear this creature's looming presence in our lives. Featuring more than one hundred telling illustrations from nature and culture, Owl will enthrall the many devotees of this surreal bird.
Martin Windrow was a war historian with little experience with pets when he adopted an owl the size of a corncob. Adorable but with knife-sharp talons, Mumble became Windrow's closest, if at times unpredictable, companion, first in a South London flat and later in the more owl-friendly Sussex countryside. In The Owl Who Liked Sitting on Caesar, Windrow recalls with wry humor their finer moments as well as the reactions of incredulous neighbors, the awkwardness of buying Mumble unskinned rabbit at Harrods Food Hall, and the grievous sense of loss when Mumble nearly escapes.
As Windrow writes: "Mumble was so much a part of my life in those days that the oddity of our relationship seldom occurred to me, and I only thought about it when faced with other people's astonishment. When new acquaintances learned that they were talking to a book editor who shared a seventh-floor flat in a South London tower block with a Tawny Owl, some tended to edge away, rather thoughtfully…I tried to answer patiently, but I found it hard to come up with a short reply to the direct question 'Yes, but…why?'; my best answer was simply 'Why not?'"
Windrow offers a poignant and unforgettable reminiscence of his charmed years with his improbable pet, as well as an unexpected education in the paleontology, zoology, and sociology of owls.
Humans have long been fascinated by owls. From prehistoric cave paintings to popular modern children's stories, these magnificent predators have been seen as harbingers of good fortune and impending disaster, as icons of fear and wisdom, and as the powerful sidekicks of magic-makers, including the beloved Harry Potter. Scientists have faced tremendous challenges trying to document the lives of these solitary, nocturnal, and highly elusive creatures. New species are still being discovered, as are new insights into the habits of even the most familiar varieties.
Visually spectacular and authoritative, Owls includes full descriptions and maps of key viewing locations for all 225 owl species in the world, and is illustrated with drawings and stunning full-color images from some of the leading wildlife photographers from around the world which capture these birds' breathtaking beauty and power. The book also features a special section on the art of hiding—a highly honed skill set of the owl.
Throughout, Marianne Taylor provides a wealth of detail on each type of bird's hunting and breeding behavior, habitat, and conservation.
The owl is one of nature's most captivating creatures. In this enchanting guide, artist Matt Sewell brings to life fifty species from around the world. From the adorable Eurasian Pygmy Owl, small enough to fit in your pocket, to the Great Gray Owl, celebrated for its size and elegance—these charming illustrations are sure to delight anyone intrigued by these wise and wonderful animals.
Within these pages Mary Oliver collects twenty-six of her poems about the birds that have been such an important part of her life-hawks, hummingbirds, and herons; kingfishers, catbirds, and crows; swans, swallows, and, of course, the snowy owl; among a dozen others-including ten poems original to this volume. She adds two beautifully crafted essays, "Owls," selected for the Best American Essays series, and "Bird," one that will surely take its place among the classics of the genre.
Owls of the World, second edition, is the ultimate photographic resource dedicated to the identification of these charismatic birds of prey. The new edition is packed with spectacular photography of 268 species of owls from all over the world—19 more species than the original book. Many of the photos are of highly elusive species that are very rarely caught on camera.
The photos are accompanied by detailed text describing:
Identification notes
Habitat
Population status
Voice
Food
Distribution
Accurate range maps
Similar species
The photographic coverage includes plumages and subspecies which promotes differentiation between species, making this the definitive work on owl identification. Similar-looking ("confusion") species are included and owls are shown as adults from a perspective that clearly shows markings that assist in identification.
For birders, naturalists, photographers, researchers and any fan of these birds, Owls of the World is the definitive work on species identification as well as a comprehensive encyclopedia for reference and reading.
On Valentine's Day 1985, biologist Stacey O'Brien adopted Wesley, a baby barn owl with an injured wing who could not have survived in the wild. Over the next nineteen years, O'Brien studied Wesley's strange habits with both a tender heart and a scientist's eye—and provided a mice-only diet that required her to buy the rodents in bulk (28,000 over the owl's lifetime). She watched him turn from a helpless fluff ball into an avid com­municator with whom she developed a language all their own. Eventually he became a gorgeous, gold-and-white macho adult with a heart-shaped face who preened in the mir­ror and objected to visits by any other males to "his" house. O'Brien also brings us inside Caltech's prestigious research community, a kind of scientific Hogwarts where resident owls sometimes flew freely from office to office and eccentric, brilliant scientists were extraordinarily committed to studying and helping animals; all of them were changed by the animals they loved. As O'Brien gets close to Wesley, she makes astonishing discoveries about owl behavior, intelligence, and communication, coining the term "The Way of the Owl" to describe his noble behavior. When O'Brien develops her own life-threatening ill­ness, the biologist who saved the life of a helpless baby bird is herself rescued from death by the insistent love and courage of this wild animal.
Wesley the Owl is being adapted for television.
Love owl books? You might be interested in more books about wildlife, including books about birds, books about chickens, and, of course, these 100 must-read books about nature.