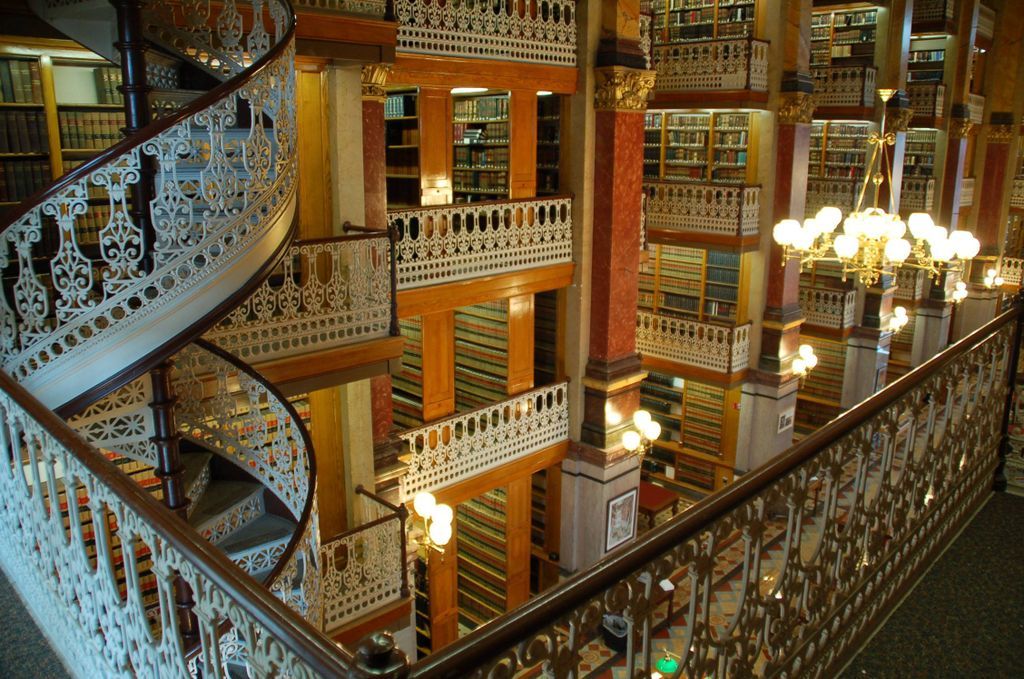 This content contains affiliate links. When you buy through these links, we may earn an affiliate commission.
Library hero Andrew Carnegie was crazy about building libraries: between 1883 and 1929 he helped create 2,509 awesome libraries throughout the world. And one of his driving motives for his philanthropy was to help communities obtain a library of their own, sort of a "if you build them a library they'll learn how to fish" way of thinking.
Before handing out the money, Carnegie asked towns to show why they needed a public library, and provide the perfect site for it. He also had very strong ideas about how the library should function: he envisioned that they should be in the heart of the community for accessibility, they should deviate from the normal library model of the time and allow people to access materials themselves, and perhaps most radically, Carnegie believed the collection should serve everyone – including women & children – and provide free service. He was sort of awesome.
I respect the Carnegie library philosophy. I want my libraries to be open and accessible, cozy, comfortable places where you can relax with a good book kick your feet up and spend some time. But I also love a glamorous, ornate, gold star affair – like California's Hearst Castle Library, which is extravagantly beautiful, but completely off limits – you can't even sit down on one of the lovely velvety chairs.
As it's National Library Week in the U.S., I compiled a short list of awesome libraries. Some I've been lucky enough to visit – most are on my wishlist.
Morgan Library and Museum
Whenever I'm in New York city, I spend some time at the New York Public library – that gorgeous main branch with the lions guarding the front doors, made famous by such classic films as Ghostbusters.
The library is really a fantastic space – easily accessible, in the heart of the city, open to all – and always provides a bit of calm and quiet as I'm dashing around the city.
But next time I'm in the city I plan on visiting the Morgan Library and Museum, which, I don't know how I've not known about it all these years. The Morgan Library started out as the private library of Pierpont Morgan, who in the 1800s was one of the biggest collectors of illuminated, literary, and historical manuscripts, early printed books, and old drawings and prints.
https://www.pinterest.com/pin/120119515036622777/
The original building was created by a renowned architect in an Italian Renaissance-style and later, after son J.P. Morgan donated the library to the public and opened it up, the building expanded to include the previous Morgan residences. It now includes a garden, performance hall, cafe and restaurant, and a new reading room.
But my favorite rooms are the Librarian's Office, (I mean – this is a library I could get the job done in), as well as the original Mr. Morgan's Library:
Study, and Rotunda. Ok, so maybe I can't actually hang out in the study with a copy of Mr. Penumbra's 24-hour Bookstore (if you've read the book, I imagine the study as the inspiration for the headquarters of the Unbroken Spine); but it is a working library, which makes it a place I very much want to visit.
Stapleton Branch Library
And afterwards I'm going to have to make my way out to the Stapleton Branch on Staten Island, which was recently renovated and lauded for it's design by the American Library Association (ALA) and American Institute of Architects (AIA).
This library started out as a standard template one-room Carnegie building, and the designers kept that century-old building in place – it now houses the children's library – but added a 12,000-square-foot, open, airy library that more people can enjoy. There are nice wood floors and skylights for better natural light reading. The library is open for business, and proudly serving its diverse community.
George Peabody Library
The George Peabody Library is, to quote its own website, "a remarkable research library housed in a remarkable building." Located inside the Peabody Institute of Music, it's part of the special collections at Johns Hopkins University. Funny side note: the library houses just about nothing music related. And, even better, it's a research library that doubles as a wedding venue. And here's why:
The stack room: five tiers of ornamental cast-iron balconies, rising up to a skylight 61 feet above the floor. It is stunning. I'm considering divorcing so I can get remarried here.
Library of Congress
Did you know that the Library of Congress (affectionately known as the LOC) is the largest library in the world? It holds within its hallowed walls more than 164 million items on approximately 838 miles of bookshelves. MILES. It adds around 12,000 items to the collection each day, and has Presidential Papers, a Gutenberg bible, the world's largest collections of cartographic materials (maps!!), comic books, and newspapers. The smallest bookish gem in the collection is a copy of "Old King Cole." At 1/25" x 1/25", the library notes that it's about the size of a period. (.)
After the library was first created, in 1800, it was promptly burned to the ground by invading British forces. But Thomas Jefferson offered up his vast personal collection as a replacement, and the library was reborn, with the spirit of complete inclusion for the benefit of serving the U.S. Congress and public. In 2016 Carla Hayden was appointed as the first African American and female librarian of congress – also, the first actual librarian in quite some time. Hayden is taking to her new role, and freshening up the library with events like "Bibliodiscotheque": two months of straight disco themed lectures, films, parties – and Gloria Gaynor. And yes, you can also do research, reading, and host events at this luminous library, so it's just about perfect.
State Library of Iowa's Law Library
The State Library of Iowa's Law Library is jaw dropping – and you will want to visit, not so much for the books this time – unless you're a lawyer! – but to meander up and down these stunning staircases:
Located in the Capitol building, the collection is mainly for the use of Iowa's government and legal community, but it's open to the general public and provides research assistance. It's a hard working library, so no outside events are allowed, but you can take all the pictures – and pose in a ball gown like Beauty and the Beast's Belle – as long as you like.
Los Angeles Central Library
I grew up in the Los Angeles area. My local library branch is a sweet little red brick building, walkable from my home: for a more upscale vibe I'd visit the Huntington Library, a world renowned research institution that includes a library, art collection, and elaborate botanical gardens. (A great reason to visit the Huntington right now is the exhibit on local writer Octavia E. Butler.)
But I remember working in downtown Los Angles, and one day I turned a street corner and saw the celestial facade of the Central Library's Goodhue Building, illuminated by the bright Southern California sun:
I was enchanted, and had to find out, if this was the outside, what delights the inside of the library contained. And it didn't disappoint. There are two black marble sphinxes gracing the top of the ground floor stairs; the Rotunda ceiling has a bronze Zodiac Chandelier, murals depicting California history line the walls, and vividly colored rings, star bursts, checkerboards and names of Los Angeles writers intertwine on the ceiling.
The library had just been renovated, with most of the collection going to the less whimsical Tom Bradley library – the Goodhue Building still has the Children's and Teen departments, exhibition space and offices. The Bradley wing is 8 floors surrounding a bright atrium, and is decorated with sculpture and other works of art.
And once you find the book you're looking for, you can stroll outside to the library's Maguire Gardens, a lush, beautifully landscaped public green space with fountains, grottoes and a serene design inspired by books. The whole library complex is a sweet escape in downtown Los Angeles, worth visiting if you're ever in the city of angels.
Eureka Springs Carnegie Library
"Carnegie libraries are still the best buildings in many towns, " it's been said about Andrew Carnegie. I'd love to visit all the Carnegie libraries, but I'll start with this one on my list: the Eureka Springs Public Library in Eureka Springs, Arkansas, dedicated in 1913, is one of only two Carnegie Libraries left in Arkansas. It's in the Classical-revival style, complete with columns. A reviewer on Yelp defines the library thusly: ""Scientifically proven to be the finest small library in the world.""
And there's a creepy, not quite finished basement, which possibly includes a hidden tunnel, that you can visit as part of the Underground Eureka Tour. Excellent bonus.
Fisher Fine Arts Library
The inside of the University of Pennsylvania, the Fisher Fine Arts Library reminds me of Hogwarts. Need I say more?
(And actually, it should remind me of the movie Philadelphia, where the law library scene was filmed…but Hogwarts first.)
The red brick gothic masterpiece is finished off with red sandstone and terracotta details on the outside, but it's the main reading room that stole my heart. The soaring four story room is filled with light, and the windows themselves are inscribed with Shakespearean quotations. It was designed with consultation by Melvil Dewey, of Dewey Decimal fame, who wanted to build a thoroughly modern library, and helped create one that's stood the test of time.
The library is open to non-university visitors, as long as you sign in and show a valid ID.

So clearly this is just a small handful of all the excellent libraries out there. If you have a favorite please share!