This content contains affiliate links. When you buy through these links, we may earn an affiliate commission.
Usually when a book request pops up I can list at least a couple books that meet the requirement but recently when I came across a call for books with central female friendships within the Fantasy/Sci-Fi genre I found myself only able to recommend graphic novels. While that didn't answer the original request, it did make me realize that there are some awesome comics with female friendships front and center. I expanded beyond Fantasy/Sci-Fi to include all genres and listed them below because if you haven't read these yet you should. Also, I hereby call for more central female friendship in comics and novels because they're the best.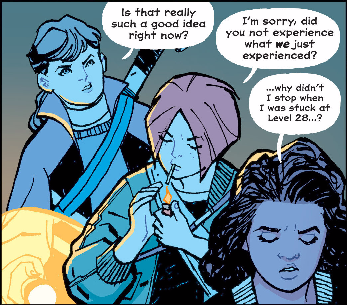 Paper Girls, Vol. 1 by Brian K. Vaughan, Cliff Chiang, Matthew Wilson: Being that Saga is one of my all time favorite comics I was really excited to hear Vaughan was working on not only a new comic book but one that is set in the '80s! This time instead of a story centering around an epic love we have a group of paper girls who encounter some weird shit happening in their neighborhood. The graphics are fantastic, the what-is-happening element is intriguing, and the different personalities and relationships amongst the girls is great. And if you're a fan of Stranger Things you should definitely pick this one up.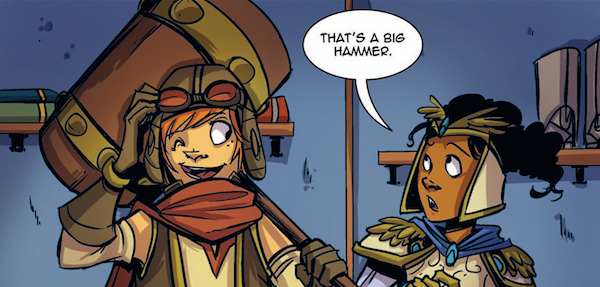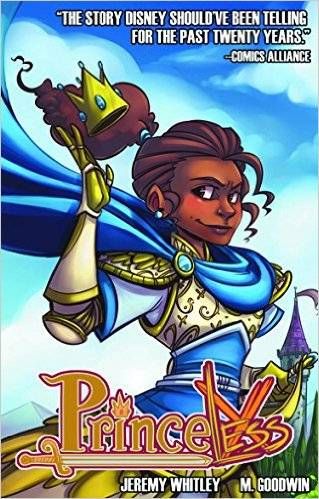 Princeless Vol 1: Save Yourself by Jeremy Whitley, Mia Goodwin, Jung-Ha Kim (Contributor), Dave Dwonch (Contributor): I've raved about this one a lot–I even dream cast it because this needs to happen!–since it is all the things I wish I'd had in a comic as a kid AND something I totally enjoy and love as an adult. Princess Adrienne and her sisters are in towers waiting for their princes to rescue them but Adrienne has no desire to be rescued by anyone but herself. And so she rescues herself. Then she teams up with the funny Bedelia– after Bedelia makes her some body armor–to go rescue her sister. And if the series weren't delightful enough it spins off into Princeless: Raven the Pirate Princess Book 1: Captain Raven and the All-Girl Pirate Crew which is just awesome lady pirates being awesome and hilarious.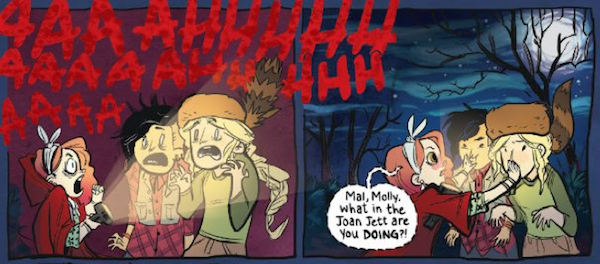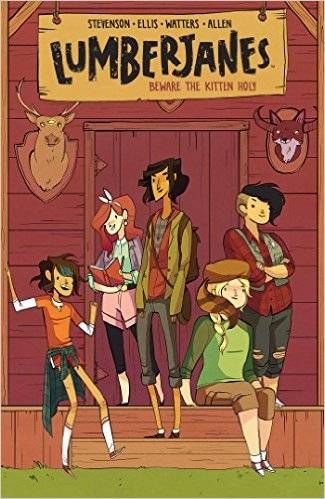 Lumberjanes, Vol. 1: Beware the Kitten Holy (Lumberjanes #1-4) by Noelle Stevenson, Grace Ellis, Shannon Watters, Brooke A. Allen: A fun, quirky, and funny comic with a group of friends at camp where mysterious and spooky things start to happen–which made me realize the only thing that could have made Troop Beverly Hills even better was supernatural elements. The camp has an addition to it's sign that reads Hardcore Lady Types and that they are! My favorite part of the comic, aside from the humor, is how unique and wonderful each character is. I would have totally signed up for sleep-away camp if it meant spending a summer with these girls.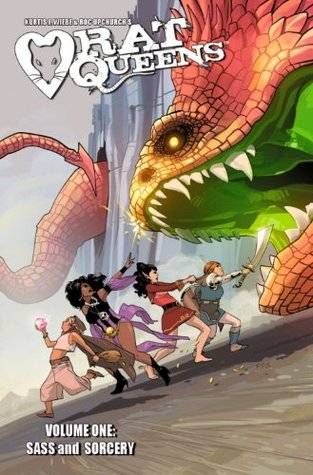 Rat Queens Vol 1: Sass & Sorcery by Kurtis J. Wiebe, Roc Upchurch: A dark comedy centering around 4 women who drink, fight, curse, and go on quests–all while being kick-ass and awesome of course. I wasn't even a few pages in before I was wishing I could be a part of their group which then turned into me imagining all the awesome Halloween/Cosplay costumes to come! I want to tell you my favorite character but I can't choose. I mean I'll choose and then one of the other ladies will say something or do something and I'll pick her instead. So let's say my favorite is Betty, Dee, Hannah, AND Violet. That's my answer and I'm sticking to it. *I feel I must note that while the comic is 100% awesome ladies there has been issues, specifically concerning Upchurch, amongst the creators.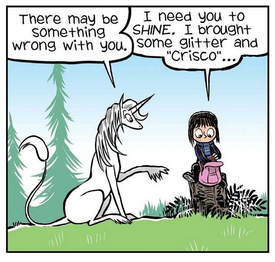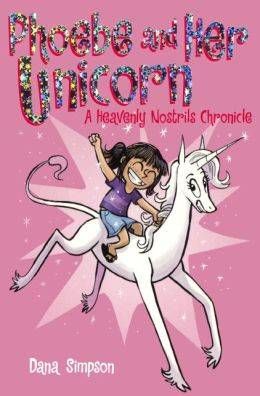 Phoebe and Her Unicorn (Heavenly Nostrils #1) by Dana Simpson: I don't know about you but I am forever on a quest to find a unicorn and, like Phoebe, make it my best friend. The delightfulness that is this comic is squeal inducing from the unicorns name (Marigold Heavenly Nostrils) to smart, imaginative Phoebe. Plus, it's slathered in snark and has real heart so it's perfect. Perfect!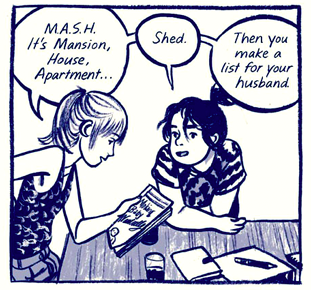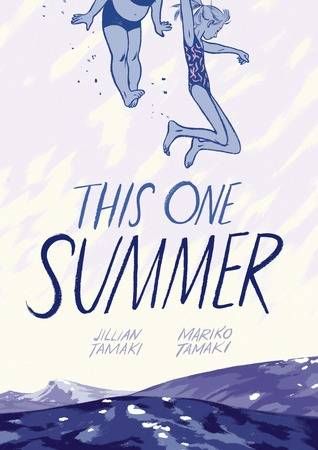 This One Summer by Mariko Tamaki, Jillian Tamaki: Set over a summer vacation Mariko Tamaki perfectly captures summer friendships, the huge age difference just a year or two can be amongst teenagers, the things teens never quite realize is happening in the lives of the grownups around them, and how the adults don't see how teens absorb the world around them. And Jillian Tamaki's gorgeous artwork set the tone beautifully and left me lingering on each page just to absorb as much of the graphics as I could.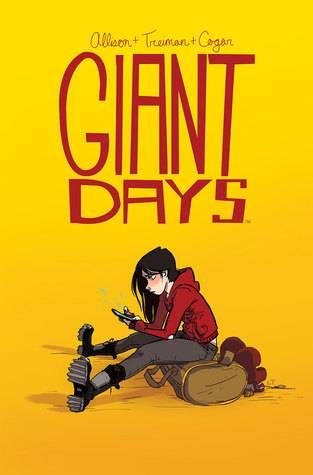 Giant Days, Vol. 1 by John Allison, Lissa Treiman, Whitney Cogar (Colorist): Esther, Daisy, and Susan may not have become friends if it weren't for dorm life their freshman year of college but they have and it's wonderful. You have the drama magnet, the quirky naive one, and the no-nonsense one navigating independence, the flu, misogynistic websites, and pigeon raising–you know everyday college life.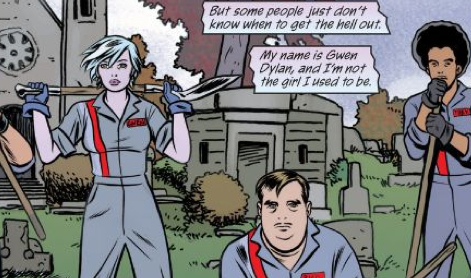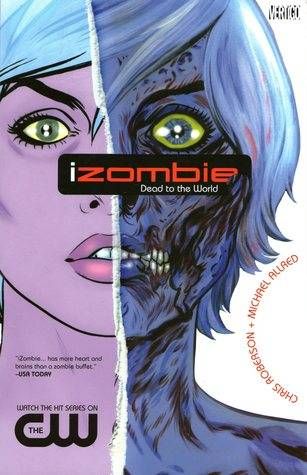 iZombie, Vol. 1: Dead to the World by Chris Roberson, Mike Allred, Laura Allred (Colorist), Todd Klein (Letterer): While the show is loosely adapted from the graphic novel the only real similarity is a zombie woman (similar personalities) that every once in a while has to eat a brain to keep her memories and continue faking being alive. The plot and other characters are completely different. In the comic Gwen's best friend is a ghost! And not just any ghost, Ellie died in the 1940s so modern things are foreign to her and she can only travel to places she'd been while alive. I loved that I got to read the comic and watch the show without either spoiling the other because they're two different stories. If you're a fan of Liv and Peyton's friendship on The CW iZombie you'll enjoy Gwen and Ellie's friendship in the comic.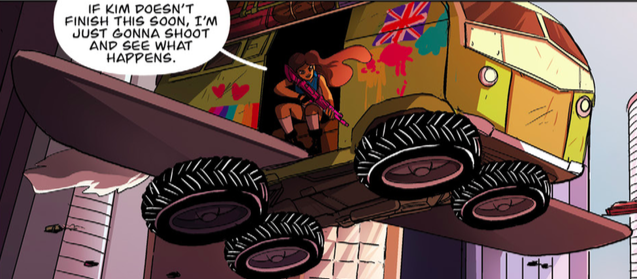 Kim & Kim #1 by Magdalene Visaggio, Eva Cabrera, Claudia Aguirre (Color), Zakk Saam (Letters), Katy Rex (Edits): Kim Q. and Kim D. are traveling in a flying Scooby-Doo looking van—that reminds me a bit of Spaceballs—as they try and apprehend the bounty they're hunting since they're interdimensional bounty hunters. Already all the awesomesauce. Add in Kim Q. stealing a job as a massive FU to her father, the ladies fantastic humor, smart-mouths, friendship, adventures, punk style, shape-shifting octopuses, the two leads being a trans woman and a bisexual woman and this is my favorite new series.
Do you have a favorite? Am I missing some awesome lady friendships I should be reading?
Save
Save
Save
Save
Save
Save
Save
Save
Save
Save
Save
Save
Save