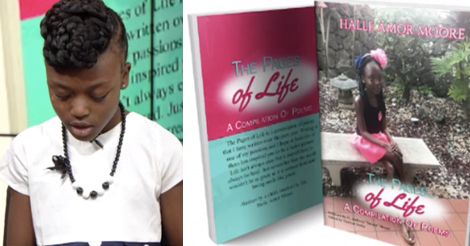 Critical Linking
Awesome 9-Year-Old Publishes Feminist Book Of Poetry: Critical Linking, January 29, 2019
Sponsored by our Unusual Suspects giveaway of $100 to the bookstore of your choice!
---
She's not even out of elementary school. But a 9-year-old Maryland girl is already a bestselling author. Halle Amor Moore has released a book of poetry called "The Pages Of Life." In it she tackles topics from politics, to feminism, to spirituality.
Halle Amor Moore is here to change the world for the better and I love her to pieces.
---
One of the most powerful scenes in Barry Jenkins' adaptation of James Baldwin's "If Beale Street Could Talk" is a long, gut-wrenching dialogue between Fonny (Stephon James) and Daniel (Bryan Tyree Henry). Daniel, recently released from prison, runs into his old friend Fonny and visits his home for dinner. As they catch up, Daniel reveals the dark mental space that being incarcerated sent him to and the trauma that keeps him captive.
This scene is a rarity. Conversations about black men's mental health ― and how it intersects with racism ― aren't usually seen on the big screen. And unfortunately, these discussions aren't normalized or encouraged in society.
HuffPost Black Voices hosted a panel before the national film release of If Beale Street Could Talk and here's an important conversation on black male vulnerability.
---
The Man Booker Prize may be forced to change its name, as hedge fund Man Group cuts its ties with the UK's most prestigious fiction award.
The company had sponsored the £50,000 prize for English-language fiction since 2002, but today the Booker Prize Foundation announced that their partnership was "coming to an end", adding that Man Group would instead be "focusing its resources" on other charitable initiatives in future.
As someone who still calls the Miami Open The Lipton, I'm gonna probably still call this the Man Booker—and stop naming things after sponsors that will change, please. My memory bank is tiny.