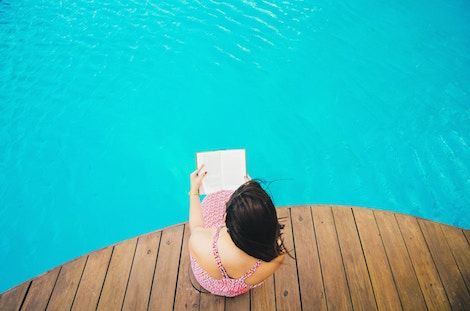 Young Adult Literature
40 Award-Winning YA Books: Great Places To Read Your Way Into YA Or Expand Your YA Knowledge
This content contains affiliate links. When you buy through these links, we may earn an affiliate commission.
When a new reader wants to wade into the YA category of books or a seasoned reader wants to expand their knowledge, one good place to begin or deepen the journey is through award-winning YA books. There are several categories of YA book awards, ranging from those given by peers in the field, those given by genre organizations, those given by librarians, and many more. Award-winning YA books span all genres and styles, fiction and nonfiction, as well as comics and beyond. There's something for every type of reader.
Find below a round-up of great award-winning YA books. These include books which have won the following:
The Printz award
The Morris award
The Excellence in Nonfiction for Young Adults award
The National Book Award in Young People's Literature
The Boston Globe-Horn Book Award
The Edgar Award
The Andre Norton Award for Outstanding Young Adult Science Fiction or Fantasy
And more!
Learn more about specific YA book awards here.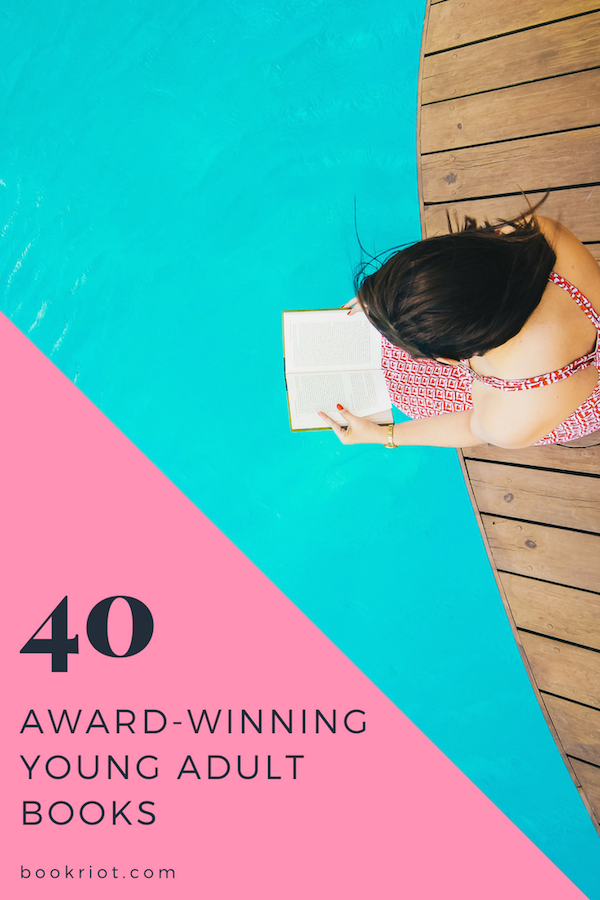 The list below is merely a selection of titles. They do not represent the entirety of award-winning YA books, and they're limited to awards given in the United States. Click through the links to the awards listed beside the titles, though, to see more titles that won or were short listed for those awards.
Descriptions come from Amazon. Although I've read many of these titles, I've not read them all…yet!
Award-Winning YA Books
The 57 Bus: A True Story of Two Teenagers and the Crime That Changed Their Lives by Dashka Slater (Stonewall Award, 2017)
One teenager in a skirt.
One teenager with a lighter.
One moment that changes both of their lives forever.
If it weren't for the 57 bus, Sasha and Richard never would have met. Both were high school students from Oakland, California, one of the most diverse cities in the country, but they inhabited different worlds. Sasha, a white teen, lived in the middle-class foothills and attended a small private school. Richard, a black teen, lived in the crime-plagued flatlands and attended a large public one. Each day, their paths overlapped for a mere eight minutes. But one afternoon on the bus ride home from school, a single reckless act left Sasha severely burned, and Richard charged with two hate crimes and facing life imprisonment.
The 57 Bus is Dashka Slater's true account of the case that garnered international attention and thrust both teenagers into the spotlight.
American Born Chinese tells the story of three apparently unrelated characters: Jin Wang, who moves to a new neighborhood with his family only to discover that he's the only Chinese-American student at his new school; the powerful Monkey King, subject of one of the oldest and greatest Chinese fables; and Chin-Kee, a personification of the ultimate negative Chinese stereotype, who is ruining his cousin Danny's life with his yearly visits. Their lives and stories come together with an unexpected twist in this action-packed modern fable. American Born Chinese is an amazing ride, all the way up to the astonishing climax.
Aristotle is an angry teen with a brother in prison. Dante is a know-it-all who has an unusual way of looking at the world. When the two meet at the swimming pool, they seem to have nothing in common. But as the loners start spending time together, they discover that they share a special friendship—the kind that changes lives and lasts a lifetime. And it is through this friendship that Ari and Dante will learn the most important truths about themselves and the kind of people they want to be.
When Saba Khan's apartment burns in a mysterious fire, possibly a hate crime, her high school rallies around her. Then a quirky piece of art donated to a school fund-raising effort for the Khans is revealed to be an unknown work by a famous artist, worth hundreds of thousands of dollars, and Saba's life turns upside down again. Soon students and teachers alike debate who should get the money, pointing fingers and making startling accusations. Through monologues, journal entries, interviews, articles, and official documents, the cast of characters reveal how they see what happened.
Matt hasn't eaten in days. His stomach stabs and twists inside, pleading for a meal, but Matt won't give in. The hunger clears his mind, keeps him sharp—and he needs to be as sharp as possible if he's going to find out just how Tariq and his band of high school bullies drove his sister, Maya, away.
Matt's hardworking mom keeps the kitchen crammed with food, but Matt can resist the siren call of casseroles and cookies because he has discovered something: the less he eats the more he seems to have . . . powers. The ability to see things he shouldn't be able to see. The knack of tuning in to thoughts right out of people's heads. Maybe even the authority to bend time and space.
So what is lunch, really, compared to the secrets of the universe?
Matt decides to infiltrate Tariq's life, then use his powers to uncover what happened to Maya. All he needs to do is keep the hunger and longing at bay. No problem. But Matt doesn't realize there are many kinds of hunger…and he isn't in control of all of them.
Anya could really use a friend. But her new BFF isn't kidding about the "Forever" part . . .
Of all the things Anya expected to find at the bottom of an old well, a new friend was not one of them. Especially not a new friend who's been dead for a century.
Falling down a well is bad enough, but Anya's normal life might actually be worse. She's embarrassed by her family, self-conscious about her body, and she's pretty much given up on fitting in at school. A new friend—even a ghost—is just what she needs.
Or so she thinks.
In December of 1938, a chemist in a German laboratory made a shocking discovery: When placed next to radioactive material, a Uranium atom split in two. That simple discovery launched a scientific race that spanned 3 continents. In Great Britain and the United States, Soviet spies worked their way into the scientific community; in Norway, a commando force slipped behind enemy lines to attack German heavy-water manufacturing; and deep in the desert, one brilliant group of scientists was hidden away at a remote site at Los Alamos. This is the story of the plotting, the risk-taking, the deceit, and genius that created the world's most formidable weapon. This is the story of the atomic bomb.
Everyone knows Bone Gap is full of gaps.
So when young, beautiful Roza went missing, the people of Bone Gap weren't surprised. But Finn knows what really happened to Roza. He knows she was kidnapped by a dangerous man whose face he cannot remember.
As we follow the stories of Finn, Roza, and the people of Bone Gap, acclaimed author Laura Ruby weaves a tale of the ways in which the face the world sees is never the sum of who we are.
A captivating novel about mental illness that lingers long beyond the last page, Challenger Deep is a heartfelt tour de force by New York Times bestselling author Neal Shusterman.
Caden Bosch is on a ship that's headed for the deepest point on Earth: Challenger Deep, the southern part of the Marianas Trench.
Caden Bosch is a brilliant high school student whose friends are starting to notice his odd behavior.
Caden Bosch is designated the ship's artist in residence to document the journey with images.
Caden Bosch pretends to join the school track team but spends his days walking for miles, absorbed by the thoughts in his head.
Caden Bosch is split between his allegiance to the captain and the allure of mutiny.
Caden Bosch is torn.
Margarita is a girl from two worlds. Her heart lies in Cuba, her mother's tropical island country, a place so lush with vibrant life that it seems like a fairy tale kingdom. But most of the time she lives in Los Angeles, lonely in the noisy city and dreaming of the summers when she can take a plane through the enchanted air to her beloved island. Words and images are her constant companions, friendly and comforting when the children at school are not.
Then a revolution breaks out in Cuba. Margarita fears for her far-away family. When the hostility between Cuba and the United States erupts at the Bay of Pigs Invasion, Margarita's worlds collide in the worst way possible. How can the two countries she loves hate each other so much? And will she ever get to visit her beautiful island again?
New York City has been decimated by war and plague, and most of civilization has migrated to underground enclaves, where life expectancy is no more than the early 20's. When Deuce turns 15, she takes on her role as a Huntress, and is paired with Fade, a teenage Hunter who lived Topside as a young boy. When she and Fade discover that the neighboring enclave has been decimated by the tunnel monsters–or Freaks–who seem to be growing more organized, the elders refuse to listen to warnings. And when Deuce and Fade are exiled from the enclave, the girl born in darkness must survive in daylight–guided by Fade's long-ago memories–in the ruins of a city whose population has dwindled to a few dangerous gangs.
For eight years, Loa Sollilja's world ran like one of those mechanical models of the solar system, with her baby sister, Asta, as the sun. Asta suffered from a genetic disorder that left her a permanent infant, and caring for her was Loa's life. Everything spun neatly and regularly as the whole family orbited around Asta. But now Asta's dead, and 16-year-old Loa's clockwork galaxy has collapsed. As Loa spins off on her own, her mind ambushes her with vivid nightmares and sadistic flashbacks―a textbook case of PTSD. But there are no textbook fixes for Loa's short-circuiting brain. She must find her own way to pry her world from the clutches of death.
Thirteen-year-old Sophie isn't happy about spending the summer of 1960 at her grandmother's old house in the bayou. Bored and lonely, she can't resist exploring the house's maze, or making an impulsive wish for a fantasy-book adventure with herself as the heroine. What she gets instead is a real adventure: a trip back in time to 1860 and the race-haunted world of her family's Louisiana sugar plantation. Here, President Lincoln's Emancipation Proclamation is still two years in the future and passage of the Thirteenth Amendment is almost four years away. And here, Sophie is mistaken, by her own ancestors, for a slave.
Amsterdam, 1943. Hanneke spends her days procuring and delivering sought-after black market goods to paying customers, her nights hiding the true nature of her work from her concerned parents, and every waking moment mourning her boyfriend, who was killed on the Dutch front lines when the Germans invaded. She likes to think of her illegal work as a small act of rebellion.
On a routine delivery, a client asks Hanneke for help. Expecting to hear that Mrs. Janssen wants meat or kerosene, Hanneke is shocked by the older woman's frantic plea to find a person-a Jewish teenager Mrs. Janssen had been hiding, who has vanished without a trace from a secret room. Hanneke initially wants nothing to do with such dangerous work, but is ultimately drawn into a web of mysteries and stunning revelations that lead her into the heart of the resistance, open her eyes to the horrors of the Nazi war machine, and compel her to take desperate action.
Fed up with his parents' boring old religion, agnostic-going-on-atheist Jason Bock invents a new god — the town's water tower. He recruits an unlikely group of worshippers: his snail-farming best friend, Shin, cute-as-a-button (whatever that means) Magda Price, and the violent and unpredictable Henry Stagg. As their religion grows, it takes on a life of its own. While Jason struggles to keep the faith pure, Shin obsesses over writing their bible, and the explosive Henry schemes to make the new faith even more exciting — and dangerous.
When the Chutengodians hold their first ceremony high atop the dome of the water tower, things quickly go from merely dangerous to terrifying and deadly. Jason soon realizes that inventing a religion is a lot easier than controlling it, but control it he must, before his creation destroys both his friends and himself.
Sixteen-year-old Starr Carter moves between two worlds: the poor neighborhood where she lives and the fancy suburban prep school she attends. The uneasy balance between these worlds is shattered when Starr witnesses the fatal shooting of her childhood best friend Khalil at the hands of a police officer. Khalil was unarmed.
Soon afterward, his death is a national headline. Some are calling him a thug, maybe even a drug dealer and a gangbanger. Protesters are taking to the streets in Khalil's name. Some cops and the local drug lord try to intimidate Starr and her family. What everyone wants to know is: what really went down that night? And the only person alive who can answer that is Starr.
But what Starr does—or does not—say could upend her community. It could also endanger her life.
Seventeen-year-old Sahar has been in love with her best friend, Nasrin, since they were six. They've shared stolen kisses and romantic promises. But Iran is a dangerous place for two girls in love–Sahar and Nasrin could be beaten, imprisoned, even executed. So they carry on in secret until Nasrin's parents suddenly announce that they've arranged for her marriage. Then Sahar discovers what seems like the perfect solution: homosexuality may be a crime, but to be a man trapped in a woman's body is seen as nature's mistake, and sex reassignment is legal and accessible. Sahar will never be able to love Nasrin in the body she wants to be loved in without risking their lives, but is saving their love worth sacrificing her true self?
Forty years after her death, Janis Joplin remains among the most compelling and influential figures in rock-and-roll history. Her story—told here with depth and sensitivity by author Ann Angel—is one of a girl who struggled against rules and limitations, yet worked diligently to improve as a singer. It's the story of an outrageous rebel who wanted to be loved, and of a wild woman who wrote long, loving letters to her mom. And finally, it's the story of one of the most iconic female musicians in American history, who died at twenty-seven.
When Suzette comes home to Los Angeles from her boarding school in New England, she's isn't sure if she'll ever want to go back. L.A. is where her friends and family are (as well as her crush, Emil). And her stepbrother, Lionel, who has been diagnosed with bipolar disorder, needs her emotional support.
But as she settles into her old life, Suzette finds herself falling for someone new…the same girl her brother is in love with. When Lionel's disorder spirals out of control, Suzette is forced to confront her past mistakes and find a way to help her brother before he hurts himself–or worse.
Fifteen-year-old bender Kivali has had a rough time in a gender-rigid culture. Abandoned as a baby and raised by Sheila, an ardent nonconformist, Kivali has always been surrounded by uncertainty. Where did she come from? Is it true what Sheila says, that she was deposited on Earth by the mysterious saurians? What are you? people ask, and Kivali isn't sure. Boy/girl? Human/lizard? Both/neither? Now she's in CropCamp, with all of its schedules and regs, and the first real friends she's ever had. Strange occurrences and complicated relationships raise questions Kivali has never before had to consider. But she has a gift—the power to enter a trancelike state to harness the "knowings" inside her. She has Lizard Radio. Will it be enough to save her? A coming-of-age story rich in friendships and the shattering emotions of first love, this deeply felt novel will resonate with teens just emerging as adults in a sometimes hostile world.
Emily Bird was raised not to ask questions. She has perfect hair, the perfect boyfriend, and a perfect Ivy-League future. But a chance meeting with Roosevelt David, a homeland security agent, at a party for Washington DC's elite leads to Bird waking up in a hospital, days later, with no memory of the end of the night.
Meanwhile, the world has fallen apart: A deadly flu virus is sweeping the nation, forcing quarantines, curfews, even martial law. And Roosevelt is certain that Bird knows something. Something about the virus–something about her parents' top secret scientific work–something she shouldn't know.
The only one Bird can trust is Coffee, a quiet, outsider genius who deals drugs to their classmates and is a firm believer in conspiracy theories. And he believes in Bird. But as Bird and Coffee dig deeper into what really happened that night, Bird finds that she might know more than she remembers. And what she knows could unleash the biggest government scandal in US history.
Lumberjanes by Shannon Watters, Grace Ellis, Noelle Stevenson, and Brooke A. Allen (Eisner Award, 2015)
What's to Love: Lumberjanes is the hit series from the BOOM! Box imprint that features five rad ladies who fight monster baddies with the power of friendship! Written by Noelle Stevenson (Nimona, Adventure Time) and newcomer Grace Ellis, and illustrated by Brooke Allen (A Home for Mr. Easter), this new series has taken comics by storm and placed on many Best-of-the-Year lists, including Comics Alliance, Entertainment Weekly, and Comic Book Resources.What It Is: At Miss Qiunzella Thiskwin Penniquiqul Thistle Crumpet's Camp for Hardcore Lady Types, things are not what they seem. Three-eyed foxes. Secret caves. Anagrams! Luckily, Jo, April, Mal, Molly, and Ripley are five rad, butt-kicking best pals determined to have an awesome summer together…and they're not gonna let a magical quest or an array of supernatural critters get in their way! The mystery keeps getting bigger, and it all begins here.
By Fall 1963, the Civil Rights Movement is an undeniable keystone of the national conversation, and as chair of the Student Nonviolent Coordinating Committee, John Lewis is right in the thick of it. With the stakes continuing to rise, white supremacists intensify their opposition through government obstruction and civilian terrorist attacks, a supportive president is assassinated, and African-Americans across the South are still blatantly prohibited from voting. To carry out their nonviolent revolution, Lewis and an army of young activists launch a series of innovative projects, including the Freedom Vote, Mississippi Freedom Summer, and a pitched battle for the soul of the Democratic Party waged live on national television. But strategic disputes are deepening within the movement, even as 25-year-old John Lewis heads to Alabama to risk everything in a historic showdown that will shock the world.
For fifteen years, Reason Cansino has lived on the run. Together with her mother, Sarafina, she has moved from one place to another in the Australian countryside, desperate not to be found by Reason's grandmother Esmeralda, a dangerous woman who believes in magic. But the moment Reason walks through Esmeralda's back door and finds herselfon a New York City street, she's confronted by an unavoidable truth—magic is real.
You've never read a fantasy novel like this one! The deep well of Japanese myth merges with the Western fantasy tradition for a novel that's as rich in place and culture as it is hard to put down.
Balsa was a wanderer and warrior for hire. Then she rescued a boy flung into a raging river — and at that moment, her destiny changed. Now Balsa must protect the boy — the Prince Chagum — on his quest to deliver the great egg of the water spirit to its source in the sea. As they travel across the land of Yogo and discover the truth about the spirit, they find themselves hunted by two deadly enemies: the egg-eating monster Rarunga . . . and the prince's own father.
Jade believes she must get out of her poor neighborhood if she's ever going to succeed. Her mother tells her to take advantage of every opportunity that comes her way. And Jade has: every day she rides the bus away from her friends and to the private school where she feels like an outsider, but where she has plenty of opportunities. But some opportunities she doesn't really welcome, like an invitation to join Women to Women, a mentorship program for "at-risk" girls. Just because her mentor is black and graduated from the same high school doesn't mean she understands where Jade is coming from. She's tired of being singled out as someone who needs help, someone people want to fix. Jade wants to speak, to create, to express her joys and sorrows, her pain and her hope. Maybe there are some things she could show other women about understanding the world and finding ways to be real, to make a difference.
Growing up, Mallory Dodge learned that the best way to survive was to say nothing. And even though it's been four years since her nightmare ended, she's beginning to worry that the fear that holds her back will last a lifetime. Now, after years of homeschooling, Mallory must face a new milestone—spending her senior year at a public high school. But she never imagined she'd run into Rider Stark, the friend and protector she hasn't seen since childhood, on her very first day.
It doesn't take long for Mallory to realize that the connection she shared with Rider never really faded. Yet soon it becomes apparent that she's not the only one grappling with lingering scars from the past. And as she watches Rider's life spiral out of control, Mallory must make a choice between staying silent and speaking out—for the people she loves, the life she wants and the truths that need to be heard.
Carlos Duarte knows that he's fabulous. He's got a better sense of style than half the fashionistas in New York City, and he can definitely apply makeup like nobody's business. He may only be in high school, but when he lands the job of his dreams—makeup artist at the FeatureFace counter in Macy's—he's sure that he's finally on his way to great things.
But the makeup artist world is competitive and cutthroat, and for Carlos to reach his dreams, he'll have to believe in himself more than ever.
In 1968 Chicago, it's not easy for thirteen-year-old Sam to be the son of known civil rights activist Roland Childs. Especially when his older brother, Stick, starts keeping to himself. Then, one day, Sam finds something under Stick's bed that changes everything: literature about the Black Panthers. Suddenly, nothing feels certain anymore. And when Dr. King is shot and killed, Sam's father's words are no longer enough to make him believe in change….This moving, coming-of-age story gracefully encompasses the scope of the struggle between the civil rights and black power movements through an intimate and relatable lens.
Sixteen-year-old and not-so-openly gay Simon Spier prefers to save his drama for the school musical. But when an email falls into the wrong hands, his secret is at risk of being thrust into the spotlight. Now change-averse Simon has to find a way to step out of his comfort zone before he's pushed out—without alienating his friends, compromising himself, or fumbling a shot at happiness with the most confusing, adorable guy he's never met.
Incredibly funny and poignant, this twenty-first-century coming-of-age, coming out story—wrapped in a geek romance—is a knockout of a debut novel by Becky Albertalli.
At age four, Young Ju moves with her parents from Korea to Southern California. She has always imagined America would be like heaven: easy, blissful, and full of riches. But when her family arrives, she finds it to be the opposite. With a stubborn language barrier and cultural dissimilarities, not only is it impossible to make friends, but even her family's internal bonds are wavering. Her parents' finances are strained, yet her father's stomach is full of booze.
As Young Ju's once solid and reliable family starts tearing apart, her younger brother begins to gain more freedom and respect simply because of his gender. Young Ju begins to lose all hope in the dream she once held—the heaven she longs for. Even as she begins to finally fit in, a cataclysmic family event will change her idea of heaven forever. But it also helps her to recognize the strength she holds, and envision the future she desires, and deserves.
Natasha: I'm a girl who believes in science and facts. Not fate. Not destiny. Or dreams that will never come true. I'm definitely not the kind of girl who meets a cute boy on a crowded New York City street and falls in love with him. Not when my family is twelve hours away from being deported to Jamaica. Falling in love with him won't be my story.
Daniel: I've always been the good son, the good student, living up to my parents' high expectations. Never the poet. Or the dreamer. But when I see her, I forget about all that. Something about Natasha makes me think that fate has something much more extraordinary in store—for both of us.
The Universe: Every moment in our lives has brought us to this single moment. A million futures lie before us. Which one will come true?
Every summer, Rose goes with her mom and dad to a lake house in Awago Beach. It's their getaway, their refuge. Rosie's friend Windy is always there, too, like the little sister she never had. But this summer is different. Rose's mom and dad won't stop fighting, and when Rose and Windy seek a distraction from the drama, they find themselves with a whole new set of problems. One of the local teens – just a couple of years older than Rose and Windy – is caught up in something bad… Something life threatening.
It's a summer of secrets, and sorrow, and growing up, and it's a good thing Rose and Windy have each other.
Discover a terrifying world in the woods in this collection of five hauntingly beautiful graphic stories that includes the online webcomic sensation "His Face All Red," in print for the first time.
Journey through the woods in this sinister, compellingly spooky collection that features four brand-new stories and one phenomenally popular tale in print for the first time. These are fairy tales gone seriously wrong, where you can travel to "Our Neighbor's House"—though coming back might be a problem. Or find yourself a young bride in a house that holds a terrible secret in "A Lady's Hands Are Cold." You might try to figure out what is haunting "My Friend Janna," or discover that your brother's fiancée may not be what she seems in "The Nesting Place." And of course you must revisit the horror of "His Face All Red," the breakout webcomic hit that has been gorgeously translated to the printed page.
The deep and enduring friendship between Vincent and Theo Van Gogh shaped both brothers' lives. Confidant, champion, sympathizer, friend―Theo supported Vincent as he struggled to find his path in life. They shared everything, swapping stories of lovers and friends, successes and disappointments, dreams and ambitions. Meticulously researched, drawing on the 658 letters Vincent wrote to Theo during his lifetime, Deborah Heiligman weaves a tale of two lives intertwined and the extraordinary love of the Van Gogh brothers.
You go through life thinking there's so much you need. . . . Until you leave with only your phone, your wallet, and a picture of your mother. Marin hasn't spoken to anyone from her old life since the day she left everything behind. No one knows the truth about those final weeks. Not even her best friend Mabel. But even thousands of miles away from the California coast, at college in New York, Marin still feels the pull of the life and tragedy she's tried to outrun. Now, months later, alone in an emptied dorm for winter break, Marin waits. Mabel is coming to visit and Marin will be forced to face everything that's been left unsaid and finally confront the loneliness that has made a home in her heart.
To everyone who knows them, best friends Miel and Sam are as strange as they are inseparable. Roses grow out of Miel's wrist, and rumors say that she spilled out of a water tower when she was five. Sam is known for the moons he paints and hangs in the trees and for how little anyone knows about his life before he and his mother moved to town. But as odd as everyone considers Miel and Sam, even they stay away from the Bonner girls, four beautiful sisters rumored to be witches. Now they want the roses that grow from Miel's skin, convinced that their scent can make anyone fall in love. And they're willing to use every secret Miel has fought to protect to make sure she gives them up.
Aislinn has always seen faeries. Powerful and dangerous, they walk hidden in mortal world. Aislinn fears their cruelty—especially if they learn of her Sight—and wishes she were as blind to their presence as other teens.
Rule #2: Don't speak to invisible faeries.
Now faeries are stalking her. One of them, Keenan, who is equal parts terrifying and alluring, is trying to talk to her, asking questions Aislinn is afraid to answer.
Rule #1: Don't ever attract their attention.
But it's too late. Keenan is the Summer King who has sought his queen for nine centuries. Without her, summer itself will perish. He is determined that Aislinn will become the Summer Queen at any cost—regardless of her plans or desires.
Suddenly none of the rules that have kept Aislinn safe are working anymore, and everything is on the line: her freedom, her best friend Seth, her life—everything.
Seventeen-year-old Louisa Cosgrove has never enjoyed the life of the pampered, protected life girls of wealth were expected to follow in nineteenth century England. It was too confining. She would have much rather been like her older brother, allowed to play marbles, go to school, become a doctor. But little does she know how far her family would go to kill her dreams and desires. Until one day she finds herself locked away in an insane asylum and everyone–the doctors and nurses–insist on calling her Lucy Childs, not Louisa Cosgrove.
Surely this is a mistake. Surely her family will rescue her from this horrible, disgusting place. But as she unravels the mystery, she discovers those are the very people she can't trust. So who can she? There's one person–Eliza. As their love grows, Louisa realizes treachery locked her away. Love is the key to freedom.
One morning before school, some girl tells Piddy Sanchez that Yaqui Delgado hates her and wants to kick her ass. Piddy doesn't even know who Yaqui is, never mind what she's done to piss her off. Word is that Yaqui thinks Piddy is stuck-up, shakes her stuff when she walks, and isn't Latin enough with her white skin, good grades, and no accent. And Yaqui isn't kidding around, so Piddy better watch her back. At first Piddy is more concerned with trying to find out more about the father she's never met and how to balance honors courses with her weekend job at the neighborhood hair salon. But as the harassment escalates, avoiding Yaqui and her gang starts to take over Piddy's life. Is there any way for Piddy to survive without closing herself off or running away? In an all-too-realistic novel, Meg Medina portrays a sympathetic heroine who is forced to decide who she really is.
Do you have any favorite award-winning YA books? Drop those titles in the comments.