Audiobooks
3 On A YA Theme: Award-Winning YA Audiobooks For Summer Listening and Beyond
This content contains affiliate links. When you buy through these links, we may earn an affiliate commission.
We're giving away $500 to spend at the bookstore of your choice! Dream about what you'd buy while listening to these award-winning YA audiobooks. Click here, or on the image below to enter:

---
June is audiobook month, and what better way to dive into summer reading than with some award-winning YA audiobooks? These listens are the perfect way to catch up on your YA reading, as well as a way to enjoy the work of some of the best audiobook narrators in the business.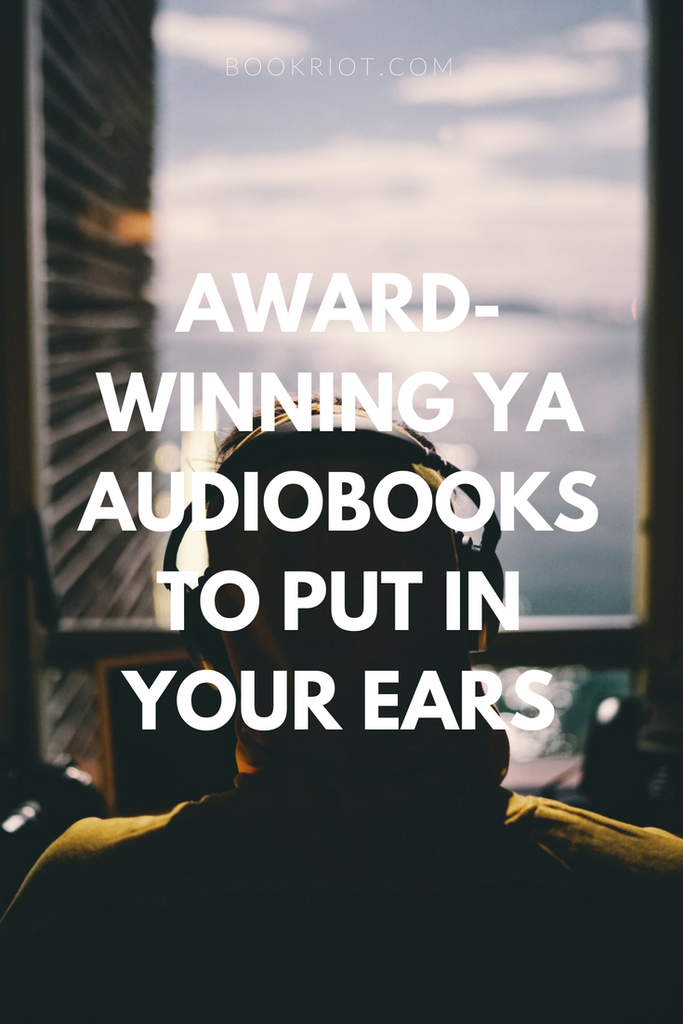 I've combed through the Odyssey Award winning audiobooks, as well as the Audie Award winners to create this list of award-winning YA books. When you finish these titles, know you can paw through those lists and find even more excellent reads. You can also peruse the Amazing Audiobooks lists produced each year through the American Library Association's Young Adult Library Services Division.
Descriptions are pulled from Goodreads, as I've only read (in physical, not audio) one of these titles.
Award-Winning YA Audiobooks
Anna and The Swallow Man by Gavriel Savit and performed by Allan Corduner (Odyssey Award)
Kraków, 1939. A million marching soldiers and a thousand barking dogs. This is no place to grow up. Anna Łania is just seven years old when the Germans take her father, a linguistics professor, during their purge of intellectuals in Poland. She's alone.
And then Anna meets the Swallow Man. He is a mystery, strange and tall, a skilled deceiver with more than a little magic up his sleeve. And when the soldiers in the streets look at him, they see what he wants them to see.
The Swallow Man is not Anna's father—she knows that very well—but she also knows that, like her father, he's in danger of being taken, and like her father, he has a gift for languages: Polish, Russian, German, Yiddish, even Bird. When he summons a bright, beautiful swallow down to his hand to stop her from crying, Anna is entranced. She follows him into the wilderness.
Over the course of their travels together, Anna and the Swallow Man will dodge bombs, tame soldiers, and even, despite their better judgment, make a friend. But in a world gone mad, everything can prove dangerous. Even the Swallow Man.
Life as a ship's boy aboard HMS Dolphin is a dream come true for Jacky Faber. Gone are the days of scavenging for food and fighting for survival on the streets of eighteenth-century London. Instead, Jacky is becoming a skilled and respected sailor as the crew pursues pirates on the high seas.
There's only one problem: Jacky is a girl. And she will have to use every bit of her spirit, wit, and courage to keep the crew from discovering her secret. This could be the adventure of her life—if only she doesn't get caught.
The Hate U Give by Angie Thomas and performed by Bahni Turpin (Odyssey Award)
Sixteen-year-old Starr Carter moves between two worlds: the poor neighborhood where she lives and the fancy suburban prep school she attends. The uneasy balance between these worlds is shattered when Starr witnesses the fatal shooting of her childhood best friend Khalil at the hands of a police officer. Khalil was unarmed.
Soon afterward, his death is a national headline. Some are calling him a thug, maybe even a drug dealer and a gangbanger. Protesters are taking to the streets in Khalil's name. Some cops and the local drug lord try to intimidate Starr and her family. What everyone wants to know is: what really went down that night? And the only person alive who can answer that is Starr.
But what Starr does or does not say could upend her community. It could also endanger her life.
Peace, Locomotion by Jacqueline Woodson and performed by Dion Graham (Audie Award)
Twelve-year-old Lonnie is finally feeling at home with his foster family. But because he's living apart from his little sister, Lili, he decides it's his job to be the "rememberer" and write down everything that happens while they're growing up. Lonnie's musings are bittersweet; he's happy that he and Lili have new families, but though his new family brings him joy, it also brings new worries. With a foster brother in the army, concepts like Peace have new meaning for Lonnie.
The Rock and the River by Kekla Magoon and performed by Dion Graham (Audie Award)
The Time: 1968
The Place: Chicago
For thirteen-year-old Sam it's not easy being the son of known civil rights activist Roland Childs. Especially when his older (and best friend), Stick, begins to drift away from him for no apparent reason. And then it happens: Sam finds something that changes everything forever.
Sam has always had faith in his father, but when he finds literature about the Black Panthers under Stick's bed, he's not sure who to believe: his father or his best friend. Suddenly, nothing feels certain anymore.
Sam wants to believe that his father is right: You can effect change without using violence. But as time goes on, Sam grows weary of standing by and watching as his friends and family suffer at the hands of racism in their own community. Sam beings to explore the Panthers with Stick, but soon he's involved in something far more serious—and more dangerous—than he could have ever predicted. Sam is faced with a difficult decision. Will he follow his father or his brother? His mind or his heart? The rock or the river?
Scowler by Daniel Kraus and performed by Kirby Heyborne (Odyssey Award)
Imagine your father is a monster. Would that mean there are monsters inside you, too?
Nineteen-year-old Ry Burke, his mother, and little sister scrape by for a living on their dying family farm. Ry wishes for anything to distract him from the grim memories of his father's physical and emotional abuse. Then a meteorite falls from the sky, bringing with it not only a fragment from another world but also the arrival of a ruthless man intent on destroying the entire family. Soon Ry is forced to defend himself by resurrecting a trio of imaginary childhood protectors: kindly Mr. Furrington, wise Jesus, and the bloodthirsty Scowler.
Want more "3 On A YA Theme" posts? Gotcha covered.