Lists
Award-Winning Canadian Books from 2017
This content contains affiliate links. When you buy through these links, we may earn an affiliate commission.
A lot of wonderful Canadian books won awards this year! I know that sometimes Canadian lit flies under the radar for U.S. and UK readers and those from other countries, but we're up here making great books. In my (biased) opinion as a Canadian bookseller and editor, the world needs to know. So please enjoy this guide to award-winning Canadian books from 2017.
Awards aren't the only measure of whether or not a book is worth reading, of course, and all too often award shortlists suffer from the same lack of diversity that appears across mainstream publishing. But awards can be a helpful entry point for those looking to get started with a whole country's body of literature. This list is not exhaustive. We love awarding books with prizes in Canada, but this post would be way too long if I tried to get them all in.
(If you notice a pattern in the award names below, yes, many Canadian literary awards are sponsored by corporations.)
SCOTIABANK GILLER PRIZE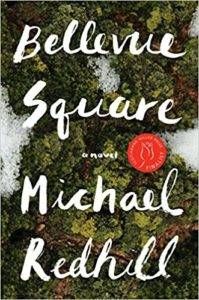 The Giller, awarded to a Canadian novel or book of short stories published in English (including translations), is often referred to as Canada's most prestigious literary prize. Check out this Book Riot post about this year's awards for more about its history.
The 2017 winner was Michael Redhill's Bellevue Square, a literary thriller about a woman who sees her doppelgänger and becomes consumed by the need to find her. Redhill shared that before he won the $100,000 award, he had $411 in his bank account—a story that shows why awards do matter to authors. Giller Prize winners also see a big sales bump, more so than other literary prize winners in Canada, which has become known as "the Giller effect."
Check out the full list of finalists on the Giller website.
Governor General's Literary Awards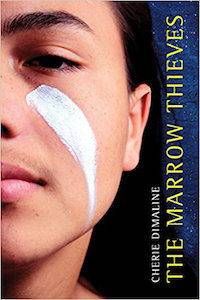 The GGs are a group of awards that (in their own words) "recognize great Canadian books" across a number of categories. I've listed the English winners here, but you can visit the GG website for a full list of nominees as well as the French nominees and winners.
Young People's Literature—Text winner: Cherie Dimaline, The Marrow Thieves (pictured). Set in a futuristic world destroyed by global warming, The Marrow Thieves explores a society that has lost the ability to dream, leading to widespread madness—and the struggle that ensues when people realize that Indigenous people can still dream, and the cure lies in their marrow.
Young People's Literature—Illustrated Books winner: David A. Robertson and Julie Flett (illustrator), When We Were Alone
Fiction winner: Joel Thomas Hynes, We'll All Be Burnt in Our Beds Some Night
Poetry winner: Richard Harrison, On Not Losing My Father's Ashes in the Flood
Drama winner: Hiro Kanagawa, Indian Arm
Non-Fiction winner: Graeme Wood, The Way of the Strangers: Encounters with the Islamic State
Translation winner: Oana Avasilichioaei for her translation of Readopolis (Lectodôme) by Bertrand Laverdure
Rogers Writers' Trust Fiction Prize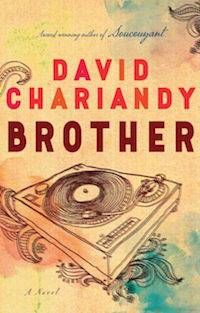 Like the Giller, the Rogers Writers' Trust Fiction Prize recognizes the best novel or short story collection. Many years, there is a lot of overlap between these two awards, but this year the two shortlists were entirely different. The 2017 winner was David Chariandy's Brother, a novel that follows two sons of Trinidadian immigrants, Michael and Francis, as they come of age in an East End Toronto housing complex in the 1990s.
The full list of finalists can be found on the Rogers Writers' Trust website.
RBC Taylor Prize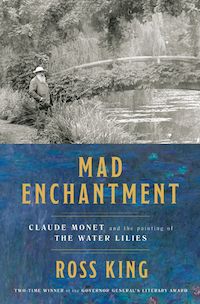 This prize is awarded to the best Canadian work of literary non-fiction. Ross King's Mad Enchantment: Claude Monet and the Painting of the Water Lilies was this year's winner. King tells the story behind Monet's famous water lily paintings, inspired by his Giverny garden and painted just as World War One, illness, and the deaths of his wife and son were leading some to assume that Monet had retired. The other 2017 nominees are listed on the prize's website.
The 2018 Taylor Prize shortlist was just announced, so make sure to check that out, too.
AMAZON.CA FIRST NOVEL AWARD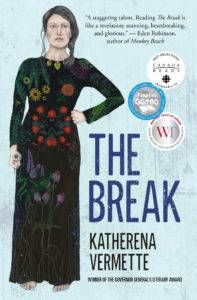 Given to a debut novel, this award often recognizes early-career writers or those who fly under the radar of traditional awards buzz. This year's shortlist was excellent and worth checking out in full. The winner was Katherena Vermette's The Break, a novel set in Winnipeg that follows a group of interconnected characters as they live through and deal with an act of shocking violence witnessed by a young Métis mother, Stella, from her kitchen. Vermette is also an award-winning poet, which shows in her assured and image-laden language.
STEPHEN LEACOCK MEMORIAL MEDAL FOR HUMOUR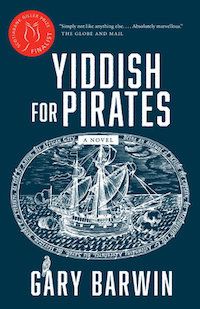 Canadians are funny! Some of our most popular exports are our comedians (Mike Myers, Catherine O'Hara, Dan Aykroyd, the list is endless), so it's no surprise that we have an award recognizing the best in Canadian humour writing. The award is named after Stephen Leacock, a Canadian writer best known for Sunshine Sketches of a Little Town. The 2017 longlist is available online. The winner was Gary Barwin's Yiddish for Pirates, a novel about a young Jewish boy who joins a ship's crew and meets a parrot that becomes his constant companion. The story begins in 1492 and Moishe lives through the expulsion of Jews from Spain, a voyage to the Caribbean, and piracy, all in the company of an opinionated bird.
TD Canadian Children's Literature Award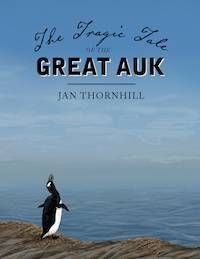 There's lots of wonderful Canadian children's literature, so of course we have awards for that, too! The TD Canadian Children's Literature Award celebrates books created for young people aged one to 12. This year's shortlist was, again, a collection of beautiful books. The Tragic Tale of the Great Auk, written and illustrated by Jan Thornhill was the winner. This non-fiction picture book is about the flightless bird that was once common in the North Atlantic and how it died out after humans began hunting it.
THE VICKY METCALF AWARD FOR LITERATURE FOR YOUNG PEOPLE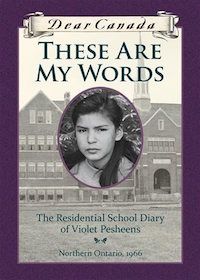 And finally, the Vicky Metcalf Award, named after a Canadian librarian.
This award recognizes an author's entire body of work and contribution to literature for young people, so it's a little different from the others I've listed here. This year, the award went to Ruby Slipperjack, an Anishinabe (Ojibwe) writer whose books include Dear Canada: These Are My Words, Dog Tracks, and Weesquachak. Slipperjack is a member of the Eabametoong First Nation and attended residential school as a child. Her most recent book, Dear Canada: These Are My Words (pictured), is drawn from that childhood experience.
Want more Canadian books? Check out this list of 100 must-read Canadian books and this list of books by Canadian Indigenous authors!