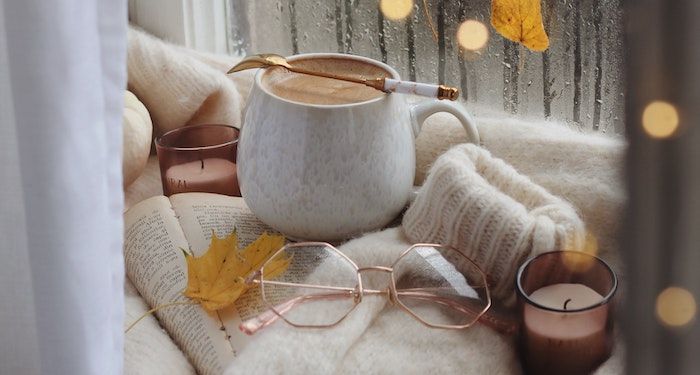 This content contains affiliate links. When you buy through these links, we may earn an affiliate commission.
I've never been a scary-movie person. I have nothing against them! October is the time when all the movie theaters play the best slashers and jump-scare-filled cult classics. I muscled my way into enjoying certain horror movies during my cinema studies classes in graduate school because horror movies themselves are so influential in film history, and I have a similar approach to reading the important horror novels of the past. I'm too curious to never engage with super-scary Halloween-y entertainment, but I tend to choose a light, happy Halloween read to satisfy the Halloween season cravings when I want to unwind autumnally.
I am a wimp! I have accepted that about myself. I'm not great with super-gory mysteries or super-tense thrillers, so I tend to read a lot of graphic novels with Halloween-related imagery and magical creatures running around. Not only is autumn the season of renewal, the falling leaves and breezy coolness add a sense of mystery and possibility to the air.
Even though I'm not cool enough to watch all the gory slashers, the neighborhood I grew up in always went all in on Halloween. Babies in pumpkin pajamas, families in coordinated costumes, and kids in beautifully-constructed cardboard creations took over the streets for the day. The deep, unabashed excitement and commitment to theme always made me happy. I'm looking forward to the simple joy of passing out candy and seeing the great costumes this year. Maybe it's not that scary, but it is fun and Halloween-y.
Cozy Halloween Romance and Mystery
A Happy Halloween to All Ages
No matter your tolerance for scary stories, there's a fun autumnal read out there for you. It doesn't have to be scary to be in line with the season. There's a sense of possibility and fantasy at every corner.
If you're looking for something scary for Halloween, there are plenty of thrillers, horror books, and scary supernatural reads. And for the kiddos, try these Halloween readalouds for elementary school and these Halloween books for toddlers.