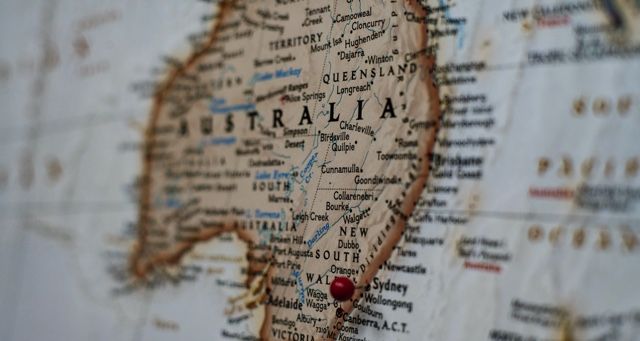 This list of Australian audiobooks is sponsored by Book Riot's new literary fiction podcast Novel Gazing.
Novel Gazing is your destination for all things literary fiction, bringing you news from the world of fiction, and recommendations for under the radar reads, works in translation, buzzy books, and more. Stay in the know, expand your TBR and your view of literary fiction, and, of course, have some laughs with hosts Mary Kay McBrayer and Louise Johnson. Novel Gazing is a biweekly show available wherever you get your podcasts–go listen to episode one now!
---
In late 2018, an Aussie friend of mine pointed out to me that there aren't a lot of Australian books published here in the U.S. The Jane Harpers and Liane Moriartys of the world are the exception, not the rule. With my friend's encouragement, I decided to make reading Aussie titles more of a priority, and while finding Australian audiobooks proved a challenge, I still picked up more Aussie books in 2019 than I ever have before. Here are a few of my favorites!
The Life to Come by Michelle de Kretser, Narrated by Shiromi Arserio
There's nothing like finding a new-to-you author and discovering that they have an amazing backlist. That's how I felt when I read Michelle de Kretser's A Life to Come. Structured as a series of interconnected short stories, de Kretser's novel examines the lives of a cast of characters who are all at pivotal points in their lives. Shiromi Arserio's narration seamlessly moves from one viewpoint character to another, with each character still sounding distinct. While some narrators might struggle with the stream-of-consciousness prose style, Arserio takes it in stride. I fell so in love with this book; I never wanted it to end.
Her Father's Daughter by Alice Pung, Narrated by Dana Miltins
Alice Pung writes this memoir as a testament of her love for her father, though she often feels she will never understand him. After surviving genocide in Cambodia, her parents moved to Australia. There they started their family, and her father named his first daughter Alice because, to him, Australia seemed like a wonderland. There's something about Pung's prose that, when read aloud, completely holds your attention. Dana Miltins does an excellent job of capturing Pung's narrative voice with all of its self-reflection and flowing train of thought.
Boy Swallows Universe by Trent Dalton, Narrated by Stig Wemyss
Set in 1983, Brisbane, Australia, Trent Dalton's debut, Boy Swallows Universe, dazzles from the audiobook's first few minutes. At the start of the book, Eli, the book's protagonist, and his mute brother are living with their stepfather while their mother serves the rest of her prison sentence. As Eli experiences a tumultuous adolescence of tragedy, success, loss, and love, his unique narrative voice remains the constant. With a less talented narrator, Eli's meandering thoughts could have confused listeners, but Stig Wemyss's narration makes it easy to follow along, and his performance makes you feel like you're listening to an extended monologue or radio drama.
The Trauma Cleaner: One Woman's Extraordinary Life in the Business of Death, Decay, and Disaster by Sarah Krasnostein, Narrated by Rachael Tidd
When Sandra Pankhurst receives a new client, she arrives on-scene to assess the situation. As a trauma cleaner, Sandra knows that behind every crime scene or hoarder's house is a real person whose life didn't go as they planned. In The Trauma Cleaner, Sarah Krasnostein paints a riveting portrait of Sandra's own life as a trans woman, former sex worker, and drag queen. Rachael Tidd's voice shines in Sandra's quick snippets of dialogue, bringing her to life in that special way only audiobooks can.
Growing Up Queer in Australia edited by Benjamin Law, Narrated by Wendy Bos, Benjamin Law, Quinn Eades, Nayuka Gorrie
Earlier this year, I talked about how much I adored Growing Up Aboriginal in Australia. Another excellent installment of the Growing Up in Australia series, Growing Up Queer in Australia contains dozens of essays by Australians from a variety of different genders, sexual orientations, and romantic interests. The wide range of intersectional experiences beautifully illustrates the unique experiences of Australia's LGBTQ population. Each essay is read by a different narrator, marking for listeners when one essay ends and another begins.