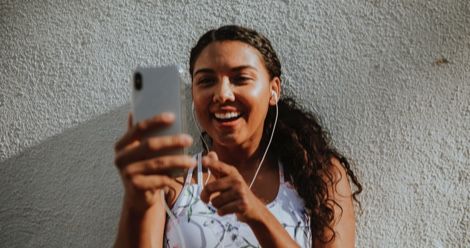 Audiobooks
10 Mesmerizing Audiobooks Written and Narrated by Women
This content contains affiliate links. When you buy through these links, we may earn an affiliate commission.
One of my reading goals for 2018 was to read at least 50% female authors. I am thrilled to say that I hit over 60%, and audiobooks were a big part of reaching that goal. I realized most of my favorites were written and narrated by women. Three of them were books expertly narrated by the author, which was especially thrilling. I thought I'd share this incredible list with those of you who are looking to add some more talented women to your listening TBR.
Following her father's death, Macdonald spent a year training a goshawk named Mabel. She devoted herself to the task with obsessive dedication, mostly in isolation, as she wrestled with the overwhelming grief of losing her father. Part nature writing, part memoir, the book is loosely structured as Macdonald alternates between the fascinating process of hawk training and her journey through bereavement. The writing is sublime, and Macdonald's hypnotic narration is exquisite.
Circe by Madeline Miller
This absorbing tale of the exiled witch/nymph Circe was a surprise hit for me last year. Fellow Rioters were raving about it, but I knew nothing about Greek mythology and I wasn't sure I would like it. Miller's prose is so vivid and the character so enthralling, I was glued to every word. The gorgeous writing lends itself to a wonderful listening experience. Perdita Weeks does a fantastic job capturing the magic and power of the mysterious Circe and the many creatures, gods, and goddesses that cross her path.
Educated is hands down the most riveting memoir I've ever read, and it made its way onto lots of Best of 2018 lists. If you haven't discovered it yet, actress Julia Whelan's beautiful narration is a terrific way to get immersed in this captivating story. Westover recounts her sheltered upbringing by fundamentalist, survivalist parents, never entering a school or hospital until she is 17. The book tells of Tara's journey from an isolated mountain in Idaho to the halls of Harvard and Cambridge as she finds freedom in education.
Atkinson has an amazing talent for manipulating time and structure in her novels in a way that is completely unique. The story begins with Ursula Todd's birth in 1910 and follows several different versions of her life, the narrative changing each time as a crucial life moment is modified. If you've ever wondered how your life might have been altered if only you'd made a different choice, you will love this one. The style takes a while to get used to, but Fenella Woolgar's precise and captivating narration sets a perfect rhythm to pave the way.
The Poet X by Elizabeth Acevedo
This award-winning novel in verse is narrated by the author, who happens to be a National Poetry Slam Champion, and I cannot imagine any better way to experience it. Xiomara is angry and tired of being told who she is, hemmed in by expectations imposed upon her by the people in her life. Through poetry, Xiomara finds her power and her voice. Through a teacher and friends, she find affirmation of her strength and abilities. Acevedo really captures the tumult and joy of the teenage years in this dynamic and stunning book.
In this fiercely honest memoir, Roxane Gay explores her relationship with food, the process of learning to accept her own body, and the ramifications of a sexual assault in her childhood. She acknowledges writing the book because "more often than not, stories of bodies like mine are ignored or dismissed or derided." She also shares keen insights on the damaging messages from society that equate thinness with worth and value. Hearing Gay recount such vulnerable, personal episodes in her own voice is a powerful experience.
This young adult novel is lovely and moving, with a particularly sensitive narration by Jorjeana Marie. The book is about about Marin, who is grappling with multiple layers of grief while also navigating the confusing transition into adulthood. LaCour tackles a lot in such a short novel, and yet it is so focused on this one young woman's poignant story that it feels fleshed out and well-handled. It is a sad, touching story that really captures the stark feeling of loss, the yearning to belong, and the nature of grief.
When a dead body is discovered on a historic plantation in Louisiana, Caren, the property manager ends up thrust into a web of unraveling mysteries. Caren and her daughter are both in danger as the shocking murder unearths connections to her family's past. This is a great character-centered mystery that also touches on post–Civil War, Reconstruction era history and modern day racism. Quincy Tyler Bernstine brings Caren to life beautifully and helps the listener to connect emotionally with the character and the complicated history within the story.
Juliet Stevenson, audiobook narrator extraordinaire, could read my grocery list and it would be amazing. So when I was struggling to read Virginia Woolf's Mrs. Dalloway on paper, I thought I'd try the audiobook, and it completely transformed my experience. Woolf's stream of consciousness writing style was challenging to read, but Stevenson's gentle narration lets the words flow over you, magnifying and clarifying the themes of Woolf's story. The book takes place over the course of one day in June and places you inside the mind of Clarissa Dalloway as she prepares to host a party and reflects on themes of life, death, and missed opportunities.
The story of this short book is told in fragments and memories as August recounts her childhood and adolescence as a young, black, motherless girl in Brooklyn. It explores the ideas of grief, displacement, and friendship in nuanced ways that compel you to reflect and ponder. Woodson's prose is poetic, almost musical, and it makes for a perfect audiobook choice. Robin Miles, another shining star in the audiobook world, handles the lyrical writing beautifully and her lilting voice is mesmerizing.