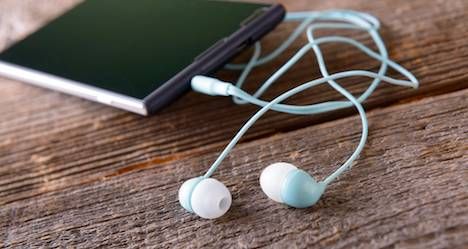 Audiobooks
5 YA Audiobooks With Multiple Narrators
This content contains affiliate links. When you buy through these links, we may earn an affiliate commission.
One of the great joys of listening to audiobooks is discovering titles that are well suited to the format. Perhaps it's a narrator who can take on each character with a different and unique voice, or the production gives it a radio play quality (like the new Star Wars books), and sometimes it's the fact that a book with several POVs decides to actually use multiple narrators. What a thought! These are some great and enjoyable YA books in their own right, but when consumed in audible form, the story and characters are enhanced by the use of audiobooks with multiple narrators.
Tiny Pretty Things by Sona Charaipotra and Dhonielle Clayton
Bette, June, and Gigi are three students at a prestigious ballet academy in New York city, driven to prove themselves the best, no matter the cost. The first person narrative really shines with the narrators, Imani Parks, Nora Hunter, and Greta Jung, inhabiting the roles of the girls. I loved this book when I physically read it, but I think the multiple narrators helps give you deeper insight into the different perspectives of each character and their thought processes as they work hard towards their goal of becoming a prima ballerina.
Set in WWII, Code Name Verity is told in two parts, from the perspective of Julie, a Scottish (not English!) spy, and Maddie, a pilot. This remains one of the most powerful stories of female friendship I've ever read. Even if you've read Code Name Verity, please do yourself the favor of re-reading it by listening to the amazing Morven Christie and Lucy Gaskell perform as Julie and Maddie. Christie should win a special award for her reading of the final few pages of Julie's part of the book. I will never get over this book. Never.
This romantic comedy about Dimple, who just wants to code and has no interest in an arranged marriage, and Rishi, who just wants to be a good son and thinks an arranged marriage could be great, is delightful. Flipping back and forth between the two characters using multiple narrators, Sneha Mathan and Vikas Adam, the story moves along quickly, and they bring a fun lightness to the story, which makes it an ideal summertime listen.
Using emails and text messages, I Hate Everyone But You follows two BFFs during their freshman year in college, living on opposite coasts. Dunn and Raskin also narrate, taking on the roles of Gen and Ava, respectively. If you find physically reading the format of modern epistolary novels difficult or annoying, I highly recommend checking out the audiobook version, as it's almost like a radio play. Dunn and Raskin's quick back and forth when reading the text messages is particularly great, especially when conveying how quickly some conversations can go from light and teasing, to tense and fraught, in just a few words. This is a book you will want to share with your long distance best friend.
First things first, most of the listings for this audiobook are inaccurate, because they only list Nate Begle as the narrator. Which is ridiculous and frustrating, because Kasey Lee Huizinga is the first voice you hear when you start listening! Thankfully, both narrators are correctly listed for the sequel, Defy the World, but still, the misinformation for Defy the Stars persists throughout websites and libraries. Glad I can set the record straight for y'all.
Defy the Stars is a gripping sci-fi about a soldier, Noemi Vidal, who comes into contact with Abel, a machine that is more advanced than any other A.I. anyone has seen before. They team up to hopefully put an end to the intergalactic war between Earth and Noemi's world, but oh friends, of course that is just the beginning. There is adventure, and rebels, and characters questioning what makes a soul a soul, and debates on sacrifice, and it's all so good. The back and forth between Noemi and Abel and their differing views is enhanced by the two narrators, and Begle's reading of Abel's chapters in a slightly static, robotic tone is surprisingly engaging.
What are your favorite YA audiobooks with multiple narrators?