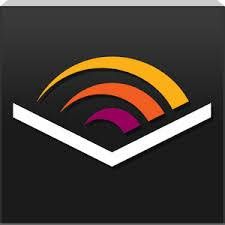 Through Book Riot's relationship with Audible, the leading provider of audiobooks, Book Riot readers who are new to Audible can click here to download a free audiobook and get a 30-day free trial of the service. Audible offers more than 150,000 titles that can be played on iPhone, Kindle, Android, and 500 other devices.
At least once a year, I set off on a long road trip to visit family. More often than not, that means taking a 14-16 hour drive (depending on whether I get lost in Louisiana) to my hometown in East Tennessee. On these occasions when I know that I am going to have hours and hours of confinement in the car, I take advantage of the opportunity to listen to an uninterrupted audiobook (or 2 or more). Sometimes, I pick a long one that will take most of the trip, both ways, to finish. Other times, I've picked several shorter books from different genres in the hopes that the variety will keep me alert on the road.
For this particular trip, I'll be making a mini-road trip to Richmond, Virginia, at the midpoint, so I have about 42 hours of uninterrupted listening time ahead of me over the course of the next month. I've decided to do one long book on the way the way to Tennessee, one short one for each leg of the Richmond trip, and a bunch of really short listens on the way back to Texas. That's always the hardest leg, and it's the one that I am most likely to get sleepy on. Variety will keep me awake and focused on the task at hand. Here's a look at my road trip TBL (to be listened-to) List.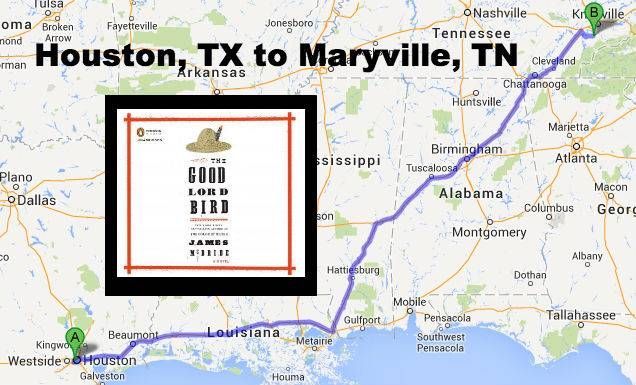 The Good Lord Bird by James McBride caught my attention, not only because it won the prestigious National Book Award, but because of the subject matter. It tells a story with characters based on historical figures who fought to end slavery. For addressing such a serious topic, I've been told that there's a fair amount of humor involved, too. While i don't read a lot of historical fiction, but I have a weakness for stories that are about the fight to end slavery. I guess it comes from reading so many slavery narratives in grad school. This will be my first McBride novel, and I look forward to seeing what he has to offer. And I'm already a fan of the narrator, so I think I'm in for a treat.
For my trip-within-a-trip, I'm going to listen to the recent full-cast recording of Neil Gaiman's Neverwhere, the first book I read by him and still my favorite. I've never done an audiobook with more than two narrators working before, so this will be a new experience, one that I'm actually a little hesitant about. I'm giving it a try, though, because two of the actors involved, James McAvoy and Benedict Cumberbatch, have voices that make me melt. That book will get me as far as Roanoke, where I'll be stopping for the night to visit a friend, before heading on to Richmond to visit with some of my fellow Rioters. That morning, I'll be catching up on the Book Riot and Dear Book Nerd podcasts (as you all should). On the way back, I'll dive in to Jeff Vandermeer's Annihilation, which caught my attention while researching a recent edition of Fresh Ink. Our own Rachel C. called it "freaky & awesome." How can I resist a recommendation like that?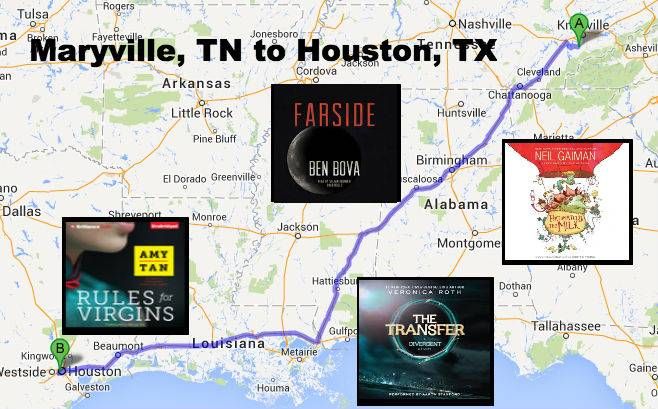 For the last 14.5 hours (or so) of my trip, I'll be starting out with the delightful Fortunately, the Milk. It's narrated by the author, and I got a sneak peak at just how amusing that is when he visited Dallas last summer, so I'm sure it will put me in a good mood. Then, I'm going to get my sci-fi fix by diving into Ben Bova's Farside. If the great Ray Bradbury felt that Bova is a master of the genre, who am I to argue? It will be my first time with his work and I'm pretty excited.
To wind down the trip, I'm going to switch over to Veronica Roth's Divergent universe for "The Transfer." I devoured the whole trilogy over the holidays in preparation for the movie's upcoming release, and I'd like to see what's covered in this story that didn't make it into the three novels. I wanted there to be more, and I'm hoping that this will finally leave me feeling satisfied.
My final listen for the trip will be Amy Tan's Rules for Virgins. I went through a phase several years ago where I devoured Amy Tan novels, but it's been a while since I picked one up. I have a copy of her latest, Valley of Amazement, that I want to read soon, but I feel like I need a refresher in terms of her style. I think this will fit the bill nicely.
As I've written this, I realize that I don't put this much thought into planning what I will read when I'm going for print. I don't make lists or stacks or let release schedules guide my choices. I browse my shelves (real or virtual), and I pick something that fits my mood. When I'm driving, though, I don't have that luxury. I do have a few spare books already loaded on my Audible app, and a CD or two stuck in the glove box, but I will probably stick to this schedule. Probably.
Do you have any road trip recommendations? Do you plan your road trip listens out to this extent – or at all? I want to know! Spill.
________________________
Sign up for our newsletter to have the best of Book Riot delivered straight to your inbox every week. No spam. We promise.

To keep up with Book Riot on a daily basis, follow us on Twitter, like us on Facebook, and subscribe to the Book Riot podcast in iTunes or via RSS. So much bookish goodness–all day, every day.