Audiobooks
5 of the Best Audiobooks Narrated By Soneela Nankani
This list of audiobooks narrated by Soneela Nankani is sponsored by My Dark Vanessa, a novel by Kate Elizabeth Russell, on sale 3-10-20 from William Morrow.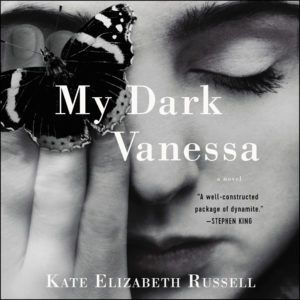 Enter for a chance to win one of 250 available early audio downloads of MY DARK VANESSA, an extraordinary debut performed by Grace Gummer. "Brilliant and stunning . . . an absolute must read." – Gillian Flynn. My Dark Vanessa explores the psychological dynamics of the relationship between a precocious yet naïve teenage girl and her magnetic and manipulative teacher. Written with the haunting intimacy of The Girls and the creeping intensity of Room, My Dark Vanessa is an era-defining novel that brilliantly captures and reflects the shifting cultural mores transforming our relationships and society itself.
---
I've been listening to audiobooks most of my life, but I'm still delighted to find a new favorite narrator. This happened a few years ago when I first discovered Soneela Nankani. Her voice is clear and rich, adding depth to the stories she reads. She delivers dialogue with so much energy and personality; it's no surprise that I was smitten with her voice from the very first lines I heard her read. Nankani narrates books from such a wide range of genres, so you'll be able to find something to enjoy no matter what kind of books you enjoy!
Aru Shah and the End of Time by Roshani Chokshi
As a huge Roshani Chokshi fan, I couldn't wait for her series with Rick Riordan Presents, an imprint of Disney-Hyperion that publishes writers from different ethnicities, giving them a platform to share middle grade myth retellings from their own cultures. In this case, Chokshi's Aru Shah and the End of Time retells the story of the Pandava brothers from Hindu mythology. In Chokshi's version, the Pandavas have been reborn as girls! From the first few minutes of this story, I felt sucked into Aru's adventure. Nankani's voice felt so real, as if she was sitting down and telling me the story herself, and it was the first time that I felt mesmerized by Nankani's talent.
The Widows of Malabar Hill by Sujata Massey
From the moment I started this audiobook, I knew Perveen Mistry was the hero I needed in my life. As one of the first women lawyers in 1920s Bombay, Perveen Mistry uses her skills to help her female clients. After a Muslim man dies, only Perveen possesses the skill and ability, as a woman, to visit the man's widows in their seclusion from all men who aren't their relatives. As Perveen gets to know her clients, she discovers that there may be more to this man's death than she first realized. Nankani's audiobook narration captures Perveen's fiery spirit as she fights for her place in her chosen career.
The City of Brass by S.A. Chakraborty
On the streets of 18th century Cairo, Nahri has made a home for herself conning rich people out of their coins with fake rituals and remedies. But Nahri's life changes forever when she accidentally calls forth a djinn warrior who whisks her away to the djinn capital of Daevabad. From there, we enter a royal court filled with scheming nobles who would love nothing more than to see Nahri dead. With its intense world-building and complex plots, high fantasy can easily feel overwhelming, but Soneela Nankani's narration helps listeners keep all the details straight and enables us to just sit back and enjoy the story.
Our Women on the Ground edited by Zahra Hankir
One of the best under-the-radar audiobooks from last year, Our Women on the Ground: Essays By Arab Women Reporting from the Arab World includes pieces by women journalists from a wide range of countries and cultures. Especially here in the West, it's important to listen to these women's voices reporting from the Arab countries. They're fighting for peace, education, and women's rights in the places they work in and call home. Each essay is a tour de force, shedding light on a different aspect of these incredible women's chosen career, and Nankani's voice clearly communicates their stories.
MEM by Bethany C. Morrow
Set in an alternative 1920s Canada, MEM tells the story of a MEM, a cloned memory, that has mysteriously become sentient. Throughout the story we follow the nameless MEM as she fights for a life of her own outside of her creator's wishes. MEM asks readers to contemplate deep questions: What makes us human? Can we lose our memories and still be who we are? Through her struggles, the MEM finds a name for herself and learns to fight for the right to exist and for her place in the world.