Audiobooks
5 of the Best Audiobooks Narrated by Robin Miles
This list of audiobooks narrated by Robin Miles is sponsored by Book Riot Insiders, the exclusive digital hangout for the Book Riot community.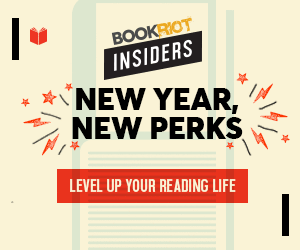 It's a new year, and that means new perks. We've sweetened the current Short Story and Novel levels and introduced a brand new Epic level, and you can try any level out for free for two weeks! The highlight is our new group read, available to all Epic members — and there's no cap on Epic, so the more the merrier. Each quarter we'll read a book, voted on by Epic subscribers, that will fulfill at least one task of the 2020 Read Harder Challenge, and cap off our read-along with a live chat. But wait, there's more! Get the full details on this and all the other perks, and sign up at insiders.bookriot.com.
---
When I first heard Robin Miles reading N.K. Jemisin's The Fifth Season, I was spellbound. With audiobooks, you need more than a great story for a great audiobook. You need a great narrator. I had just burned through a string of just "okay" narrators when I discovered Miles, and I was so impressed with how she seemed to have taken the time to understand the characters and who they are before she ever even opens her mouth to bring them to life. There's something magical about how she captures their personalities as she speaks their dialogue. I felt so in love with her voice that after I finished the Broken Earth trilogy, I searched the Internet for more titles Robin Miles has narrated and found a whole treasure trove of audiobooks, including everything from historical fiction to Africanfuturism.
Binti by Nnedi Okorafor
If you adore The Fifth Season like I do, Binti is the perfect book to pick up next. The first in a trilogy of novella's, Binti starts with the titular character leaving her home planet to be the first in her people group to attend a famous intergalactic university (the Ivy League of the galaxy, you might say). But on her way there, her spaceship is attacked by a hostile species of alien, and Binti must use every skill at her disposal to survive. The entire time I was listening, Miles's audiobook narration kept me sitting on the edge of my seat holding my breath, unsure of what would happen next. One of the challenges of reading science fiction on audio is introducing listeners to a whole new world, including different names, terms, and accents of the characters in the story. But Miles takes it all in stride, using her voice to aid Okorafor's deft world building in such a short amount of space.
Cleopatra by Stacy Schiff
As an avid lover of Egyptian mythology and history, I thought I knew Cleopatra's story. The most famous female ruler of Egypt, Cleopatra has had her story told by everyone from Shakespeare to Liz Taylor. But what did I really know about her? What is legend and what is fact? Schiff explores these questions in Cleopatra: A Life. In the audiobook, Miles's narration makes this biography come alive. While listening to her voice describe Cleopatra's life, I could see Egypt in all of its riches and glory and Rome in all of its drab practicality. With Miles reading the text, the ancient world transforms into a thriving, living place untouched by time.
Hidden Figures by Margot Lee Shetterly
Perhaps now more famous for the film adaptation, Hidden Figures tells the story of the Black women mathematicians, called computers, who helped get mankind on the moon. Shetterly looks at these different women, each with her own background and history, and fleshes out their stories, which remained overlooked for too long. Miles clearly distinguishes each woman throughout her narration, using her voice to tell these women's stories and speak as they may have in quotes or dialogue, which adds another layer of depth to these women's stories.
The Shadow King by Maaza Mengiste
A historical fiction novel set in Ethiopia during the Italian-Ethiopian conflict in World War II, The Shadow King focuses on women soldiers who have traditionally been left out of our history books. Mengiste has a talent for pulling out these overlooked facets of history and examining them from all angles. Sometimes this kind of complex narrative can prove difficult to translate to audio, but Miles uses her skills well, clearly noting changes in perspective and narrative voice. Reading The Shadow King, her talent shines, creating a riveting listening experience.
The Warmth of Other Suns by Isabel Wilkerson
The Warmth of Other Suns stands as one of the premier texts about the migration of African Americans from the Jim Crow South to the North. Coming in at 622 pages (and over 17 hours on audio), The Warmth of Other Suns can feel intimidating. But while some narrators struggle to make descriptive and expository paragraphs interesting, Miles's voice seems to thrive on the challenge. More than once have I continued to keep folding the laundry, walking my Corgi, or sitting in a parking lot because I couldn't get enough of the book she was reading to me.