Over the last several years, Adjoa Andoh has taken a spot with my favorite audiobook narrators. She possesses an incredible range, narrating literary fiction, science fiction, fantasy, and romance. She can be incredibly funny or sincere. She has the ability to switch between her British accent and the voices she creates for the characters with such ease. Here are a few of my favorite audiobooks narrated by Adjoa Andoh to introduce you to her work!
Matrix by Lauren Groff
Adjoa Andoh narrates Lauren Groff's latest novel, Matrix, which is about a 12th century nun who's been sent to a convent by her family. Over the course of the novel, we follow Marie and her work to better the lives of the nuns there and create a safe haven for these women, far from the prying nose of the townsfolk. Andoh's British accent gives the story an austere quality that I imagine the story of a nun would need. But she also gives perfect comedic timing for the nun's dry humor.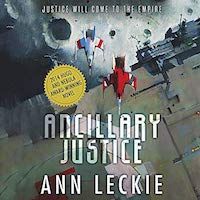 Ancillary Justice by Ann Leckie
Ancillary Justice is the only novel to ever win the Hugo, Nebula, and Arthur C. Clarke awards, and begins Ann Leckie's Imperial Radch trilogy. I love what Andoh does with this novel's narration, creating an otherworldly atmosphere for a story set on an icy planet.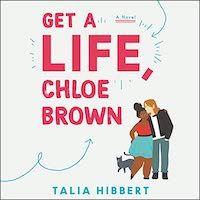 Get a Life, Chloe Brown by Talia Hibbert
Chloe Brown decides to strike off and make a life of her own. It doesn't hurt that her new apartment complex has an extremely attractive building manager. This love story is full of funny moments, and Chloe's British humor fits perfectly with Andoh's whimsical take on this audiobook.
Island Queen by Vanessa Riley
Doll begins her life as an enslaved person on the Caribbean island of Montserrat, but eventually she buys her freedom from her father, an Irish planter and businessman. She also buys her mother's and sister's freedom, and together they leave to start a new life. Andoh narrates Doll's story through the decades of her life.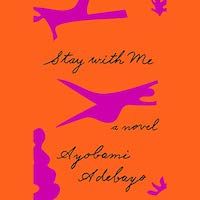 Stay With Me by Ayobami Adebayo
In this intimate portrait of a marriage, Ayobami Adebayo tells the story of a couple in Nigeria who haven't been able to conceive a child. The family tells the husband he needs to take a second wife so he can fulfill his "duty" and have a son. The story that unravels from there feels like some sort of thriller. Andoh takes all of that in stride, giving an excellent performance.
The Old Drift by Namwali Serpell
In this sweeping multi-generational family saga, Namwali Serpell tells the stories of three families over the course of several decades. Each chapter focuses on a different family member and is written in a different genre. Andoh expertly handles this complex story, giving an incredible performance that keeps you listening to the end of this sweeping epic.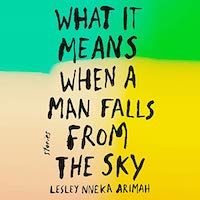 What It Means When a Man Falls from the Sky by Lesley Nneka Arimah
I adore this short story collection, and Adjoa Andoh makes it even better on audio, if that's possible. She moves from story to story, drawing us into each new set of characters in a wide range of situations. I love that the collection has such a range of stories with all different sorts of characters, time periods, styles, and settings.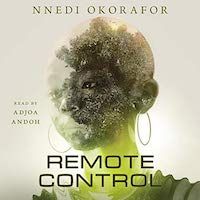 Remote Control by Nnedi Okorafor
Set in a near future, Remote Control follows a young woman named Sankofa, who kills with a single touch. She wanders the land searching for an alien object that once changed her life forever. Nnedi Okorafor and Adjoa Andoh are masters of their craft, together creating an incredible listening experience.