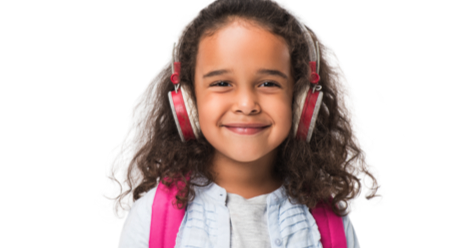 Audiobooks
20 Excellent Audiobooks for Preschoolers
This content contains affiliate links. When you buy through these links, we may earn an affiliate commission.
Parenthood has made me a big audiobook listener. I can sort the laundry, sweep up sand smuggled home inside shoes, chisel dried cheerios off the floor, hand wash all of the spoons for the third time in one day, and cook a dinner no one will eat all while letting part of my mind escape off into a book.
As my kids have gotten older, I've realized that audiobooks can be for the kids as well. When we're in the witching hour while I try to make dinner and the kids writhe on the floor like starving grubs, I've found that audiobooks are great as a means of calming the hangry hoards without having to involve the television or goldfish crackers.
Audiobooks for preschoolers also let me turn off "We Sing Silly Songs" on a long car ride when I can't E-I-E-I-O anymore.
It can also save you when your accent doesn't fit the rhyme scheme of the book. Llama Llama, Red Pajama is not a rhyme in my West Coast accent.
Reading is really important for children's brain development, as we well know. But listening is super important as well. Kids (and adults) can listen above their reading level, which exposes them to new vocabulary and ideas.
This list of audiobooks for preschoolers isn't meant to supplant carer/child reading time, which is really important bonding time for children. This is meant to support reading by giving a the child carer a chance to make lunch, take a shower, or anything else, without having to flip on the TV.
Appropriateness will vary by child, but mainly I've focused on books appropriate for mature 3-year-olds and up. Some kids will prefer having the book with them to look at while listening. To go without the book, kids need to be old enough to focus and imagine the story in their minds. My kids and I talked about the magic of "watching a movie" in our heads.
There are plenty of Disney stories done as audiobooks, but I'm skipping all of those here. Most of these audiobooks for preschoolers are available via Audible, or though the library, though your mileage will vary.
Picture Books
Fly Guy by Todd Arnold, read by Skip Hinnant
Buzz wants a pet and meets Fly Guy, a fly who can say his name. These books are silly and sweet, about people and animals being friends. There are two audio narrators, but Hinnant is my favorite, and the audiobook uses a little music and fly sounds to help children follow along and build vocabulary.
A story of difference and self-discovery for young children, in particular when your insides don't match your outsides. Red is a crayon in a red wrapper but is blue underneath. Miles reads exuberantly as Red makes his discovery, allowing the listener to feel what Red feels.
This 2015 Newbury Winner tackles privilege, community service, and mindful appreciation of the things we do have. Mitchell's narration deftly captures CJ's youth, as well as Nana's calm.
The Book With No Pictures by B.J. Novak, read by B.J. Novak and Busy Phillips
If you have kids under 7, you probably already know this book. Novak writes a book that makes adults say silly words and sounds to the delight of kids. In the audio, he's the one gamely saying, "BLORK!"
A classic story, beloved by Ramona Quimby, another children's classic. Rod Ross has a classic 40's newsreel voice, which perfectly suits this story about economic change, friendship, and lady steam shovels.
Robertson recounts the story of Hiawatha, a Mohawk, who helped to unite the five Iroquois nations during the 14th Century, and provided a model for the design of the United States. While I would have loved an Indigenous narrator for the audio, Marek does a nice job, his voice strong but soft.
I had this book on tape as a kid and I still read the book with the same intonations as the audio. The narration was re-recorded, but this unnamed narrator has a warm voice that is great for the wintery pictures.
The Gruffalo by Julia Donaldson, read by Imelda Staunton
If you wanted to hear the Gruffalo read by Dolores Umbridge (sort of—Staunton uses her regular voice) in a proper British way, then this is the one.
If you've heard this, you probably can call up Carol King singing the words. "Oh my oh once! Oh my oh twice! Oh my oh chicken soup with rice!"
And Tango Makes Three by Justin Richardson and Peter Parnell, read by Neil Patrick Harris
A story based on the true events at the Central Park Zoo when two male chinstrap penguins hatched an egg and raised their own chick. Harris's voice is familiar to adults, and fun for all as he recounts Roy and Silo's attempts to hatch a rock before a zookeeper gives them the egg Tango hatches from.
A bit of an overemphasis on being a "real" princess, but fun with math and number awareness. And magic. Also, Juliet Stevenson is an awesome narrator. My 4-year-old recognized Stevenson's voice when I was listening to Sense and Sensibility last year and asked to listened to The Real Princess on repeat.
Thunder Boy Jr. by Sherman Alexie, read by David Alexie and Sherman Alexie
Alexie and his son highlight the push/pull of a son named for his father. He wants to be independent but still loves being connected to his dad. The Alexies bring some much needed exposure to Native voices in the most literary and literal senses.
Mo Willems is the pope of American picture books these days. Kids go bonkers over his Pigeon books, as the highly emotional pigeon talks directly to the reader. Willems has also recorded Knuffle Bunny, but Elephant and Piggie are not available, possibly because of they work so well as early self-readers for kids.
Longer Audiobooks For Preschoolers and Early Chapter Books
This is my favorite. We've been listening to Frog and Toad stories for a couple of years. Lobel reads in a gentle voice about two gentle friends. My kids love The Button. My favorite is The Surprise. Lobel also recorded Mouse Soup, while Mark Linn-Baker reads Grasshopper on the Road, Owl at Home, Small Pig, and Uncle Elephant.
Stories about twin sisters that feel similar to Frog and Toad, in that they are delightful, sweet, and often with a small turn at the end of the story. Narrator Lin brings out the sisters' wonder as they make at-home adventures other children will recognize.
Magic School Bus series by Joanna Cole and Bruce Degen, narrated by Polly Adams and Cassandra Morris
The Magic School Bus is having a resurgence (or maybe that's just at my house) with the new Netflix show. The books, which the original tv show was based on, are still going strong with audio options. The books are great non-fiction for kids (little kids love learning how the world actually works!) but the multiple-voice narration of all the characters can get a little confusing for younger kids, so try this on kids used to following audio stories.
Mercy Watson series by Kate Dicamillo, read by Ron McLarty
Mercy is a porcine wonder, beloved of the delightedly dim Mr. and Mrs. Watson. Along with their neighbors, Eugenia and Baby Lincoln, the the Watsons have many wonky adventures. Also, make some hot buttered toast before listening to this one!

Anna Hibiscus by Atinuke, read by Mutiyat Ade-Salu
"Anna Hibiscus lives in Africa, amazing Africa." Anna Hibiscus takes readers on her daily adventures living with her large family, going to school, and wanting desperately to visit her white grandparents in Canada so she can see snow. The stories offer a universality of childhood for young readers about what life is like in Africa. Ade-Salu has a clear reading voice, but she reads in accent when voicing the African family, which allows children to hear the different speech patterns.
The Princess in Black by Shannon Hale and Dean Hale, read by Julia Whelan
Princess Magnolia and her unicorn Frimplepants must juggle their lives as carefree royalty with their monster-battling alter-egos. Shannon Hale is strongly outspoken about how princess books should be for boys too, and here the combination of princess and super hero will have kids of all interests easily captivated.
Herriot's stories are great for animal lovers, and allow kids to get an idea of how country life used to be. The stories are a bit wordier than some of the others here, so this is best for 5–6+ children, depending on how practiced they are at listening. Get your kids ready to listen to Harry Potter someday and watch Pushing Daisies after that by learning how comforting Dale's voice can be. Though I have to admit that with Dale reading, I imagine centaurs and Gringott's goblins running around Herriot's farmyards.
What audiobooks for preschoolers have you found for your young children? Want even more children's audiobooks? We got you covered.