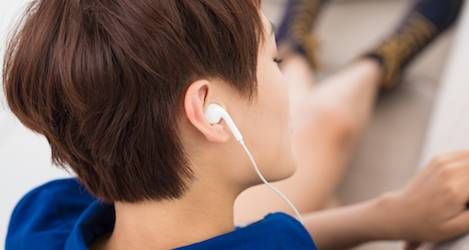 This content contains affiliate links. When you buy through these links, we may earn an affiliate commission.
This list first appeared in the Audiobooks Newsletter. Sign-up for the Audiobooks Newsletter here.
There are tons of new releases that I'm excited about this month, so let's dive right in.
Back Talk: Stories by Danielle Lazarin; narrated by Reba Buhr
I've always been a big fan of short stories collections but didn't start listening to them on audio until I borrowed If I Loved You, I Would Tell You This by Robin Black (very good, by the way) from my public library a few years ago. But they make for great listen—especially because you can get through a whole story while you're at the supermarket or walking the dog (without needing to invest a whole 7 hours like you might with a novel).
What really sold me on this title was the blurb for author Eileen Pollack: "Thank God, a collection of stories about women who don't hate themselves, don't hate other women, don't hate their bodies, don't hate their husbands, or even their ex-husbands…women who are simply, like me, trying to figure out what it means to be alive, to be in love, to be daughters, parents, siblings, wives, citizens, human beings."
The Birdwoman's Palate by Tiffany Tsao; translated by Laksmi Pamuntjak; narrated by Elizabeth Knowelden
"Aruna is an epidemiologist dedicated to food and avian politics. One is heaven, the other earth. The two passions blend in unexpected ways when Aruna is asked to research a handful of isolated bird flu cases reported across Indonesia." With three of her friends, a co-worker, a "foodist," and a celebrity chef, Aruna's adventures lead to her understand both her country and herself in a new way.
As a society, we are not great at dealing with death. We all have or will experience the death of someone close to us and, sooner or later, we're all going to experience-experience it. From the publisher, "Whether you are old and about to die, sick and about to die, or with a loved one who is about to pass away or who has passed away, there's something for you. With chapters like 'Are You an Old Man with Daughters? Please Shred Your Porn', 'If Cancer Was an STD, It Would Be Cured by Now', and 'Unsubscribing Your Dead Parent from Tea Party Emails', Laurie Kilmartin guides listeners through some of life's most complicated moments with equal parts heart and sarcasm."
Devotion written and read by Patti Smith
I will listen to Patti Smith read anything. ANYTHING. Have I talked about how much I love Just Kids in this newsletter? It's excellent. So would I listen to Smith read her 2017 book about "her own creative process, inspirations, and unexpected connections?" UMMM, YES PLEASE.
A False Report
: A True Story of Rape in America by T. Christian Miller, Ken Armstron; narrated by Ken Armstrong, Hillary Huber, T. Christian Miller
"On August 11, 2008, 18-year-old Marie reported that a masked man broke into her apartment near Seattle, Washington, and raped her. Within days police and even those closest to Marie became suspicious of her story: details of the crime didn't seem plausible…police swiftly pivoted and began investigating Marie." Marie broke down and confessed to lying about the incident.
Only she wasn't lying. In what sounds like the plot of a movie, two years later a detective was investigating a different sexual assault case when it brought her back to Marie's case. "Based on investigative files and extensive interviews with the principals, A False Report is a serpentine tale of doubt, lies, and a hunt for justice, unveiling the disturbing reality of how sexual assault is investigated today—and the long history of skepticism toward rape victims."
WHAT IN THE WHAT? I'm shocked I hadn't heard about this before now but I CANNOT WAIT to get my hands on it.
The Mexican-American border has always been home to Francisco Cantú. After he joins the Border Patrol, however, he sees the secrets and tragedies of the border more intimately. "Plagued by nightmares, Cantú abandons the Patrol for civilian life. But when a friend, a regular at the café where he now works, travels back to Mexico to visit his dying mother and does not return, Cantu discovers that the border and its stories have migrated with him."
So many of us talk about the politics around the border without really understanding the people who spend their lives trying to get from one side to the other. I think it would behoove all of us who haven't had that experience to listen to those who have.
Only Child by Rhiannon Navin; narrated by Kivlighan de Montebello
This sounds very intense and very good. Zach is in first grade when a gunman rampages the halls of his school, killing 19 people and shattering a close-knit community. "While Zach's mother pursues a quest for justice against the shooter's parents, holding them responsible for their son's actions, Zach retreats into his super-secret hideout and loses himself in a world of books and art. Armed with his newfound understanding, and with the optimism and stubbornness only a child could have, Zach sets out on a captivating journey towards healing and forgiveness, determined to help the adults in his life rediscover the universal truths of love and compassion needed to pull them through their darkest hours."
There were 11 school shootings in January of this year. This issue, sadly, isn't going anywhere. Perhaps literature, if not our reality, knock some sense into us about the trauma of gun violence.
What are you looking forward to listening to this month? Let us know in the comments!