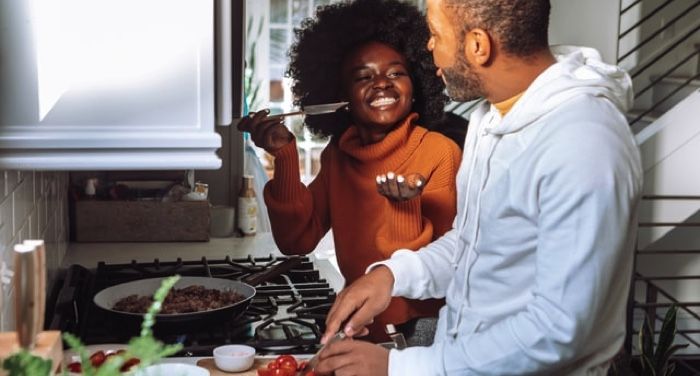 I adore cooking, especially in the fall. Everything I make starts turning into a soup, no matter what I had intended it to be in the first place. As I work on my own culinary creations, I love listening to food histories and memoirs. It's like the perfect sort of happy place. For audiobook lovers out there like me, here are some of my favorite food books perfect for fall listening.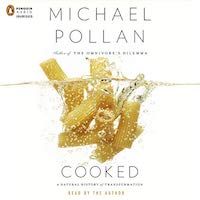 Cooked: A Natural History of Transformation by Michael Pollan, Narrated by the Author
Whenever I think of food books that perfectly combine the history of cooking methods in human culture, Cooked always comes to mind. Pollan structures Cooked with the elements: fire, water, earth, and air, breaking up the timeline of cooking development into digestible sections. Pollan performs Cooked like a pro, making me double check to see if it was really him or a voice actor they hired.
Save Me the Plums: My Gourmet Memoir by Ruth Reichl, Narrated by the Author
I'm a sucker for a book about magazine or book publishing, so when I heard Ruth Reichl was coming out with a memoir about her time as Editor-in-Chief of Gourmet, I knew I had to get my hand on it ASAP. Save Me the Plums proved just as fabulous as I'd hoped. And with Reichl performing the book herself, the audio edition is even better.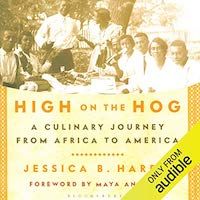 High on the Hog: A Culinary Journey from Africa to America by Jessica B. Harris, Narrated by the Author
I loved the Netflix series High on the Hog where host Stephen Satterfield explores the origin and history of African American cuisine. So, naturally, I immediately ordered the book of the same name by Jessica B. Harris,a food historian who Satterfield interviews on the show. Harris performs the audio, beautifully capturing her writing in a whole new way, perfect for listening to hours at a time.
Our Harlem: Seven Days of Cooking, Music and Soul at the Red Rooster by Marcus Samuelsson, Narrated by the Author
In one of my favorite Audible Originals, celebrity chef Marcus Samuelsson shares his home in Harlem, taking us to his restaurant, Red Rooster, and sharing some of his favorite recipes. The whole production is so well produced and such a joy to listen to!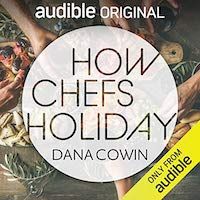 How Chefs Holiday by Dana Cowin, Narrated by the Author
I have re-listened to this Audible Original every holiday season since its release — I just love it that much! Granted, How Chefs Holiday definitely feels more like a podcast than an audiobook per se, but either way, I still enjoy listening to how different chefs celebrate the holidays.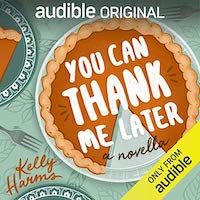 You Can Thank Me Later by Kelly Harms, Narrated by Lauren Fortgang
While this list is full of nonfiction titles, I had to include this novella that features a story told over three Thanksgivings. There's something that fascinates me about how families may have experienced a world of changes over the course of the year, but they still meet around the table Thanksgiving after Thanksgiving. You Can Thank Me Later definitely captures that mood.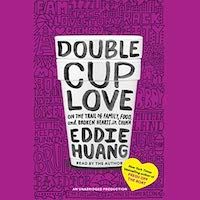 Double Cup of Love: On the Trail of Family, Food, and Broken Hearts in China by Eddie Huang, Narrated by the Author
Double Cup of Love follows Eddie Huang, of Fresh Off the Boat fame, back to China where he hopes to rediscover his family's roots. Huang's love for Chinese culture comes out in his love and devotion to studying Chinese cuisine. A huge part of his journey through the book is through eating food across the different regions of China, which gives Eddie a whole new way to connect to his Chinese heritage. Huang's narration of his story is a true performance, drawing you into his story and having you dying to know what comes next.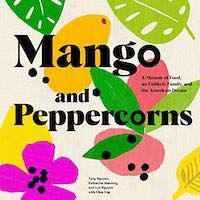 Mango and Peppercorns: A Memoir of Food, an Unlikely Family, and the American Dream by Tung Nguyen, Katherine Manning, Lyn Nguyen, Elisa Ung, and Michelle Bernstein, Narrated by Quyen Ngo, Cindy Kay, and VyVy Nguyen
This beautiful little memoir follows the journey of Tung Nguyen, a Vietnamese refugee who moves to America and rooms with Katherine Manning, a waitress who becomes a lifelong friend and business partner. Later, Nguyen and Manning become the acclaimed chefs behind the award-winning Hy Vong Vietnamese restaurant in Miami.