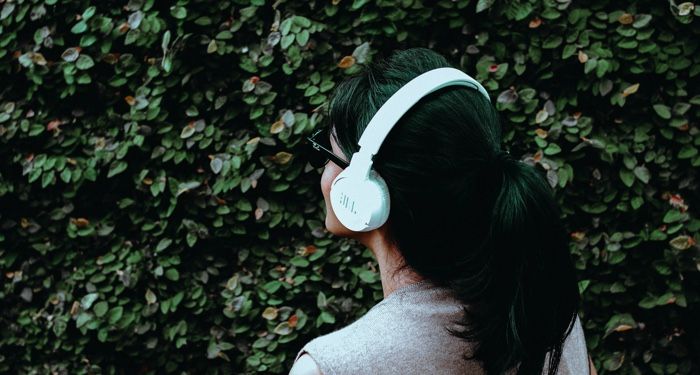 This content contains affiliate links. When you buy through these links, we may earn an affiliate commission.
Like many book lovers, I've struggled to read (or listen to) anything this year. Everything seems too heavy or anxiety inducing. So it's no surprise that I've read A LOT of escapist, fantastical, and funny books to keep my spirits up. If you're struggling to find audiobooks you can jump into to escape the hellscape outside your doors, here are a few of my favorites!
Lindy West is back with this hilarious collection of essays about some of her favorite, and least favorite, movies from the last few decades. From Titanic to The Santa Clause to Rush Hour, she gives her take on teenage angst, Santa lore, and on-screen explosions. She read the audiobook, and her witty remarks and perfect delivery had me doubled over in laughter more than once.
Wow, No Thank You by Samantha Irby, Narrated by the Author
As a huge Samantha Irby fan, I will never get enough of her audiobooks. Like her previous two collections, Irby narrates her humorous essays that are simultaneously about everything and nothing. In Wow, No Thank You, Irby shares her experience being newly married and trying to make friends in small-town midwestern America.
Harrow the Ninth by Tamsyn Muir, Narrated by Moira Quirk
Harrow the Ninth is Tamsun Muir's second book about lesbian necromancers in space. Though I probably don't need to expand on that description (honestly, how do I top "lesbian neromancers in space"?!), I'll add that the second book in Muir's Locked Tomb trilogy reveals even more secrets and plot twists than the first book. I know! I didn't think it was possible either. Moira Quirk shows such range in this narration, and, if you listen closely, her performance gives you hints about the book's biggest surprise.
Who better to write a centuries-long story about loneliness and romantic angst than the queen of soft goth angst, V.E. Schwab? In The Invisible Life of Addie LaRue, Addie has made a deal with an ancient power that gives her immortality in exchange for her soul. The catch? No one will be able to remember her. At least, that's how it was for 300 years, until one day a young bookseller remembers her face.
I fell head over heels in love with Talia Hibbert's Get a Life, Chloe Brown. Now we meet Chloe's sister, Dani, who has just experienced a breakup from her girlfriend. Then her casual flirtation with security guard Zafir Ansari turns into a mutually beneficial fake dating situation. We all know where this is headed. If only Dani and Zafir would catch on.
Crazy Stupid Bromance by Lyssa Kay Adams, Narrated by Andrew Eiden
Throughout this year, I've flown through the Bromance Book Club series by Lyssa Kay Adams. This third book in the series focuses on the relationship between Alexis Carlisle, a baker and cafe owner, and Noah Logan, a former hacker turned computer security expert. There's lots of baked goods, gorgeous man buns, and steamy scenes that will have you looking around your home office just to make sure there's no one there who can overhear what's playing through your headphones.
Hollowpox by Jessica Townsend, Narrated by Gemma Whelan
My obsession with this over-the-top, Alice in Wonderland crossed with Diana Wynne Jones-like story knows no bounds. (Seriously, I preordered the print edition almost a year ago!) In Nevermoor, Morrigan Crow has found the place she belongs. Having grown up a designated "cursed child," the moment she was whisked away to Nevermoor was the best day of her life. Now, two years later, Morrigan is faced with a new challenge as she learns more about the Wundrous Arts, a special magic only she can wield. Gemma Whelan narrates the story flawlessly, making Morrigan's world seem even more magical than it does on the page.
I'll never get tired of Aru Shah's adventures with her other partially divine friends. In book three, Aru and the gang set off on a quest to find the Tree of Wishes, a tree of legend that hasn't been seen for years. And this book ends on quite the cliffhanger, making me even more excited for the next one. Soneela Nankani, one of my favorite audiobook narrators, performs the series, making an already fantastic story even better.