'Tis the season — for book awards! As an avid lover of a good book list, I adore this time of year. With so many wonderful options, it's difficult to know where to start. I'm here for you! I've listed some of the most buzzed about audiobooks of the year.
Bewilderment by Richard Powers, Narrated by Edoardo Ballerini
Longlisted for the 2021 National Book Award for Fiction
Shortlisted for the 2021 Booker Prize
From the Pulitzer Prize–winning author of The Overstory, Bewilderment features Theo Byrne, a widower trying to figure out how to be a single father to his neurodivergent son, Robin. Theo tries to find a balance between fatherhood and his job as an astrobiologist, but when Robin attacks another boy at school, his life becomes even more complicated. Edoardo Ballerini performs the audiobook with such emotional depth, making me truly attached to the characters.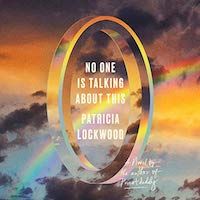 No One Is Talking About This by Patricia Lockwood, Narrated by Kristen Sieh
Shortlisted for the 2021 Women's Prize
Shortlisted for the 2021 Booker Prize
I adored Priestdaddy by Patricia Lockwood, so when she published her first novel, I knew I had to get my hands on it ASAP. Judging panels in the UK adored Lockwood's novel too, shortlisting the novel for both the Women's Prize and the Booker Prize. The novel starts with a woman learning to navigate social media but takes a turn when someone she loves is diagnosed with a serious illness. Kristen Sieh keeps up with Lockwood's hilarious prose, giving this audiobook perfect comedic timing.
A Little Devil in America: Notes in Praise of Black Performance by Hanif Abdurraqib, Narrated by JD Jackson
Finalist for the 2021 National Book Award for Nonfiction
In A Little Devil in America, Hanif Abdurraqib writes about how Black performance is a key part of America's culture. The author examines key moments in the history of Black performances across the decades, illustrating his points with a wide variety of examples. All-star narrator JD Jackson reads this book beautifully, a perfect pairing for this text.
The Love Songs of W.E.B. Du Bois by Honorée Fanonne Jeffers, Narrated by Adenrele Ojo, Karen Chilton, Prentice Onayemi
2021 Kirkus Prize Fiction Finalist
Longlisted for the 2021 National Book Award for Fiction
In this first novel from poet Honorée Fanonne Jeffers, we experience an epic story, spanning generations. Ailey has always wanted to learn more about her family's past and embarks on a quest to find out about her ancestors, taking listeners along with her. A stellar cast of narrators gives voice to the different characters in the novel, creating a wonderfully immersive listening experience.
Punch Me Up to the Gods by Brian Broome, Narrated by Brian Broome
Winner of the 2021 Kirkus Prize for Nonfiction
As an Appalachian, I may be biased, but I could not have been more excited to see Brian Broome win the Kirkus Prize for Nonfiction. His memoir Punch Me Up to the Gods follows his years growing up in rural Appalachian Ohio and his eventual move to Pittsburgh, Pennsylvania. He read the audio edition, giving that special performance that only happens when an author reads his own work.
The Bass Rock by Evie Wyld, Narrated by Julie Graham, Ross Anderson, Kristy Strain, and a Full Cast
Winner of the 2021 Stella Prize
I've loved The Stella Prize for so many years now, but sometimes those of us in the U.S. have to wait to get our hands on the prize's winners. Not this year! Evie Wyld won The Stella Prize for her novel The Bass Rock, which came out late last year. The novel follows three women in three different eras, slowly revealing how their stories are connected. A team of narrators perform the book, giving distinct voices to the novel's point of view characters.