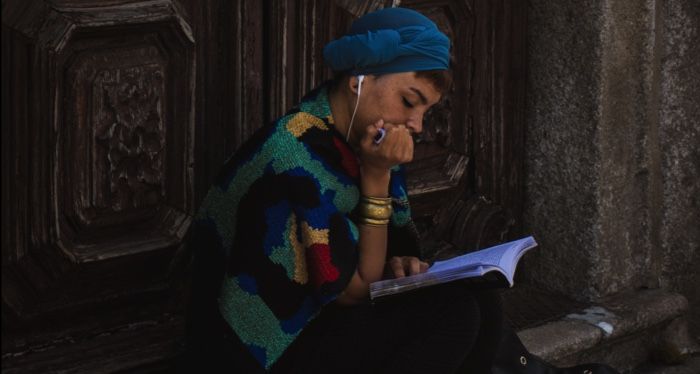 Audiobooks
6 Audiobooks to Celebrate Indigenous Peoples' Day
Indigenous Peoples' Day is right around the corner, and to celebrate I've collected some audiobooks written and narrated by Native, Indigenous, and First Nations authors and actors. From memoir to young adult, there is a little bit of something for everyone on this list, so let's jump right in!
Empire of Wild by Cherie Dimaline, Narrated by Michelle St. John
In this novel inspired by her Nation's folklore, Métis author Cherie Dimaline tells the dark and twisty story of Joan, a Métis woman whose husband has recently disappeared. When evangelist Reverend Wolff arrives with his revival tent, preaching to the masses Joan, distraught at her husband's disappearance, feels drawn inside. But something isn't quite right. Joan becomes determined to learn more about Reverend Wolff and still hopes to one day find her husband. First Nations actress Michelle St. John beautifully narrates this chilling novel.
Winter Counts by David Heska Wanbli Weiden, Narrated by Darell Dennis
In his debut thriller, David Heska Wanbli Weiden, an enrolled member of the Sicangu Lakota Nation, introduces readers to Virgil Wounded Horse, a local law enforcement officer on the Rosebud Indian Reservation in South Dakota. When heroin shows up on the reservation, Virgil must track the drugs back to their source to protect his community while coming to terms with his own identity as an Indigenous man living in the 21st century. Darell Dennis, a member of the Secwepemc Nation in British Columbia, Canada, performs this thriller with such skill, creating the perfect air of suspense for the story.
Carry: A Memoir of Survival on Stolen Land by Toni Jensen, Narrated by the Author
Métis author Toni Jensen writes this memoir with such beautiful prose, sharing her story of resilience in the face of colonial violence. Jensen shares her experience with gun violence and what it's like to be a teacher on a campus that allows concealed carry licenses. Another chapter focuses on her experience at the protests against the Dakota Access Pipeline. With each new chapter, Jensen shares more and more insights into her experience as an Indigenous woman surviving on stolen land. Her performance adds that extra spark that makes the audiobook such a deep and rich experience.
Indian Horse by Richard Wagamese, Narrated by Jason Ryll
Written by Richard Wagamese, an Ojibwe author from the Wabaseemoong Independent Nations, Indian Horse begins with Saul Indian Horse telling his story as an older man suffering from alcoholism. When he was a boy, he was forcibly removed from his home and forced to attend a residential school created by the Canadian government, which intended to strip Indigenous children of their heritage and culture. One thing that kept Saul going was his love of hockey, which became a bright spot in a childhood filled with darkness. Métis narrator Jason Ryll narrates Saul's story, imbuing the novel with so much emotional depth.
Race to the Sun by Rebecca Roanhorse, Narrated by Kinsale Heuston
I'm a huge fan of Rebecca Roanhorse, who is of Ohkay Owingeh Pueblo descent, so I couldn't have been more excited for her middle grade novel Race to the Sun. When Nizhoni Begay, a young Navajo girl, meets her dad's new boss, she can't put her finger on it but there's something not quite right about him. The next day her dad disappears, and Nizhoni, her brother, and their best friend must find a way to find and rescue him. Kinsale Heuston, an enrolled member of the Navajo Nation, performs this story with such vibrance, capturing Nizhoni's voice perfectly.
Elatsoe by Darcie Little Badger, Narrated by Kinsale Heuston
Darcie Little Badger is an enrolled member of the Lipan Apache Tribe of Texas, and Elatsoe is her young adult debut novel. In an alternative world where monsters walk through a land filled with magic, Elatsoe possesses the power to raise the dead, a tradition taught to her by her Lipan Apache family. But when her cousin is killed, Elatsoe's peaceful life turns upside down, and Elatsoe must use all of her skills to find out what happened to her cousin. Kinsale Heuston's narration is, again, the perfect match for this fantastical debut novel.
---
For more Indigenous audiobook recommendations, check out my post from earlier this year!