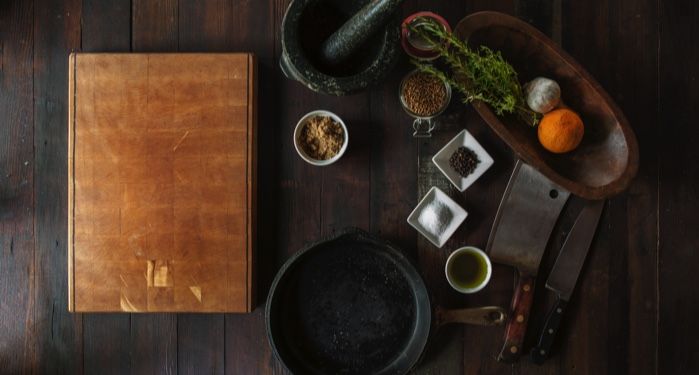 Audiobooks
5 of the Best Audiobooks About Food and Cuisine
This content contains affiliate links. When you buy through these links, we may earn an affiliate commission.
When I'm not listening to books for work or various book clubs, I'm listening to books about food. Chef memoirs, restaurant reviews, or foodie books from authors like Michael Pollan — I love them all. Few books bring me more joy when I'm stressed or anxious. So here are a few of my recent favorite audiobooks about food, which range from a focus on wild game to the origin story of a famous Savannah restaurant.
Gina Rae La Cerva is on a quest to learn about the world's last "untamed" foods. What used to be commonplace in the human diet is now a delicacy that sells for top dollar. In her travels, La Cerva tastes the wild foods that the world has to offer, even finding herself smuggling wild game across borders. Feasting Wild is an excellent examination of the foods that have sustained humankind for centuries before being abruptly forgotten. As someone who grew up eating deer chili and squirrel gravy, I couldn't have been more thrilled with this intellectual examination of game meat and the surrounding anthropological relationship humans have had throughout the centuries hunting wild game.
Lisa Donovan isn't just a great chef; she's a great writer. A woman of mixed heritage growing up in the American south, Donovan struggled to grow into her own as a chef in an industry dominated by men. Each essay is beautifully written and examines her experience from a different perspective. As Donovan struggled to come into her own, food remained an anchor in her life, a touchstone to help her return to herself. The author narrates the audiobook herself, giving her writing an additional layer of emotional depth.
Black, White, and the Grey by Mashama Bailey and Johnson O. Morisano, Narrated by the Author
As a new resident of the South Carolina Low Country, Black, White, and the Grey is perhaps my most anticipated food memoir of 2021. Business partners Mashama Bailey and Johnson O. Morisano tell the story of their work together starting the famous Savannah restaurant, The Grey. The authors structured the book as a back and forth between them, each narrating their own sections. This book was everything that I hoped it would be, giving me a behind-the-scenes look at the origins of their business partnership and how they overcome difficulties in the industry.
Rebel Chef by Dominique Crenn with Emma Brockes, Narrated by Hope Newhouse
As a huge fan of the celebrity chef world, I'm always thrilled to learn more about what life is like in the top kitchens of the world. Dominique Crenn, currently the only woman in America to have three Michelin stars, is well known for her incredible skill as a chef. But how did she get there? In this memoir, we follow Crenn as she moves from France for better opportunities on America's west coast. With no formal training, Crenn demonstrates incredible grit as she works towards earning her own kitchen and establishing herself as one of the best chefs in the world.
Few cookbooks ever receive audiobooks, and perhaps this book is the exception because much of it is a more general instruction manual than a list of recipes. But whatever the case, I almost cried when I learned that this incredible book would be accessible to me. In the first two-thirds of the book, Nosrat explains the different principles of salt, fat, acid, and heat, including how each element helps create excellent cuisine. She even goes into incredible detail, like when cooks should salt their meat before cooking them and why using the appropriate amount of heat can make or break a great meal. Nosrat narrates the book herself, bringing her joy for food to her delightful performance.