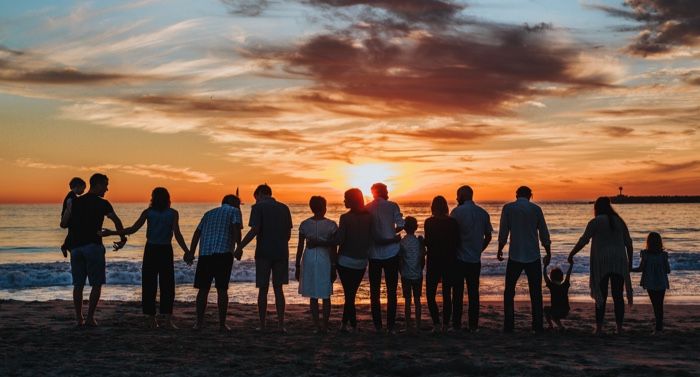 This content contains affiliate links. When you buy through these links, we may earn an affiliate commission.
Like many audiobook lovers, I adore family sagas. There's just something special about starting an audiobook that you can stay with for multiple generations through several decades. I love the drama, suspense, and heartbreak of these stories, which have quickly become some of my favorite books. Here are eight audiobooks about family sagas.
Pachinko by Min Jin Lee, Narrated by Allison Hiroto
After discovering herself pregnant with her lover's baby, Sunja agrees to marry a pastor and move to Japan from her home in Korea. But she finds life is difficult for Korean people in pre-WWII Japan. There, she and her family face discrimination and poverty, but they still hold on to hope. Performed by Allison Hiroto, this audiobook is an incredible story you won't soon forget.
When her husband, Idris, declares that he is going to sell his family's home in Beirut, Mazna calls her children and begs them to come to Lebanon to try to stop their father from selling the house. Between chapters about Mazna's family in the present, we flash back to her teenage years in Syria as she travels back and forth across the border to visit her friends in Beirut. This audiobook was so incredible that I listened to almost the entire book in one day. Leila Buc is a gem, and I can't wait to listen to more of the audiobooks that she's narrated.
The Old Drift by Namwali Serpell, Narrated by Adjoa Andoh, Richard E. Grant, Kobna Holdbrook-Smith
In this incredible story, Serpell features three families — one Black, one brown, one white — and follows their stories as they weave in and out of each other's orbit. Each chapter features a different character from each of the families, and each family member's perspective is written in a different genre. Narrator Kobna Holdbrook-Smith keeps up with all of its twists and turns, performing the audiobook with precision.
If You Leave Me by Crystal Hana Kim, Narrated by Greta Jung and Keong Sim
Set before, during, and after the Korean war, If You Leave Me follows Haemi, a young woman trying to care for her family after the death of her father. She and her family flee to a refugee camp where Haemi steals a few moments to herself with her best friend Kyunghwan. From there, we follow Haemi through her struggles with love and her fight to keep her family alive during and after the war. Both Greta Jung and Keong Sim narrate the different perspectives of Haemi's family.
This Must Be the Place by Maggie O'Farrell, Narrated by Graham Rowat and Saskia Maarleveld
There's nothing like a family novel by Maggie O'Farrell, and This Must Be the Place is O'Farrell at her best. Told in a nonlinear series of chapters from multiple perspectives, This Must Be the Place starts with Danial Sullivan, an American man living with his wife and kids in rural Ireland. He leaves Ireland to visit his father in the States. From there, we jump back and forth between the perspectives of the characters around him, featuring stories from various points in the past.
Christodora by Tim Murphy, Narrated by Cassandra Campbell, Christa Lewis, Suzanne Elise Freeman, Prentice Onayemi, Thom Rivera, Kyla Garcia, and Will Damron
Christodora features a set of characters focused around the Christodora, a building in New York City. Husband and wife, Jared and Milly, live in the building, making a life for themselves through the 1980s. As the decades pass, their found family grows and retracts, creating connections with found family members through the years. This novel is narrated by a range of viewpoint characters, and this large cast of audiobook narrators is up for the challenge.
Homegoing by Yaa Gyasi, Narrated by Dominic Hoffman
This sprawling novel examines the legacy of the slave trade, following the ancestors of two sisters from 18th-century Ghana. One sister is captured, enslaved, and taken to the United States. Each new section focuses on another descendant until we reach the present. Dominic Hoffman performs this story in a way that helps listeners move from one perspective to the next, skillfully maneuvering from section to section, character to character.
Some Luck by Jane Smiley, Narrated by Lorelei King
In one of the most epic family sagas that I've read, Jane Smiley shares the story of the Langdon family. Starting in Iowa in the 1920s, each chapter chronicles one year in the family's life. The Langdon family's story spans over three novels — including Some Luck, Early Warning, and Golden Age — making this the longest family story that I've ever listened to, and Lorelei King performs all of these audiobooks beautifully.