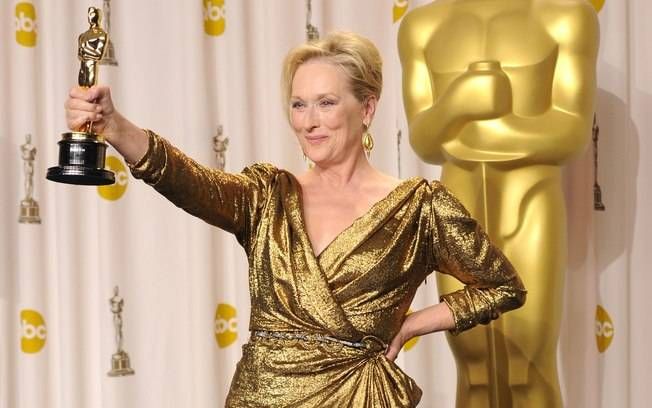 Audiobooks
How The Audies Literally Turned Into the Oscars of the Audiobook World
Every year the Audio Publishers Association presents Audie Awards to the best audiobooks of the year. For anyone who's like, "what are the Audies?," fans like to describe them as the Oscars of the audiobook world. Awards are presented for up to 29 categories, but "Audiobook of the Year" is the most coveted — kind of like winning an Oscar for "Best Picture." This year the finalists for Audiobook of the Year were announced in mid-April, with a surprising twist.
My fellow Book Rioter and audiobook fan Cassandra Neace joined me to sort through our reactions; cappuccino chip ice-cream may or may not have been involved.
Rachel: When I saw the Audie Awards' announcement that Billy Crystal, Meryl Streep, and Bryan Cranston are the finalists for this year's "Audiobook of the Year" narrator, all I could think was "Holy celebrities, Batman." Cassandra, what went through your mind when you saw the news?
Cassandra: My first thought? Just because an actor/comedian narrates an audiobook, it doesn't mean they are audiobook narrators. By choosing three non-narrators for an honor as "prestigious" as "Audiobook of the Year," the Audies are really doing a great disservice to all the professionals out there that have done phenomenal work in the last year. They aren't up for Oscars or Emmy awards. Shouldn't they be in the running for the highest honor in their own industry? I mean, REALLY.
Rachel: Yeah, while I'm an equal opportunity listener (and reader), I still wouldn't be gung ho about, say, Anjelica Huston, Rob Lowe, and Bob Saget going up for the Pulitzer Prize. I mean, I love their books, but let's be real: they're no Donna Tartt.
I think we both agree that Billy Crystal, Meryl Streep, and Bryan Cranston are GREAT. And I'm guessing we also agree that, when it comes to voice work, they are not the absolute greatest. The heavyweights in the industry like Katherine Kellgren, Edoardo Ballerini, and even Neil Gaiman have been passed over for what feels like a play to sex up the Audie Awards with a li'l Hollywood razzle dazzle.
Cassandra: It's nice to get dressed up and have a party once a year. Really, it is. But by inviting a bunch of people who only occasionally dabble in the world of audiobooks to a party that is meant to be a celebration for the work that full-time narrators (I'm resisting the urge to say "real," but just barely) do all year long seems wrong. I'd be insulted, quite honestly. And are they even going to show up to the party? I'm sure that, if they did, they'd have a great time, but wouldn't that make some people uncomfortable? The spotlight is going to be on them and their one, brief accomplishment. It's not going to be where it should be — on people like Simon Vance, George Guidall, and Tavia Gilbert.
Rachel: It's a calculated move, right, to get more money and publicity into the awards gala and generally raise the Audies' profile by showing off pretty celebrities with household brand name recognition. And I get it, because I'm an audiobook fan, too, who's constantly evangelizing to family, friends, and random passersby about the awesomeness of audiobooks. What quicker way to do this than to say, "hey, did you know Bryan Cranston narrated a Tim O'Brien book?" It's a speedy way to entice new fans.
But what I'd really love to see from the Audies are nominations for best-loved high profile BOOKS that also happen to have kickass professional narrators, like Rebecca Lowman and Sunil Malhotra's narration of Eleanor & Park. It could introduce new fans to phenomenal narrators without the expense of alienating, um, the rest of the industry. Starting with celebrities and working backwards is a slippery slope for the audiobook industry's most prestigious award.
Cassandra: You're right! I mean, isn't it a little odd that none of the best audiobooks of the year are the same as any of the books that consistently made the best books of the year lists? I wouldn't say that's a hard and fast requirement, but the celebrities usually seem to be attached to either their memoirs (which make sense for them to narrate), classics, children's books, or backlist titles. It seems rare that they have anything to do with new releases. Not unheard of, but rare. The fact that the big books get handed over to seasoned and skilled narrators should be an indication that they are doing something right. That should be recognized come awards season.
This inequity is what led a group of audiobook enthusiasts to start the Armchair Audies. It always seemed that, even when the majority of nominees for any category weren't "celebrities," the celebrity who does get nominated wins. This group listens to the nominees put forth by Audio Publishers Association and renders their own verdict. This year, they are even giving their own awards, including a Best Audiobook of the Year based on their nominations, not the APA's. I can't wait to see what they pick.
Rachel: Me neither! I'm a big fan of what the Armchair Audies are doing, and I hope it rubs off on next year's Audie Awards finalists.
Meanwhile, hold onto your hat and brace yourself for one fancypants star-studded gala.