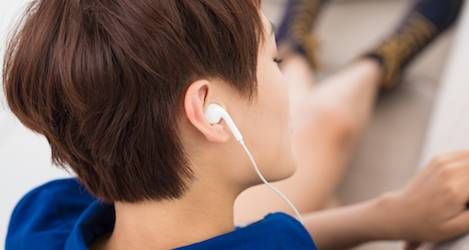 Audiobooks
6 Reasons to Adore Audible's New Romance Package
Romance readers are notoriously voracious readers. According to the Nielsen Romance Buyer Survey released in 2016, sales of the romance genre makeup twenty-nine percent of the entire fiction market in terms of sales. That's a whole lotta love stories. We already know romance readers love digital ebooks, and with Audible's newly announced Romance Package, the audiobook retailer is aiming to capture the same readers who adore ebooks with their curated audiobook collection. I gotta say, there is a whole lot to like about the deal. The package will be a $6.95 per month add-on for Audible members and can also be purchased for $14.95 as a standalone service.
"Romance readers are some of the most savvy, enthusiastic, well-versed, and devoted fans in the world," said Audible Chief Content Officer Andy Gaies in the official press release. "With Audible Romance, we've combined the expansive catalogue and impressive tech that make Audible so attractive to begin with in order to create a customized, appealing experience to satisfy the appetite of this voracious audience."
In addition to the typical Audible perks of portability (due to the prevalence of smartphones and smart speakers), the package has some totally new and totally rad features. So what exactly is Audible Romance and why should romance readers purchase it?
It's unlimited. Yep, unlimited. For any book in the package, you pay the flat fee per month and then listen to your heart's content. The unlimited aspect is incredibly unique for

romance audiobook

services. For Audible members that means you'll get your Audible credit(s) plus an unlimited number of package-designated books. In searching the catalog of the new package, I'm not sure it would work for me as a standalone service since many of the books I have flagged for future Audible credits aren't included. However, I can find plenty of books in the Audible Romance that I want in my brain.

Categories. Audible Romance divides up books in the package into categories or, essentially, romance subgenres. For romance readers who are active in the romance community, this option is probably the best way to search for audiobooks since it uses popular Romancelandia lingo. A few examples of the categories are small town, Regency, political, and LGBTQIA. If you are looking for something specific, Audible can take you right to books that match your interests. From the official press release: "Each micro-category will have its own browse page, and listeners can enjoy audio samples from each title included before diving into the full story." As a dedicated paranormal/science fiction romance reader, in searching the site I did find the lack of a paranormal category to be weird. Instead, you'll find paranormal shifter romances under animal and beasts, which is…odd, and not very precise. However, the lack of a paranormal category isn't a deal-breaker for me.
Ways To Discover. Character types and story themes are two additional ways you can search through books included in the package. These two "Ways to Discover" help readers sift through tropes and character archetypes. In character types, you'll see groupings such as athletes & celebrities, supernaturals, and protectors. Here, as opposed to the categories section, I could easily find the werewolf/shifter romance that I crave. You can even find a section for adult entertainers if that's your thing. After digging around on the site for a bit, I think the story themes section is the best way to search through specific, individual tropes. Boss–employee, Pennsylvania Dutch, and road trip are a few of the many story types you can select.
Celebrity Narrators. If you are like me and watch

Chesapeake Shores

each week for a peek at Jesse Metcalfe, Audible has figured out a way to hook you into audiobooks. In the Romance Package, they are teaming up with top performers to narrate some of your very favorite books. Look for narrators such as Blair Underwood, Dermot Mulroney, and, of course, Jesse Metcalfe.

So many books and so many authors. From the press release, "Among the thousands of authors included in the service at launch are Nora Roberts, Sylvia Day, Debbie Macomber, Sheryl Woods, Heather Graham, Catherine Coulter, Robyn Carr, Jennifer Cruisie, Jayne Ann Krentz, J.R. Ward, and more. Audible Romance will feature a rich, frequently updated catalog including bestsellers and Audible Original productions." J.R. Ward and Nora Roberts!?! Amazon, seriously, just take all my money.
Steaminess Scale and "Take Me To The Good Part." Everyone reads books a bit differently, and there are certainly readers out there that pick up romance novels to read about "the good parts" (aka, the sex). To that end, Audible has developed some technology to help all of you scene flippers out there. Readers can not only search the package via steaminess scale, but once you choose a book you can skip right to the sex scenes. The steaminess scale begins at sweet, moves a few steps up to sizzling, finally ticking up to o-o-omg.
My public library does have a good collection of fiction audiobooks, but I find their romance selection to be lacking. So, I grabbed an add-on membership to Audible just as soon as the Romance Package was released. Since I can consume an audiobook a week, it'll be well worth the $6.95 a month.
For anyone who isn't sure if the new option is right for you, there is a free trial. So listen away, skip to the good parts, and search for revenge plot romances to your heart's content. Audible has got you covered.