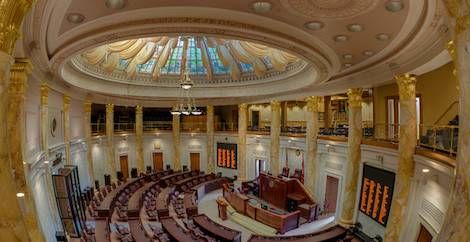 News
Attempted Ban of Howard Zinn's Books Defeated in Arkansas
This content contains affiliate links. When you buy through these links, we may earn an affiliate commission.
A proposed bill in Arkansas, sponsored by Rep. Kim Hendren, which would ban not only every book written by Howard Zinn but also all material referencing Zinn's books, was put to rest by the Arkansas House's education committee. The bill was one page, too broad, and hard to defend even for Rep. Kim Hendren who has said that the point of the bill was more to, "spark a conversation and debate." A conversation was certainly sparked as educators and students alike rose up to defend Zinn's books and demand an education that viewed history with eyes wide open to the misdeeds and terrible truths that societies have been built upon. According to Arkansas Times, about 700 copies of Zinn's A People's History of the United States were sent to librarians and teachers throughout Arkansas as a response to the bill. The Zinn Education Project received a boost in donations so they could continue to send Zinn's books to schools and libraries that wanted them.
This is not the first time Howard Zinn's books have faced a ban. In 2010 Governor Mitch Daniels tried out a very similar bill in Indiana with similar, thank goodness, unsuccessful results. Unfortunately, A People's History of the United States was pulled from schools in Tucson, Arizona as a part of a ban on Mexican American Studies. In the State of Arizona House of Representatives House Bill 2281, a school could lose 10% of its funding if it's classes were perceived to, (1) advocate ethnic solidarity rather than treating pupils as individuals, (2) promote resentment toward a race or class of people, (3) are designed primarily for pupils of a particular ethnic group, and (4) promote the overthrow of the U.S. government.
The powers that be seem to be scared of an education that promotes critical thought and varied perspectives. However, an educated citizen is a powerful citizen and the librarians, teachers, and students of Arkansas recognized and fought for their right to teach and learn a history that hasn't been whitewashed and manipulated to suit those already in power. In Arkansas schools Howard Zinn's books live on to encourage students to question both the history they're learning and the laws trying to restrict it.
Editor's note: this post previously misspelled Kim Hendren's name.